Altura Uses QuickNode to Power Their Web3 Gaming Infrastructure
Altura leverages the stability and reliability of QuickNode to facilitate Web3 gaming infrastructure that encompasses aspects like the creation and management of NFTs, a whitelabel marketplaces, SDKs and APIs, in-game login facilities, an NFT marketplace, and more.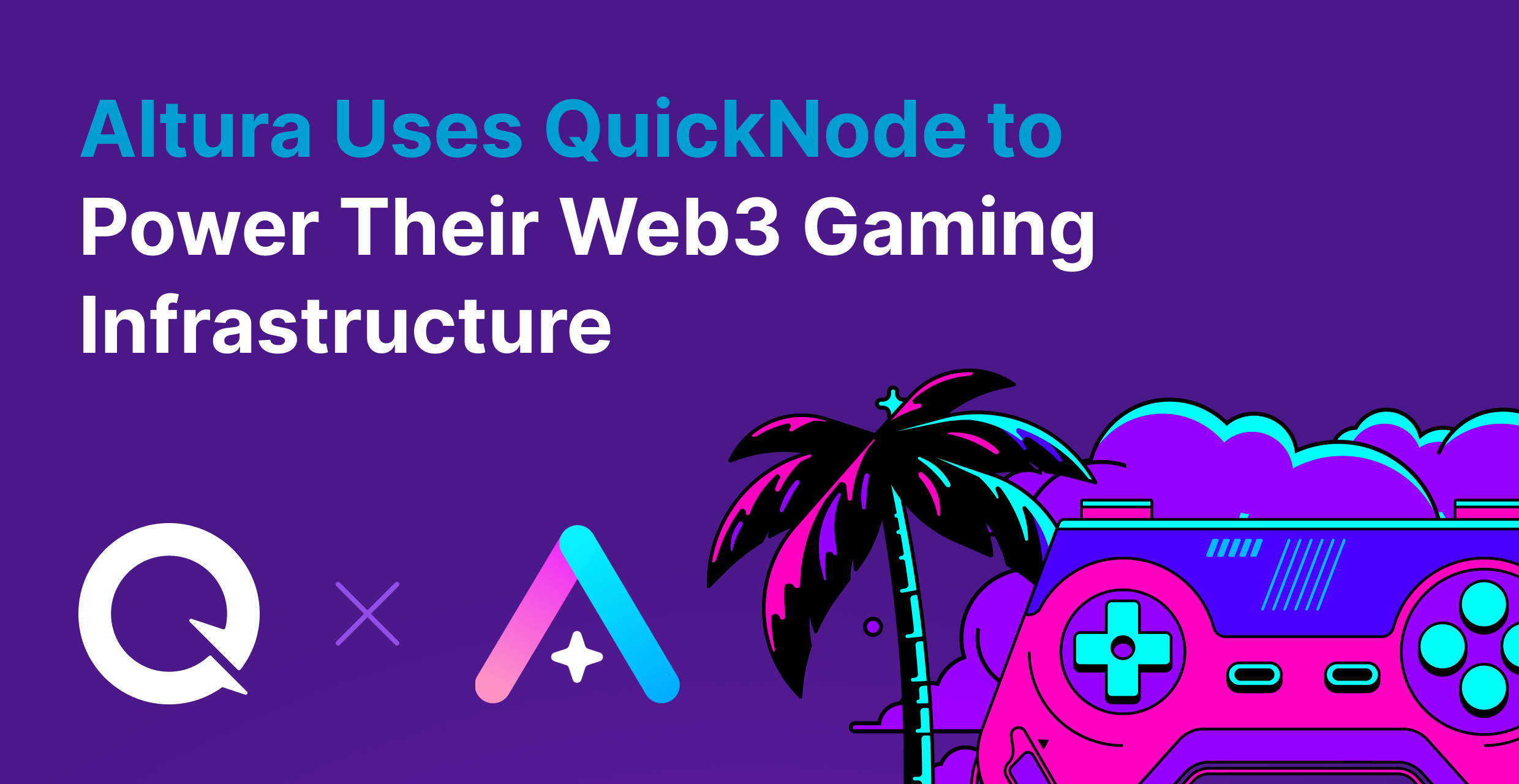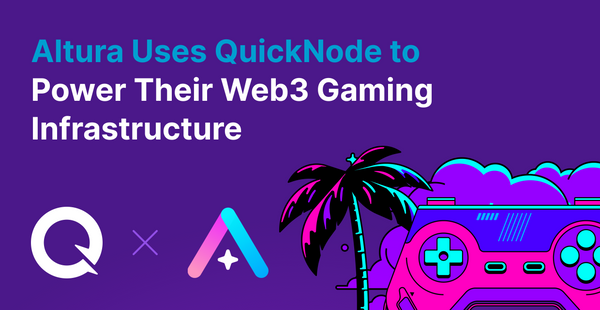 Altura gives blockchain game developers the ability to mint, distribute, and transact smart non-fungible tokens (NFTs) representing in-game items. Altura focuses on providing game developers with everything they need to integrate Web3 into their games in a simple yet powerful platform that allows developers to focus on what matters most to them— building their game.
Creating the blockchain gaming experience
With Altura, Web3 developers can build their products on any blockchain with simple, powerful APIs and SDKs that allow them to mint, integrate, update, and transfer NFTs in-game for free without registering. With Altura's community and marketplace, developers can promote their products to thousands of gamers and list their NFTs, where they're bought, sold, and traded daily. To date. Altura has 44,000 unique marketplace users with a total of 291,000 total marketplace transactions, 38,000 unique NFTs minted, and a total marketplace volume of $3.9 million.
Altura's built-in authentication tools secure developers' NFT economies, simplify user enrollment and help to instill trust within their player bases. Altura's authentication tools include Altura Guard, Secure wallet generation, and On-chain loot boxes.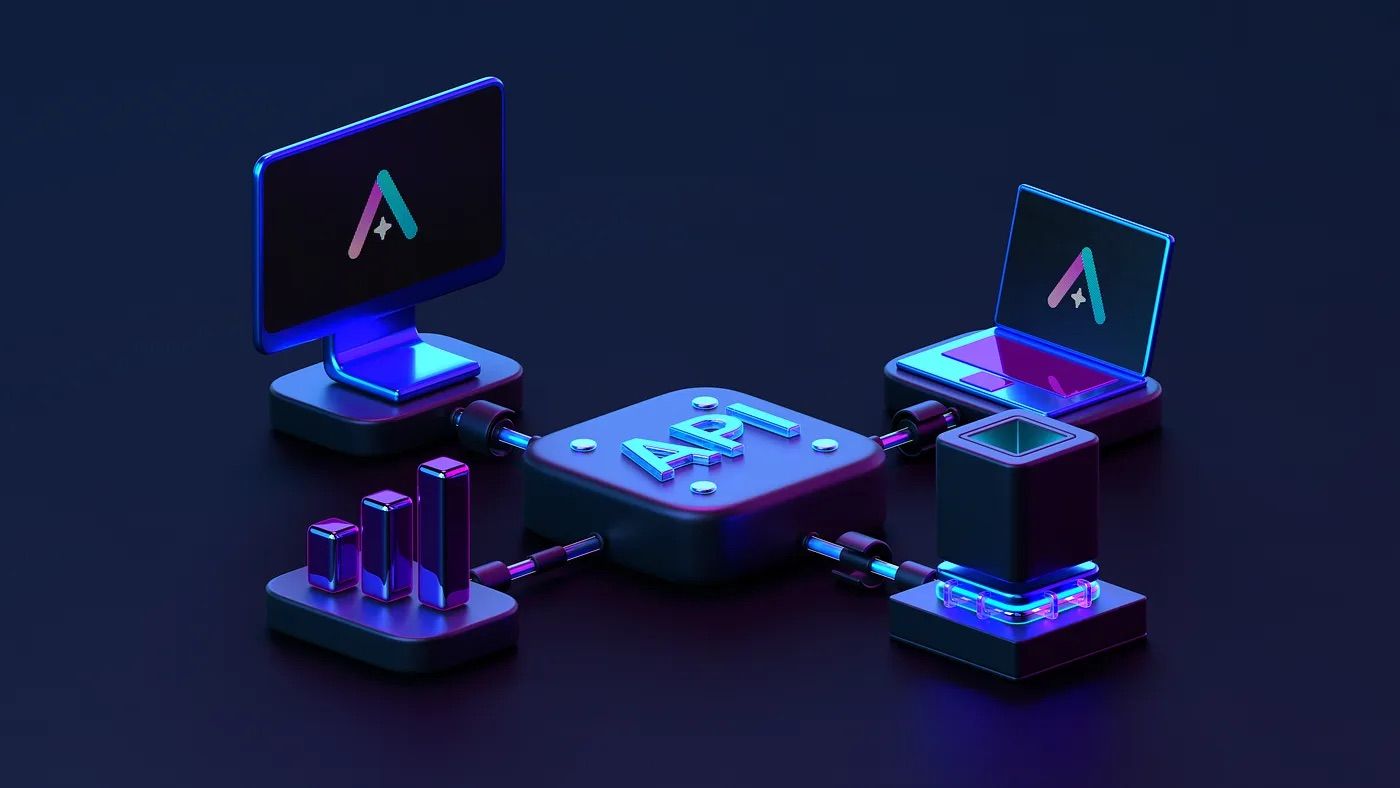 The Challenge: Finding the perfect mix of reliability, stability, and support
Before switching to QuickNode as its Web3 infrastructure provider, Altura faced significant challenges with the reliability and stability of its previous Web3 node provider. In addition, Altura experienced a lack of personal support from its previous Web3 infrastructure provider, along with lacking a strong professional relationship.
With its previous Web3 node infrastructure provider, Altura encountered frequent downtime, instability, and reliability issues. These challenges affected Altura's ability to provide the excellent customer experience they sought and hindered business growth and wider adoption among the blockchain developer and gaming community.
Because of these challenges, Altura began evaluating different Web3 infrastructure providers to find a more reliable and supportive partner in the Web3 infrastructure space. Altura's most prominent issues with its previous Web3 service provider were reliability and stability of service. Unfortunately, Altura encountered similar issues with the next two blockchain infrastructure providers they evaluated before deciding to make the switch to QuickNode's products and services.
Altura chose QuickNode for lower OpEx and better experience
Reliability and stability of service were Altura's main concerns when choosing a new Web3 infrastructure provider. Altura's team leaders and stakeholders had become familiar with QuickNode in the Web3 space over the last several years, noting QuickNode's reputation in the blockchain community as consistently demonstrating reliability for its customers and partners.
Due to its reputation as a consistently reliable Web3 infrastructure provider, QuickNode was quickly recognized as the optimal choice, and Altura shifted infrastructural support for its product to QuickNode.
In addition, Altura says its onboarding experience and partnership with QuickNode has been a streamlined process. The QuickNode team provides incredible levels of support that Altura had previously been missing with its former Web3 infrastructure provider. Along with seamlessly integrating Altura into the QuickNode ecosystem, Altura has also benefited from QuickNode assisting in reducing its operational costs and refining its processes and pricing structures.
"I can attest to both the user-friendly nature and the innovative techniques employed by QuickNode. However, the crux of any product's effectiveness lies in its reliability. In my experience, among all the available products in the market, QuickNode is the singular entity that satisfactorily meets this essential requirement." - Abdullah Rangoonwala, Altura's Head of Engineering
Altura and the QuickNode product suite
Altura was quickly able to leverage the comprehensive suite of products, tools, and resources that QuickNode offers:
Archival Nodes
With QuickNode's Archival Node product, Altura gained access to historical blockchain data. Archival Nodes inherit the same capabilities as a Full Node and are useful when querying historical blockchain data. Due to Archival Nodes storing an archive of historical states on a blockchain, they require much higher storage capacity than Full Nodes.
With QuickNode, Altura achieved the stability, speed, and reliable access to historical blockchain data its smart contract platform needed to provide its customers the level of service they sought.
QuickAlerts
Implementing QuickNode's QuickAlert tool enables developers on Altura's platform to track specific activities, such as when a particular wallet address transfers funds or when an NFT is sold on Altura's marketplace.
By implementing QuickAlerts, Altura has increased the reliability of its marketplace indexer while also minimizing the engineering resources required for integrating new chains on QuickNode. In addition, integrating QuickAlerts has led to a more efficient and seamless user experience when engaging with NFTs outside the Altura platform.
Empowering Altura's Web3 gaming platform through QuickNode's stability and reliability
Altura's decision to choose QuickNode as its Web3 infrastructure provider has had a profound impact on its platform's ability to empower Web3 gaming infrastructure for developers and users alike. Altura's previous challenges with Web3 service providers were addressed and rectified by QuickNode's blockchain infrastructure products and services that provide the stability and reliability its platform needs.
Altura now benefits from the stability and reliability of QuickNode's Archival Nodes, providing developers on its platform with access to historical blockchain data that simplifies and streamlines their Web3 development efforts. Additionally, implementing QuickAlerts has significantly improved Altura's marketplace indexer and user experience.
Streamlining processes and building a thriving partnership
Altura's experience with QuickNode's service thus far has been characterized by a streamlined onboarding process and exceptional support that has also helped reduce operational costs and refine processes and pricing structures.
As Altura's Head of Engineering, Abdullah Rangoonwala, expressed in an interview, QuickNode's reliability is unmatched among Web3 infrastructure products available in the market. Altura looks forward to continuing its partnership with QuickNode, expanding its traffic on QuickNode's networks, and adopting additional products.
Overall, the stability and reliability of QuickNode's Web3 infrastructure solutions have enabled Altura to continue building a thriving Web3 gaming platform that delivers an exceptional user experience.

---
About QuickNode
QuickNode is building infrastructure to support the future of Web3. Since 2017, we've worked with hundreds of developers and companies, helping scale dApps and providing high-performance access to 24+ blockchains. Subscribe to our newsletter for more content like this, and stay in the loop with what's happening in Web3!