Celo & QuickNode: expanding EVM options for everyone
Next-gen Proof-of-Stake EVM blockchains are already here!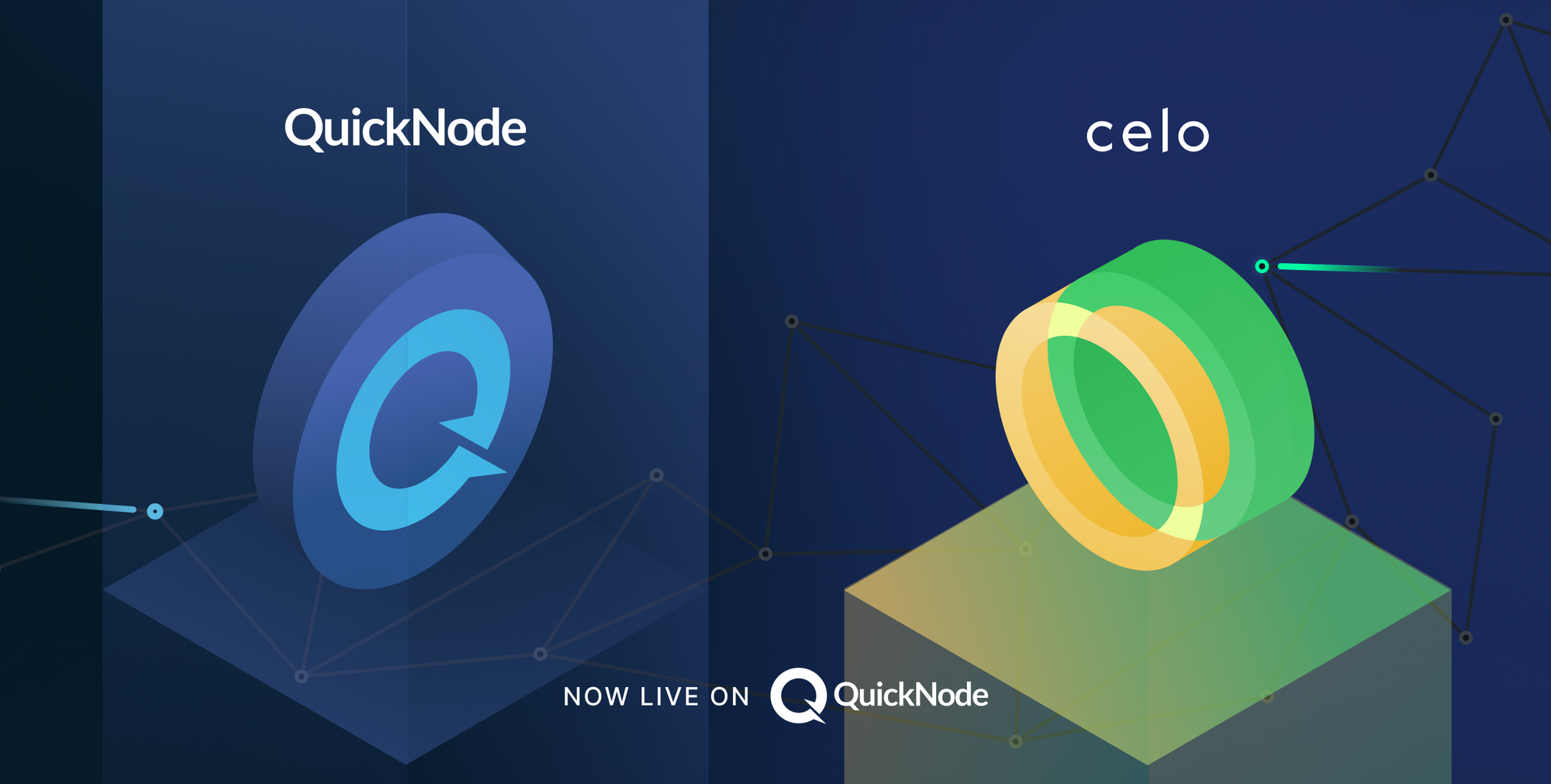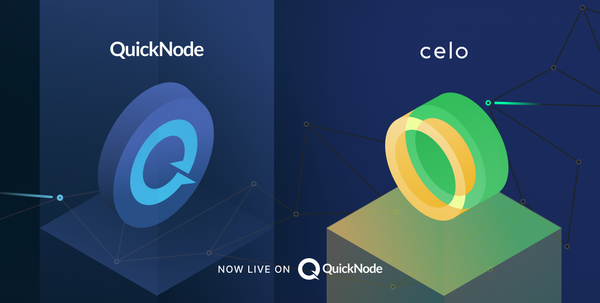 ---
Today we announce support for Celo, a mobile-first, EVM (Ethereum Virtual Machine) compatible blockchain with 5-second block times and Proof-of-Stake (PoS) governance.

With over 6 billion smartphones on Earth, the opportunity is clear. Celo's suite of tools makes it easy for developers to build decentralized applications (dApps) for mobile devices across the world.

Celo is the creator of stablecoins cUSD and cEUR, on-chain assets which track the value of the US Dollar and Euro, respectively. Developers building on the Celo blockchain gain instant access to a stablecoin ecosystem with a ~70M market cap.

Celo makes it easy to send or request stable assets with anyone in your mobile address book, powered by its decentralized phone number verification.

Another key feature enables users to pay for on-chain transaction fees (gas) in stablecoins, giving developers more options and possibilities when programming their dApp.

The Celo blockchain has processed over 16.6 million transactions (as of writing), has a 5-second average block time, and gas prices around .2-.3 GWei cGLD/CELO (i.e. super-low) -- which is particularly attractive given Ethereum mainnet gas costs lately (around 31 GWei,  but can be as high as 100+, paid in ETH [~$3000 USD, at time of writing]).
By using a pBFT-based PoS consensus protocol, Celo can process and achieve consensus on blocks extremely quickly, which can contribute to high TPS numbers while still maintaining a robust and decentralized set of validators. In addition to high throughput, pBFT also gives you 1 block finality so you never have to worry about your users having their transactions rolled back or re-orged. This means that transactions are finalized in 5 seconds, and best of all, this latency can be easily reduced as the network grows. Celo provides all this while also offering a stronger security model against chain forks. - Celo Blog
Celo is built by an expansive team of industry veterans and supported by the best in the business: Andreessen Horowitz, Coinbase Ventures, Naval Ravikant, Reid Hoffman, Morgan Beller, Opera Browser, Richard Parsons, Deutsche Telekom… to name a few.
"Celo offers a robust ecosystem and excellent mobile-first tooling to help developers build world-class blockchain applications. EVM compatibility and 5-second block times make it an excellent alternative for smart-contract dApps to benefit from speed improvements & reduced costs -- without sacrificing security. We are excited to expand the blockchain ecosystem with Celo!" - Dmitry Shklovsky, co-founder QuickNode.com
"The QuickNode team is technically strong and innovative, and they have demonstrated product solutions built with security and scalability at the forefront. Not only does QuickNode provide developers with easy node services so they do not have to operate their own full nodes, but QuickNode also provides a complete suite of tools for analytics and webhooks that will reduce developer friction. We are excited to deliver QuickNode's services to the Celo developer community!"- Amy Slawson, Product Partner at cLabs
To learn more about Celo, check out the following resources:
Celo Website
Celo Developer Documentation
Celo GitHub
Celo Discord Channel
Celo on QuickNode
How to Get Started with CELO on QuickNode:
1. Sign up for an account on QuickNode.com
2. Click "Create Node" and select an API plan: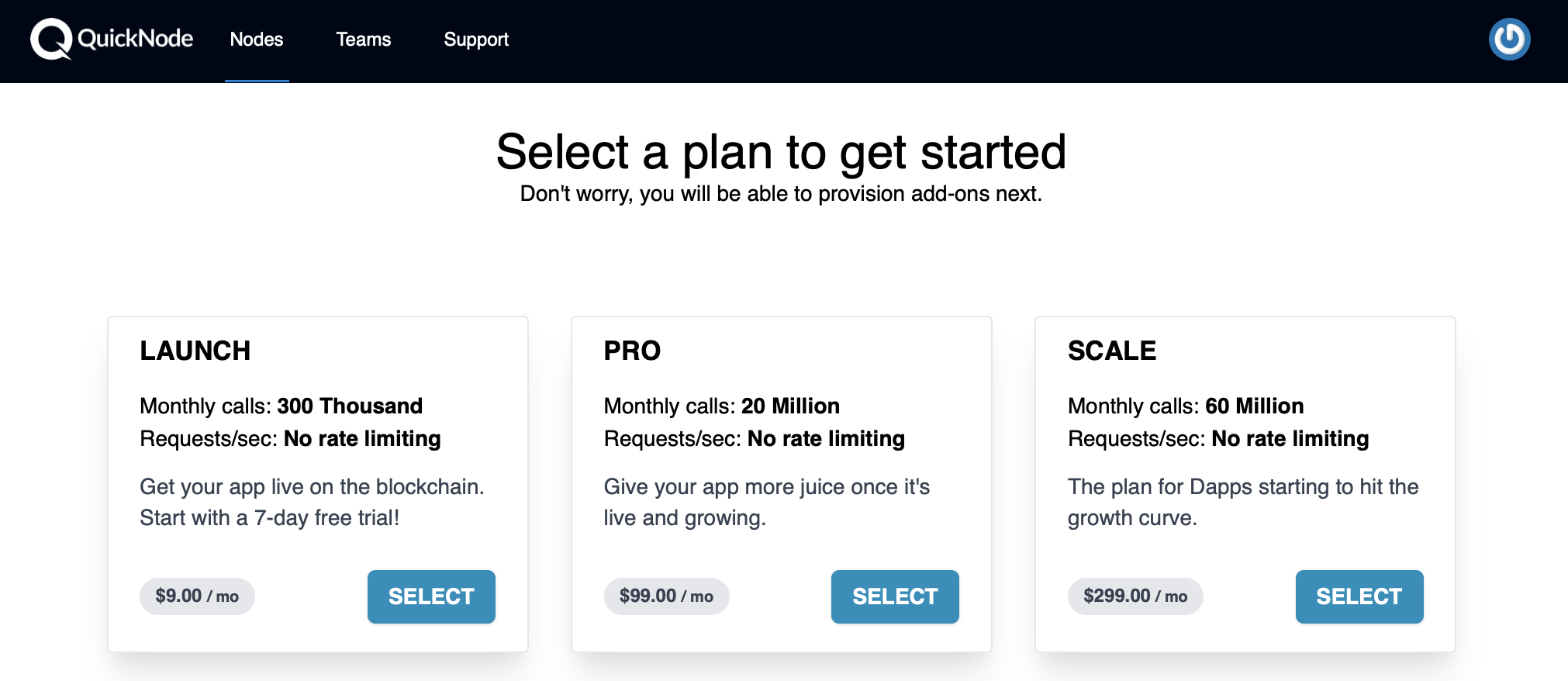 3. Select "CELO" at the top of the next page, and any add-ons you require:
4. Complete checkout on the next page, and …
5. Congratulations, you're ready to interact with CELO!
---
Ready to set up a node? Try QuickNode free for 7 days --> Sign Up!
Looking for developer guides on Web3? Check out our KB and Docs!
Want the latest in Web3 in your inbox? Check the #Web3Vibes newsletter!
---
Why QuickNode
QuickNode makes running Blockchain nodes easy so developers can focus on the dApps they're building, instead of worrying about DevOps/NodeOps, uptime, scaling, security, etc...
QuickNode saves valuable time getting to-market while taking away the headache of node maintenance and synchronization. It's a valuable tool in every dApp developer's arsenal that was created by developers for developers. Visit QuickNode's Guides section for more information.
Today, the QuickNode network processes over 50 Billion requests per month, from over 10 regions worldwide!
---
Need help with your project or have questions? Contact us via this form, on Twitter @QuickNode, or ping us on Discord!
About QuickNode
QuickNode is building infrastructure to support the future of Web3. Since 2017, we've worked with hundreds of developers and companies, helping scale dApps and providing high-performance access to 16+ blockchains. Subscribe to our newsletter for more content like this and stay in the loop with what's happening in Web3! 😃