Fantom & QuickNode: Speed, Security, Scalability - an EVM Blockchain for #DeFi and Beyond!
Two of the fastest technologies in blockchain partner up to help smart-contract dApps scale to 5-10k+ TPS (transactions per second)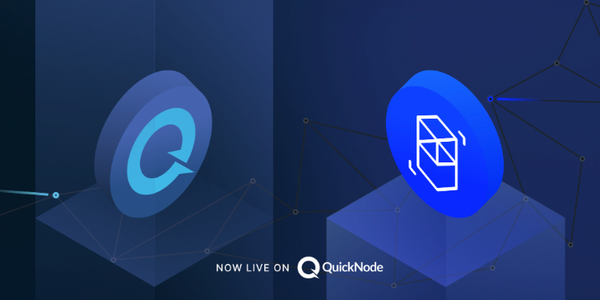 Today we announce support for Fantom, a secure, high-performance, EVM (Ethereum Virtual Machine) compatible blockchain which has achieved 10k TPS (transactions per second - source) on-chain – wow.

The key to Fantom's success is Lachesis, its revolutionary aBFT (asynchronous byzantine fault tolerance) consensus mechanism. Lachesis allows Fantom to be much faster and cheaper than other networks, while remaining secure and massively scalable.

Recently, with Ethereum Mainnet block space in high demand, sending gas prices sky-high during high-traffic events, developers began experimenting with and exploring alternative solutions.
Fantom recognized the needs of #DeFi (decentralized finance) applications early on in 2019 and constructed a solution to meet the requirements for even the most demanding projects:
Opera is a secure and fast environment to build decentralized applications. It is fully permissionless and open-source. Powered by Fantom's aBFT consensus algorithm, it leverages its speed and fast finality, and is ready for real-world applications with no risks of congestion or long confirmation times. The Fantom Opera mainnet is compatible with the Ethereum Virtual Machine (EVM) and provides full smart contracts support through Solidity.
Fantom is built by industry veterans with deep blockchain technology experience: Michael Kong (myStake, Block8), Andre Cronje (yEarn, keep3r), Quan Nguyen (IBM, Nasdaq).
"Today's Web3 developers are embracing a multi-chain approach, selecting the best chain for their app, aspect or feature of their app, or going completely multi-chain (ie. full features, native across multiple chains). Fantom is dedicated to providing developers with a fast, secure, scalable technology that supports Ethereum smart contracts, along with a bustling community and ecosystem, enabling developers to build the best possible dApps." - Dmitry Shklovsky, co-founder QuickNode.com
"QuickNode is an excellent option for developers on Fantom looking for solutions to power their blockchain applications. The cache-accelerated, endpoint API service is incredibly fast and plays well with high-throughput on Fantom. Further, the built-in analytics and add-ons offer unparalleled insight into smart-contract data that will go a long way to help developers optimize their dApps. Fantom is in a period of protracted growth and QuickNode will be an important piece of Fantom's infrastructure."- Michael Kong, CEO Fantom Foundation
---
To learn more about Fantom, check out the following resources:

Fantom Developer Documentation
---
How to Get Started with Fantom on QuickNode:
Sign up for an account on QuickNode.com
Click "Create Node" and select an API plan:
3. Select "FTM" at the top of the next page, and any add-ons you require: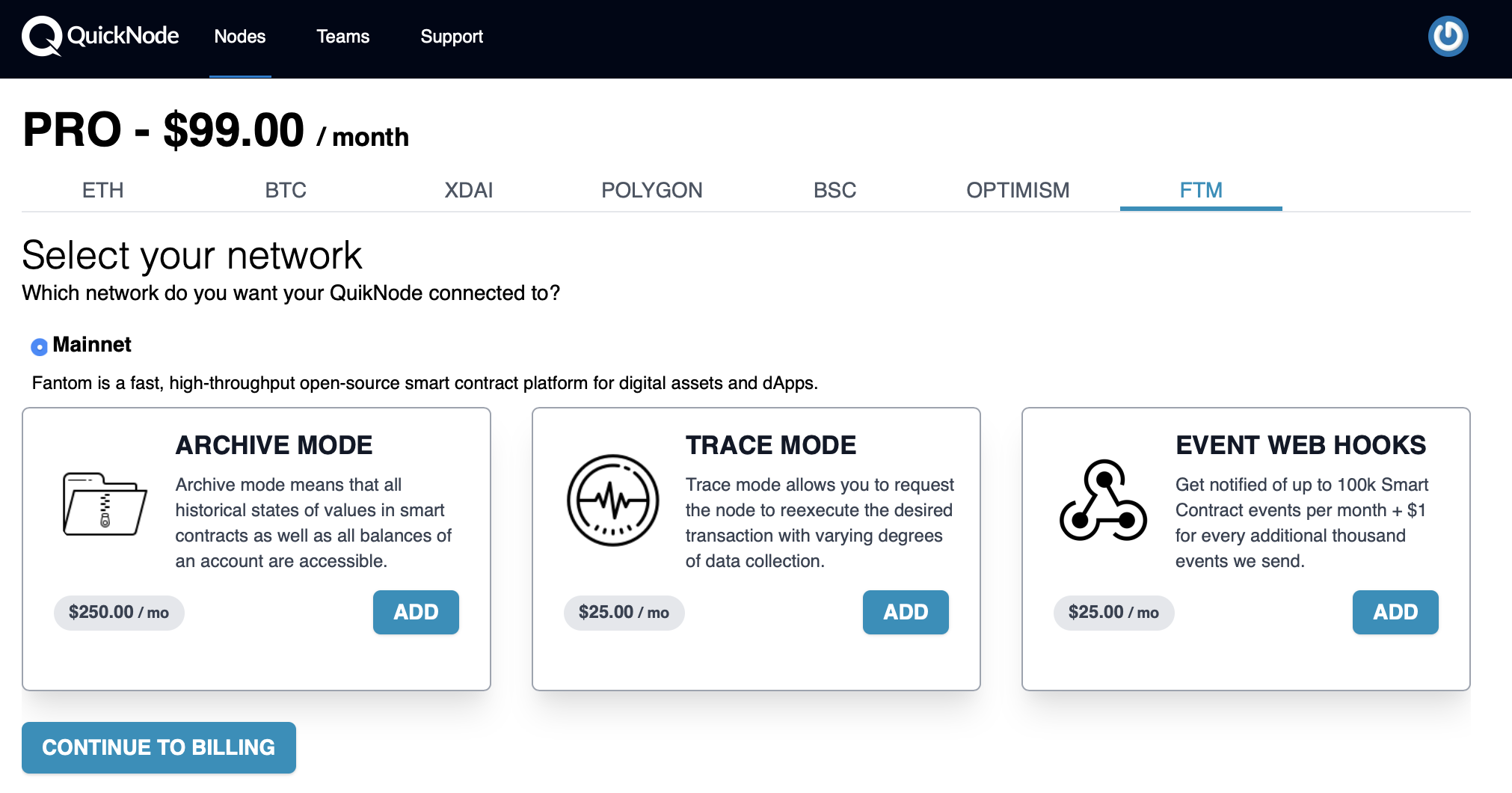 4. Complete checkout on the next page, and …
5. Congratulations, you're ready to interact with Fantom!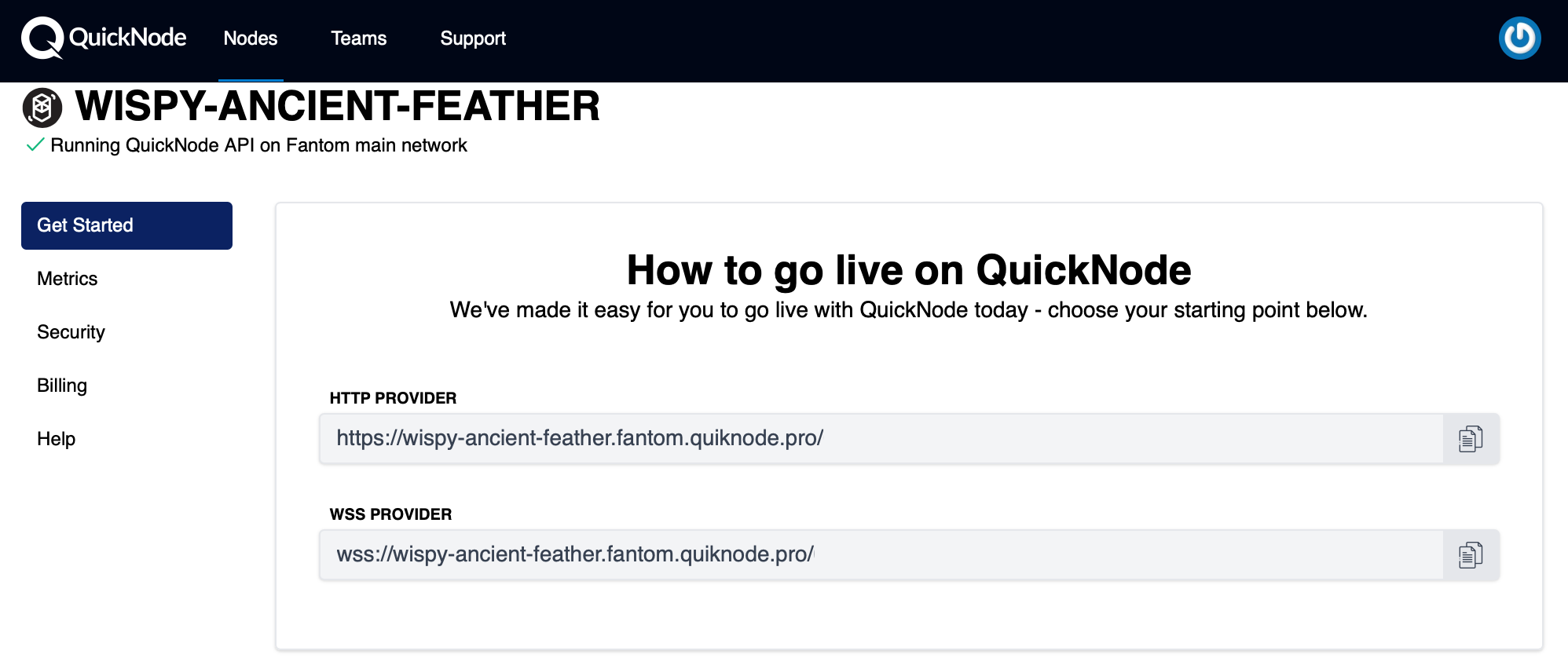 Why QuickNode?
QuickNode makes running Blockchain nodes easy so developers can focus on the dApps they're building, instead of worrying about DevOps/NodeOps, uptime, scaling, security, etc...
QuickNode saves valuable time getting to-market while taking away the headache of node maintenance and synchronization. It's a valuable tool in every dApp developer's arsenal that was created by developers for developers. Visit QuickNode's Guides section for more information.
Today, the QuickNode network processes over 40 Billion requests per month, from over 10 regions worldwide!
---
Need help with your project or have questions? Contact us via this form, on Twitter @QuickNode, or ping us on Discord!
About QuickNode
QuickNode is building infrastructure to support the future of Web3. Since 2017, we've worked with hundreds of developers and companies, helping scale dApps and providing high-performance access to 16+ blockchains. Subscribe to our newsletter for more content like this and stay in the loop with what's happening in Web3! 😃