Feature Fridays: Flipside
With over 100,000 dashboards created, Flipside is making blockchain data accessible and easy to use.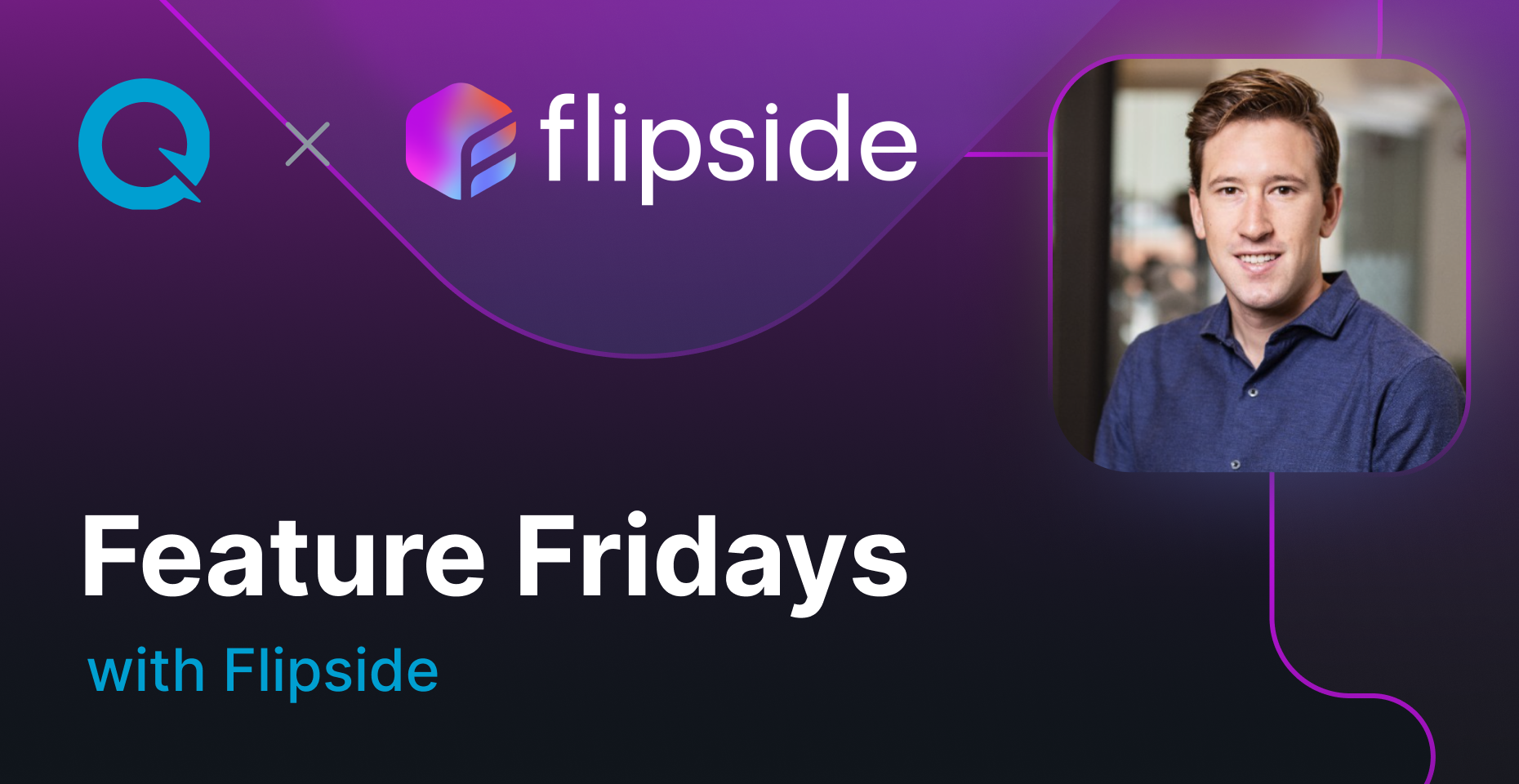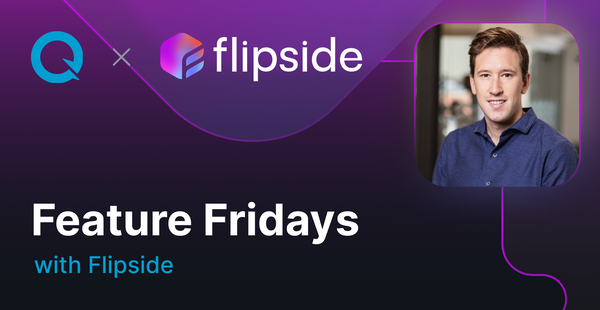 Flipside is on a mission to make blockchain data accessible to everyone! For this Feature Friday, we had the privilege of speaking with Jim Myers, Co-founder and CTO of Flipside. Jim shares insights about the company's mission and its remarkable contributions to the web3 ecosystem. We also cover some exciting new products from the Flipside team and look into emerging web3 trends. Let's dive in!
Learn more about Flipside.
Get Flipside's LiveQuery Add-on from QuickNode Marketplace! LiveQuery is a powerful tool that enables you to query a blockchain node directly with SQL and remix that data with Flipside's curated blockchain data sets.
Q&A with Flipside👇
Please introduce yourself by sharing your name, prior experience, and current role within your company.
My name is Jim Myers, I'm the co-founder and CTO of Flipside. At Flipside, we curate the most comprehensive on-chain data sets available, along with data tooling for analysts and developers. Our mission is to make blockchain data accessible to everyone and easy to use, and empower Web3 with insights and analytics to help them build, grow, and make decisions backed by data.
How has your company grown and changed since its inception, and what do you have planned for its future?
Flipside started more than 5 years ago when a few of us realized we'd rather be trading crypto than working on the business we had at the time. We were having too much fun to focus on anything else! Since then, we've built a database that covers more than 20 protocols, launched several tools including our most recent, LiveQuery, and partnered with more than a dozen chain foundations to help them succeed and bring transparent data access to their communities.
We've got a lot planned for the future, but what I'm most excited to see is how people use our new tool LiveQuery. It allows you to query any APIs side by side and get node data from endpoints like QuickNode's, in real time. For builders and analysts, it unlocks a whole new way to use data, and removes the barriers between resources that have bottlenecked productivity. It's also accessible in QuickNode for free through the marketplace.
📢
Introducing Feature Fridays
: Every Friday, we'll highlight some of the best startups in the blockchain space and feature them on QuickNode's blog and Twitter account.
Click here to apply!
In the world of web3, what are some of the most prominent trends you are currently observing? Which ones do you believe will gain momentum in the coming years?
As a data provider, we see a lot of trends develop and pass in the dashboards created on our platform. But stepping back from individual protocols, it's clear that web3 as a whole is maturing, as more users are contributing to its development in some way, whether by learning to build software, becoming data literate, creating content, etc. DYOR/DIY is really catching on, and it's great to see the space become more self-empowered.
We've also seen an increased demand in the last year for enterprise-grade access to blockchain data. Builders and investors want more sophisticated ways of working with the data. So we're working out solutions to give these power-users a bigger and better sandbox to play in. It's encouraging to see this kind of activity pick up.
What inspired you to develop Flipside, and how did you conceive of the idea?
For as open as blockchain networks are, the data behind them is ironically really hard to access and use for the average builder. When my co-founders (Dave Balter & Eric Stone) and I started Flipside in 2017, the infrastructure and tooling for blockchain was still in its infancy. We realized if blockchain eco-systems were going to succeed they would need really good tooling and data to enable builders. From day one, we set out to build the most comprehensive, in-depth and reliable data products that would allow these builders to focus on their core products as opposed to low-level data challenges. The launch of LiveQuery represents a major milestone in our journey and we're excited to see what barriers this new development breaks down for builders.
Can you provide insight into Flipside's progress by sharing any metrics or milestones indicating its traction?
More than 100,000 dashboards have been created by over 30,000 analysts on the platform, which feels incredible looking back. Even more exciting is knowing we're just getting started - with the launch of LiveQuery and multiple new blockchains and protocols being added soon, there's so much more that can be done with data.
Since the inception of our creator rewards programs, we've also rewarded analysts more than $4 million for finding and sharing insights with web3 communities. This is one of the developments we're proudest of.
Can you provide insight into the target market for Flipside and what types of clients you work with?
We work hard to keep our data free for community analysts, which are our largest user base. We partner with chain foundations and protocols to curate their data and make it accessible to their communities. We also provide 5,000 free query seconds every month to builders hitting our API (and we have an SDK to make it easy).
For larger, enterprise businesses looking to own and use data in their own environments, we offer data shares through Snowflake for custom access and easy pipelining.
How does your company utilize QuickNode, and what benefits does it bring to your business operations?
QuickNode and Flipside complement each other really well. On one hand, we're proud that LiveQuery is added to QuickNode's Marketplace so users can access our data and API functionality alongside QuickNode's toolkit. On the other hand, on Livequery, Flipside users can access any API that QuickNode has listed. There's great synergy between us because we're both interested in empowering web3 builders and analysts with more, and better, toolkits and data.
What benefits does offering LiveQuery on QuickNode's marketplace offer? How do you see the partnership evolving the landscape of web3?
With LiveQuery, our goal was to give analysts and builders everything they need in one place. They no longer have to endlessly switch between platforms, and can combine and compare datasets in one place, unlocking insights that weren't possible to find before.
By offering LiveQuery in the QuickNode marketplace, anyone can conveniently integrate LiveQuery's functionality and hit external APIs without interrupting their workflow. The ability to get real time data directly from a node using QuickNode's endpoints alongside any API is very powerful.

---
About QuickNode
QuickNode is building infrastructure to support the future of Web3. Since 2017, we've worked with hundreds of developers and companies, helping scale dApps and providing high-performance access to 24+ blockchains. Subscribe to our newsletter for more content like this, and stay in the loop with what's happening in Web3!