Feature Fridays: Turnkey
Learn more about Turnkey's cutting-edge private key management solutions with CEO and Co-Founder, Bryce Ferguson.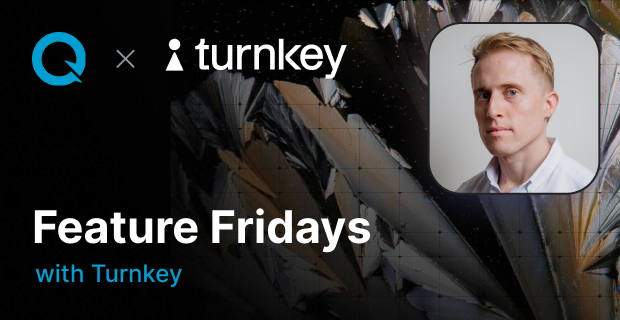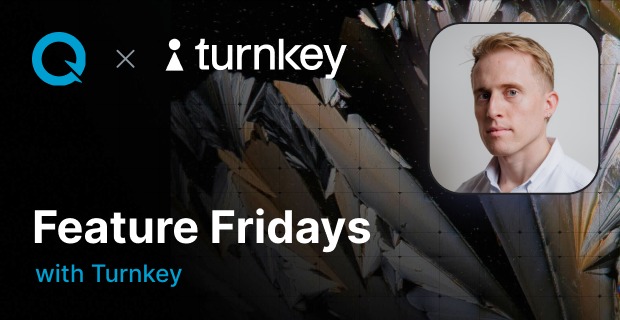 Feature Fridays is back, and we're diving into the intricate world of private key management with Turnkey. In a digital world demanding the highest standards of security and flexibility, Turnkey stands out as an ingenious solution for the blockchain and crypto space.
Our guest today is Bryce Ferguson, the CEO and Co-Founder of Turnkey. Bryce isn't your average founder. With a strong background in scaling Coinbase Custody and pioneering crypto trading products at Trade Republic, Bryce brings a wealth of experience to the table. He speaks openly about the motivation behind Turnkey, the intricate technology they've employed, and the expansive vision for the company's future. From their lightning-fast signing speeds to their expansive roadmap that includes HD wallets and deeper passkey support, Turnkey is setting new benchmarks in secure, flexible key management.
Learn more about Turnkey.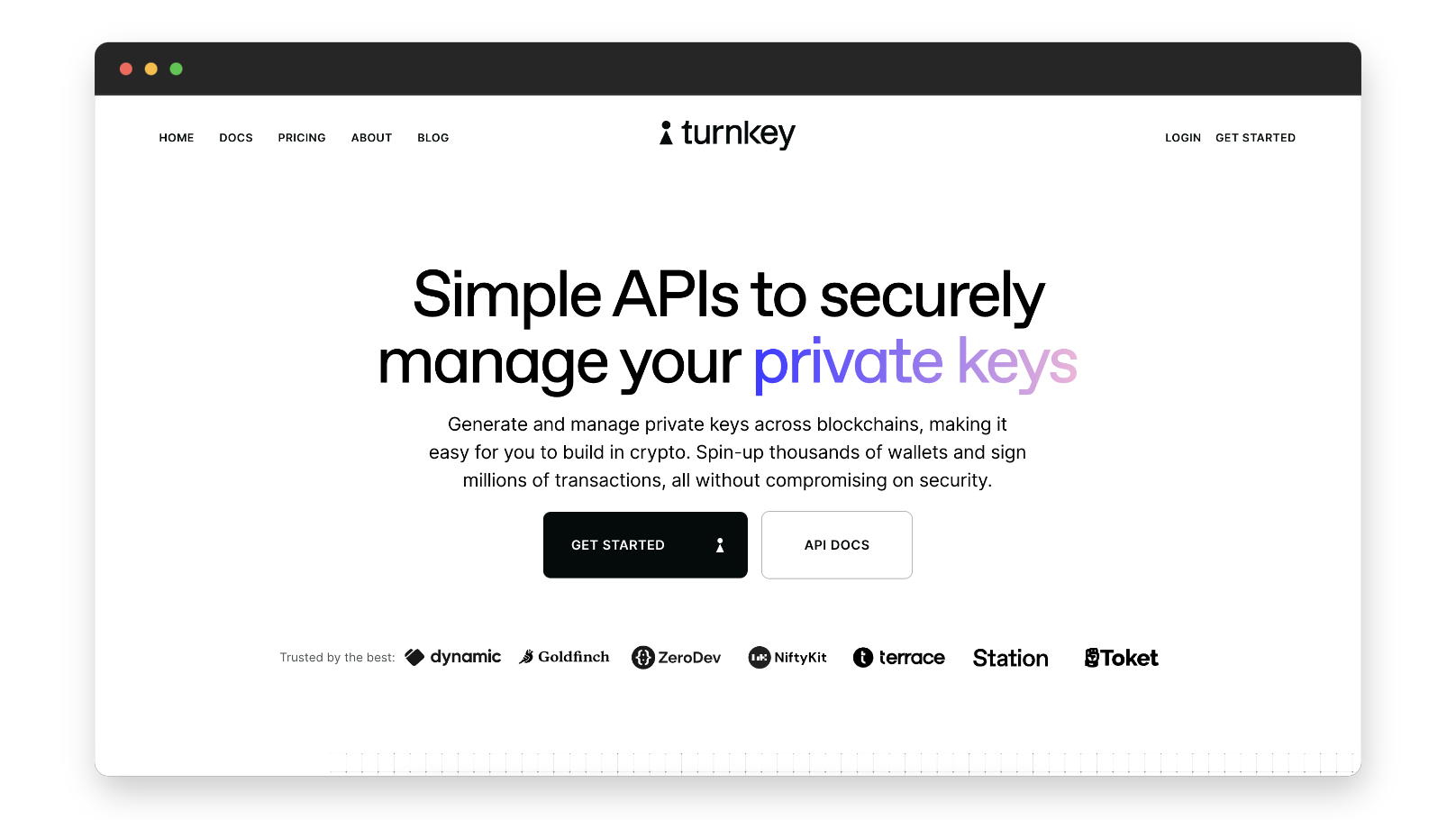 Q&A with Turnkey👇
Could you introduce yourself by sharing your name, prior experience, and current role within your company?
I'm Bryce Ferguson, the CEO and co-founder of Turnkey. Previously I was the first PM on Coinbase Custody and scaled the business from $0 to $100B of assets. Later, I led the Crypto team at Trade Republic in Berlin where I launched the first crypto trading product and scaled it across Europe.
Turnkey is a key management API optimized for security, flexibility, and ease-of-use. We've built a new model for private key infrastructure (more on that here) that offers the best of all worlds: secure, non-custodial, flexible, and easy to use.
We started Turnkey to unlock the innovation of crypto builders. Our APIs make it easy for developers to create private keys, sign transactions across blockchains, and set detailed policies around how your keys are used. These primitives can be combined in any way you want — whether that's to spin up new invisible wallets on behalf of end users, automate smart contract operations, securely manage your team's treasury, or anything else you can think of — all at the speed and scale of web2.
How has your company grown and changed since its inception, and what do you have planned for its future?
We started Turnkey in early 2022, and spent the first 10 months building a unique security approach based on secure enclaves and a proprietary OS that ensures we can trust the integrity of the infrastructure. This unique approach allows Turnkey to offer key management that is more scalable, flexible, and secure than competitors. For example, signing on Turnkey only takes 50-100 milliseconds, while MPC solutions often take 5-10 seconds.
Going forward, Turnkey aspires to be the one-stop-shop for private keys, wallets, and cryptographic authentication. Some of the exciting new primitives currently on our near-term roadmap include HD wallets, key import / export, deeper passkey support, and more. We're also always investing in product experience and aiming to make it easier for developers to go from 0 to 1 with their crypto products.
In the world of web3, what are some of the most prominent trends you are currently observing? Which ones do you believe will gain momentum in the coming years?
Everyone knows that onboarding to crypto is still too hard. But now we're starting to see the building blocks of a game-changing crypto UX. Many crypto apps are starting to create embedded or invisible wallets with Web2 style experiences using passkeys, account abstraction, and PWAs. We think that over the next few years we'll see an explosion of custom wallets across the ecosystem that are tailored to specific users or use cases. For a quick example, check out this wallet demo that Goldfinch built on top of Turnkey.
📢
Introducing Feature Fridays
: Every Friday, we'll highlight some of the best startups in the blockchain space and feature them on QuickNode's blog and Twitter account.
Click here to apply!
What inspired you to develop Turnkey, and how did you conceive of the idea?
Previously, I met my co-founder, Jack Kearney, while working at Coinbase.
After many years working on and using custody solutions, Jack and I realized that they were designed to serve financial institutions, not product builders. We started Turnkey to build the product we always wished we had — low-level key management infrastructure that lets you build what you want instead of forcing you down paved roads.
Can you provide insight into Turnkey's progress by sharing any metrics or milestones indicating its traction?
Turnkey's most recent milestone was coming out of beta and launching to the public in mid-August. We've seen strong early adoption and have lots of amazing companies building on our infrastructure, including Dynamic, Goldfinch, and ZeroDev, with more big names to be announced soon.
Can you provide insight into the target market for Turnkey and what types of clients you work with?
Turnkey's flexible approach to key management means that any business that uses private keys in any way is a great fit. Crypto-forward teams building products that interact onchain quickly recognize Turnkey's value. Some of the common use cases we've seen:
Passkey-powered non-custodial wallets
NFT minting to pre-generated end-user wallets
Automated smart contract operations
Internal treasury management with multi-signature approval requirements
Automated staking operations and reward distribution
Business wallets for prime brokers with custody shared between the prime broker and institution
Automated treasury management for DAOs based on member inputs
How does your company utilize QuickNode, and what benefits does it bring to your business operations?
Turnkey's current product is focused on offering the best key management and signing infrastructure in the world. This means that our users can bring their own nodes to broadcast transactions and check blockchain data. QuickNode works seamlessly with Turnkey, offering a simple solution for developers to build new crypto apps.
---

---
About QuickNode
QuickNode is building infrastructure to support the future of Web3. Since 2017, we've worked with hundreds of developers and companies, helping scale dApps and providing high-performance access to 24+ blockchains. Subscribe to our newsletter for more content like this, and stay in the loop with what's happening in Web3!