Feature Fridays: Brickken
Learn how QuickNode helps Brickken streamline the complex process of asset tokenization.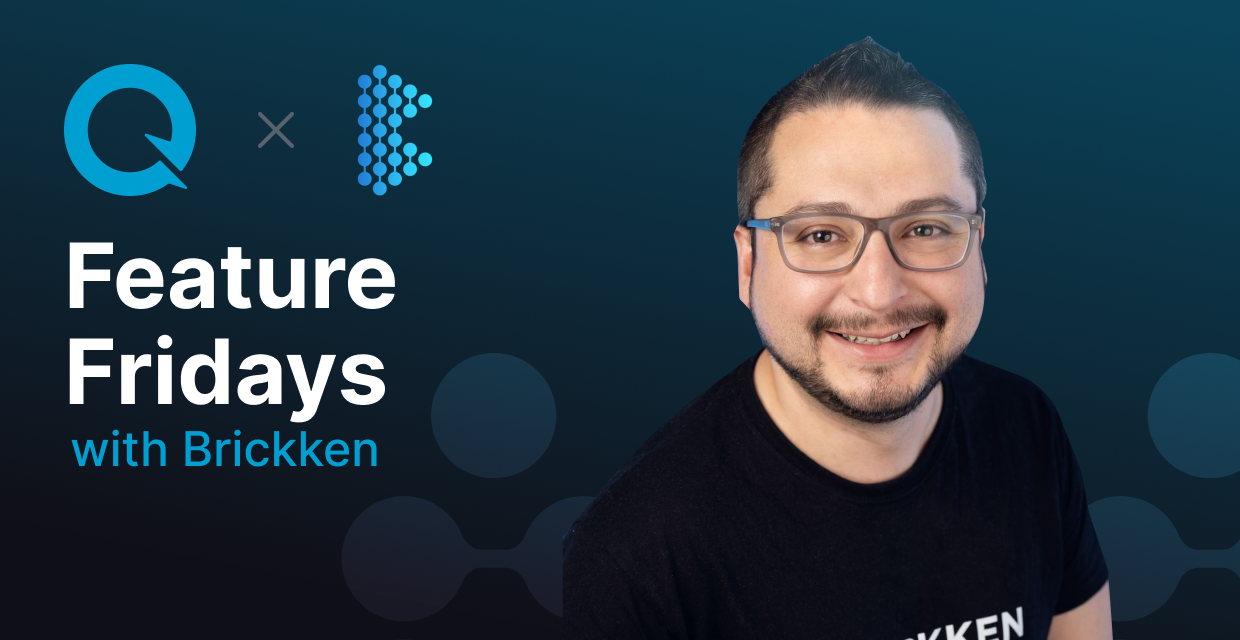 Welcome back to Feature Fridays! This week, we're exploring the pioneering realm of digital asset tokenization with Edwin Mata, the visionary CEO and Co-Founder of Brickken. With a robust background in M&A and legal tech, Edwin recognized early on the transformative potential of blockchain for asset management.
Brickken's audacious mission? To bridge the gap between conventional asset management and the digital realm. They aim to democratize asset tokenization, making it as transparent and user-friendly as possible while ensuring it's compliant with global standards.
Learn more about Brickken.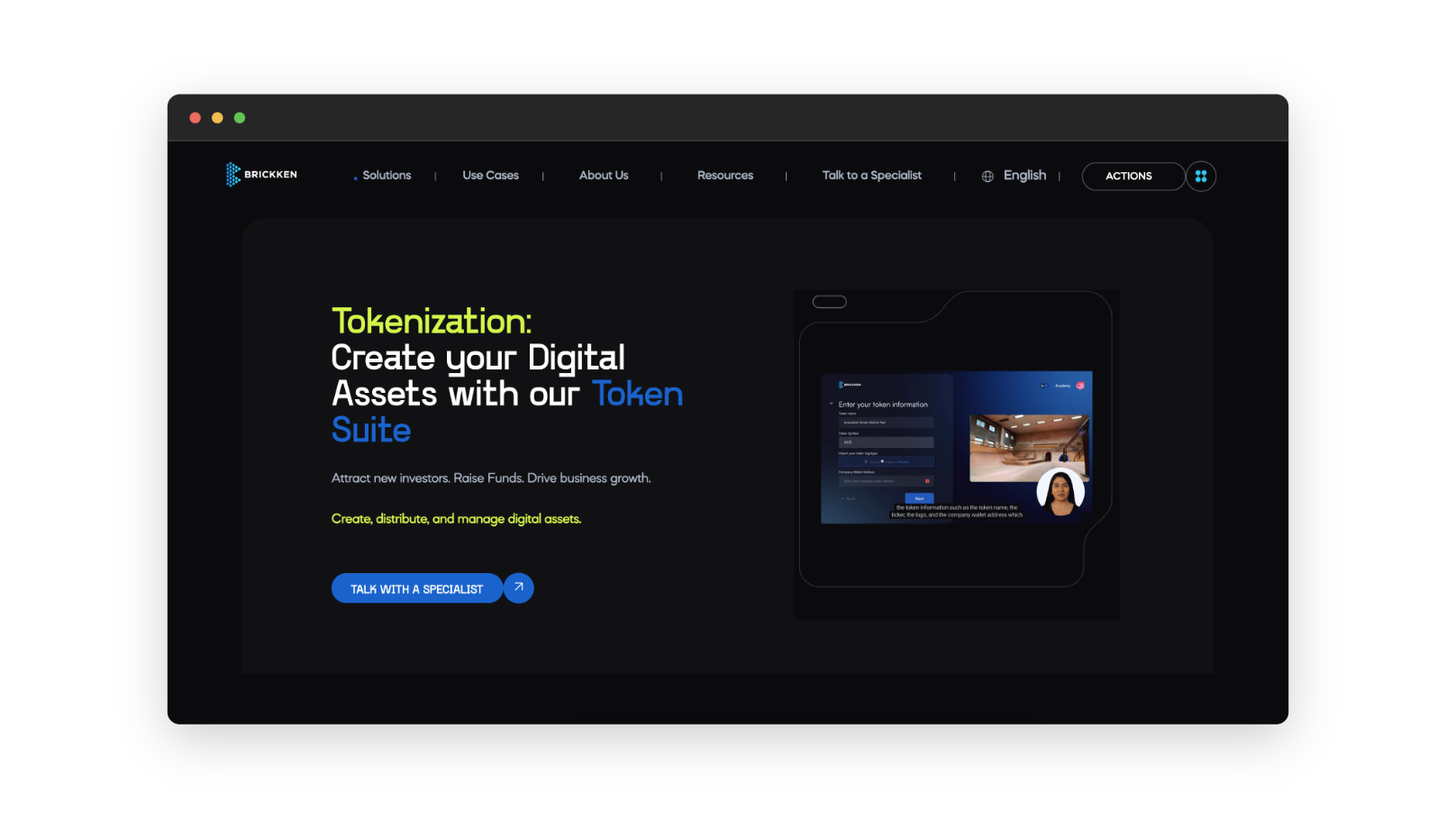 Q&A with Brickken👇
Could you introduce yourself by sharing your name, prior experience, and current role within your company? Additionally, please briefly explain your company's mission and what it offers to its customers.
Certainly, and thank you for this opportunity to discuss our journey at Brickken. I am Edwin Mata, the CEO and Co-Founder of the company. My professional career began in the intricate world of mergers and acquisitions as an M&A lawyer. The challenges and complexities of this field provided a solid foundation in understanding the nuances of asset management and the legal framework governing corporate transactions.
However, my career trajectory took an innovative turn when I moved into legal tech, focusing on electronic signatures and the automation of contracts. This experience was pivotal, as it was here in the legal tech landscape that I first encountered blockchain technology. It immediately struck me as a game-changer for asset management and ownership. Combining my knowledge from M&A and the efficiencies I saw in legal tech, I envisioned a platform that could revolutionize how we handle assets, and how their digitization can provide new possibilities for their settlement, reconciliation processes, transferability, and management in general.
This vision materialized as Brickken, where we are committed to streamlining the complex process of asset tokenization. We make it accessible, just as user-friendly platforms have done in e-commerce and electronic contract management, but for the digital asset space. We aim to unlock liquidity, enhance accessibility, and promote transparency in asset ownership and investment. Brickken offers a full suite of services, from token creation and sales to comprehensive on-chain asset management. It's designed to be intuitive, allowing for seamless transactions in both crypto and fiat currencies, while rigorously adhering to global regulatory standards.
How has your company grown and changed since its inception, and what do you have planned for its future?
Since the inception of Brickken, our trajectory has been marked by significant growth and a series of strategic evolutions. We started as a core team of four founders, each bringing a unique set of skills and a shared vision to the table. From those early days, we've expanded to a dedicated team of 24, united by the common goal of revolutionizing the financial sector through blockchain technology. In our journey, one of the most notable changes has been our pivot from operating as a centralized application — where we found ourselves taking on more of an asset management role — to embracing a model that is much more empowering for our users. We realized that the true potential of our platform lies in equipping companies with the tools they need to digitize and tokenize assets on their own terms. This shift not only aligns with the decentralized ethos of blockchain but also enhances the scalability of our services, enabling us to reach a broader market.
As for the future, we are steadfastly committed to further developing our platform's capabilities. Our roadmap includes more robust analytics for performance monitoring, enhanced features for treasury management, and a continued focus on simplifying the user experience without compromising on compliance and security. We aim to be the go-to platform for digital asset management, much like how Shopify is for e-commerce.
Furthermore, we are constantly exploring new partnerships and avenues for growth. As digital asset tokenization becomes increasingly mainstream, we are positioning Brickken not just as a service provider, but as a thought leader and trusted advisor in this evolving landscape. We are also looking to harness the power of AI and machine learning to provide even more personalized solutions to our clients.
In essence, the future of Brickken is one where we not only keep pace with the financial sector's transformation but where we also play a pivotal role in driving that change, making tokenization a standard practice for asset management across industries.
📢
Introducing Feature Fridays
: Every Friday, we'll highlight some of the best startups in the blockchain space and feature them on QuickNode's blog and Twitter account.
Click here to apply
!
What inspired you to develop Brickken, and how did you conceive of the idea?
The inspiration for Brickken stemmed from a confluence of my professional experiences and a deep-seated interest in the untapped potential of blockchain technology. As an M&A lawyer, I was intimately involved with the complexities of asset management and the legalities of corporate transactions. Transitioning into legal tech, specifically in the realm of electronic signatures and contract automation, I experienced firsthand the efficiency and innovation that technology could bring to traditional processes.
It was during my tenure in legal tech that I had my eureka moment with blockchain. I saw its potential to provide a level of transparency, efficiency, and accessibility previously unseen in the world of finance and asset management. I realized that while the concept of asset tokenization existed, there was a significant gap in the market for a platform that could streamline this process, making it accessible and compliant for companies of all sizes.
The idea for Brickken was born from the recognition that there needed to be a bridge connecting the worlds of traditional asset management and the growing field of digital assets. Drawing from my background in legalities and contract management, I envisioned a platform that would not only facilitate tokenization but also adhere to the strict regulatory frameworks that govern global financial transactions.
We conceived Brickken to be this bridge — a platform that democratizes access to tokenization, allowing assets to be digitized in a manner that's compliant, transparent, and user-friendly. It's about giving control back to asset owners and opening up new opportunities for investment and liquidity that were previously difficult to achieve. In essence, the drive to create Brickken was about innovation born from practical experience, a vision to disrupt the status quo, and the ambition to build a platform that could change the face of asset management forever.
Can you provide insight into Brickken's progress by sharing any metrics or milestones indicating its traction?
Brickken's journey since its inception in the summer of 2020 has been a testament to the viability and necessity of our vision to democratize asset tokenization. Our initial growth was swift and promising—by October 2020, just a few months post-establishment, we were already participating in Startupbootcamp, a renowned accelerator that provided us with critical mentorship and shaped our business trajectory.
Our first major milestone was the successful tokenization of an asset through our centralized application in March 2021, serving as a proof of concept for our Minimum Viable Product (MVP). This achievement was quickly followed by a significant vote of confidence from investors in April 2021, when we closed a pre-seed share round with $135,000 in funding.
The evolution of our platform continued, and we made a strategic decision to pivot towards a decentralized model in June 2021. This move was substantially supported by a $350,000 Neotec subsidy from the European Investment Fund in September 2021, empowering us to develop our decentralized application (dApp) over the following year. By the end of 2021, Brickken's commitment to compliance and regulatory coherence was exemplified by our participation in the Spanish Financial Sandbox, overseen by the Spanish Securities and Exchange Commission. In March 2022, we marked a significant scaling-up of our operations by raising $2 million in a community round for our native BKN token, leading to the launch of our dApp's alpha and beta versions within that year. By March 2023, our dApp MVP was fully operational, and we proudly onboarded our first clients.
Most recently, our trajectory has continued to ascend. We've been privileged to enter the Chainlink BUILD program and the Cointelegraph acceleration program, which have been instrumental in refining our product and enhancing our market presence. Our BKN token has achieved listings on major exchanges such as Bitmart, Mexc, and Uniswap, amplifying our reach within the crypto ecosystem. Furthermore, as of September 5th, 2023, our inclusion in the Keyrock and Tenity acceleration programs has not only fortified our resource base but also underscored our financial growth and stability.
These milestones not only reflect our traction in terms of product development and financial backing but also affirm our position as innovators and leaders in the asset tokenization space.
Can you provide insight into the target market for Brickken and what types of clients you work with?
Brickken is designed to serve a diverse and inclusive market, leveraging the power of blockchain to make asset tokenization accessible to a wide spectrum of clients. Our target market spans from individual asset owners and small-to-medium enterprises (SMEs) to large corporations and institutional investors who are interested in the tokenization of various asset classes, including but not limited to real estate, entertainment, startups, franchises, among others in whatever format they prefer, equity, debt or profit sharing.
We specifically cater to those who are seeking to modernize their investment and asset management practices, aiming to benefit from the enhanced liquidity, transparency, and efficiency that digital assets offer.
How does your company utilize QuickNode, and what benefits does it bring to your business operations?
At Brickken, our dedication to providing a seamless tokenization experience is paramount. QuickNode is an integral part of our infrastructure, as it allows us to interact with blockchain networks efficiently and reliably. Utilizing QuickNode's services, we gain access to high-performance node infrastructure across multiple blockchains. Thanks to it, we can provide real-time and finely detailed analytics about every step of the tokenization lifecycle to our users and issuers. Moreover, this is critical because it supports our multi-chain approach, allowing our clients to efficiently switch through different chains, whether that's Ethereum, Binance Smart Chain, or others.
---

---
About QuickNode
QuickNode is building infrastructure to support the future of Web3. Since 2017, we've worked with hundreds of developers and companies, helping scale dApps and providing high-performance access to 24+ blockchains. Subscribe to our newsletter for more content like this, and stay in the loop with what's happening in Web3!