Feature Fridays: Crossmint
Crossmint uses QuickNode to scale rapidly and meet the growing demands of its systems.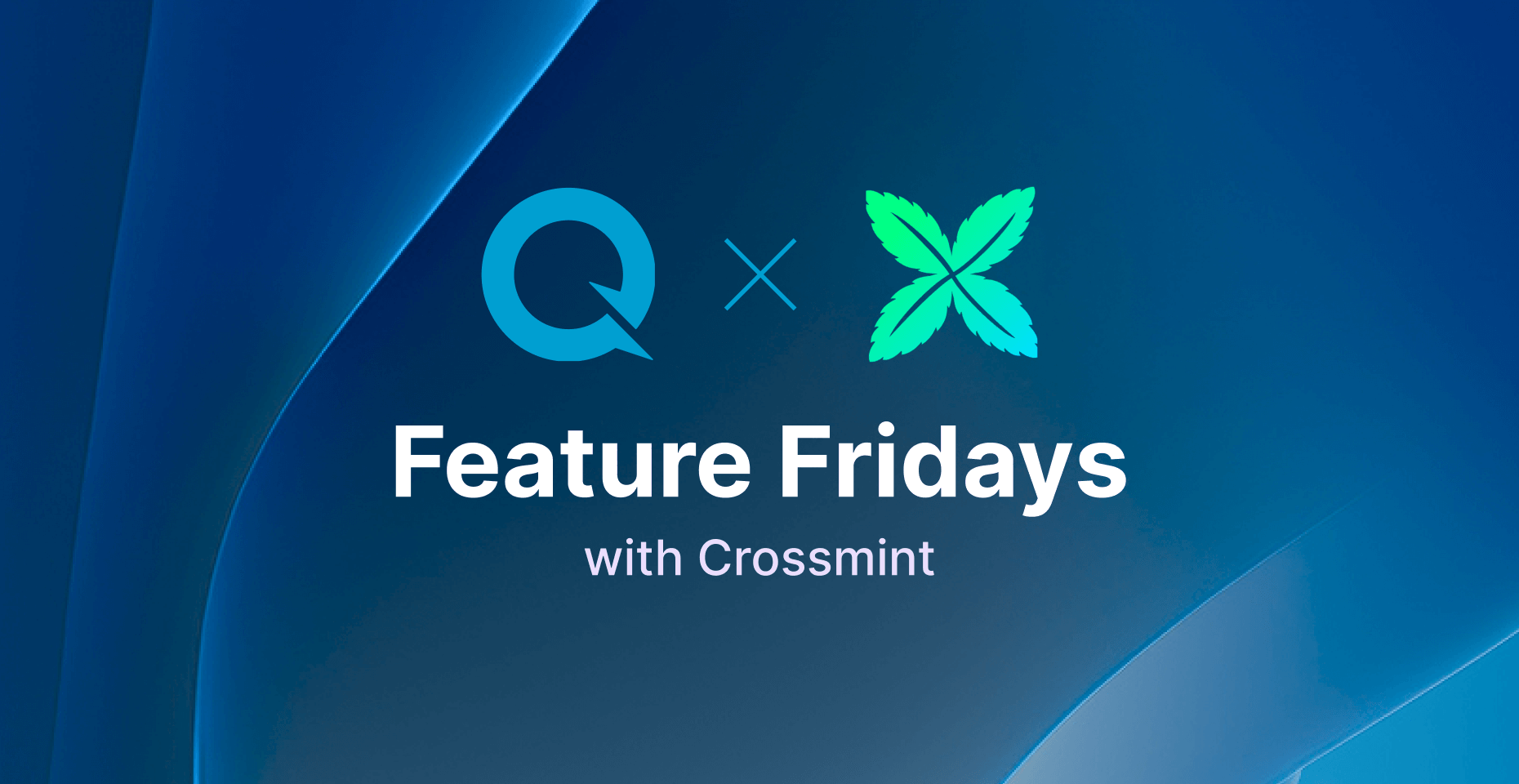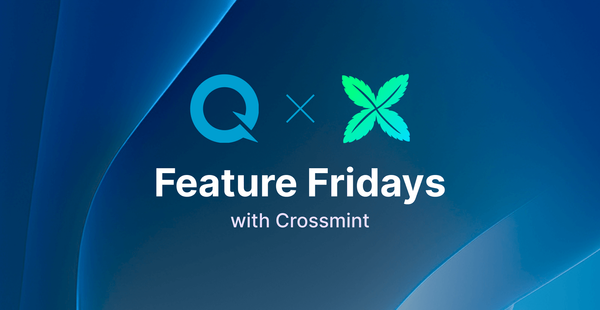 Crossmint is making NFTs accessible to everyone. Co-founded by Rodri Fernandez Touza and Alfonso Gomez Jordana Manas, Crossmint provides the tools and APIs to create, distribute, and custody NFTs at scale. They are currently working with a growing list of industry leaders like Magic Eden, Rarible, Diageo, Cinemark, Tomorrowland, and McFarlane Toys to make NFTs and blockchain-enabled ownership more ubiquitous.
Rodri and Alfonso bring a wealth of experience to Crossmint, with backgrounds in engineering, product management, and various start-ups and funds. They saw a gap in the infrastructure landscape of NFTs and set out to solve it. With over 8,000 brands and developers already registered on their platform, Crossmint is well on its way in its mission of building the future of the internet!
Learn more about Crossmint.
Q&A With Crossmint 👇
What does Crossmint do?
Crossmint offers a suite of APIs for enterprises and developers to create, distribute, and custody NFTs at scale. We are trusted by over 8,000 brands and developers, like Magic Eden, Rarible, Diageo, Cinemark, Tomorrowland, and McFarlane Toys.
You can read more about our tools on our website and docs.
What excites you about web3?
Society is undergoing a massive paradigm shift, enabled by crypto. The world's coming on-chain and most of the world's assets and information are non-fungible, making NFTs one of the most important primitives. We think that they will become the standard to represent ownership, and enable interoperability and composability in a way we haven't seen. We are building the infrastructure layer to make that happen, faster.
What are the biggest trends in web3 you're seeing right now that you expect to accelerate over the next few years?
We're seeing a massive increase in demand from enterprises and household name brands that want to integrate NFTs into their business models. This is happening across industries: consumer brands, financial institutions, gaming, ticketing, and more.
Until now, most of these companies had to spend their available budgets building the core infrastructure to deploy the projects, not leaving much to build the actual use cases. This resulted in poor user experience and lots of resources wasted reinventing the wheel.
Thanks to the advent of companies like Crossmint and QuickNode, these companies can now focus on building the utility, and use our APIs to build the tech in minutes instead of months. This is extremely exciting because it makes experimentation much faster and inexpensive.
Two other trends are a collapse of gas fees (see Metaplex's new compression standard) and breakthroughs in scalability (see Firedancer). This will unlock a new generation of use cases that before were too expensive or required too much throughput.
How did you come up with the idea for Crossmint?
In late 2021, Alfonso and I started building NFT projects and saw first-hand how early the infrastructure landscape was. We had to build everything in-house, and most of our friends and family couldn't figure out how to buy our NFTs.
We started by solving the biggest problem at the time which was the accessibility of the checkout flow. We built a fiat on-ramp for our own drop and over 30% of buyers used it to purchase our NFTs, instead of buying with crypto. We realized we were on to something and decided to open it up to everyone, so in February - exactly one year ago - we decided to incorporate the company and go all-in.
What is a recent feature you may have added that excites you?
We are incredibly excited about two products we just launched:
The first allows you to create, edit, burn, and airdrop NFTs via simple API calls. What's most exciting is that you can airdrop them into both wallets and email addresses.
For example, Cinemark used it to send NFTs by email to ~150k platinum members, who could redeem them in 5 seconds even if they didn't have wallets. McFarlane Toys is also using it to enable buyers of their physical toys to mint digital twin NFTs, which they can import into games as their avatar. And Diageo put a QR code live on TV during the Thanksgiving NFL game for viewers to get a collectible. The most exciting thing is it takes less than 5 minutes to mint NFTs on-demand, and you can pay for all fees with fiat. If interested, you can watch this tutorial and mint your first NFT within 5 minutes.
We are also super excited about our new wallet-as-a-service product. It allows you to create wallets through simple flows and API calls, abstracting seed phrases, and creating experiences accessible to the entire world.
📢
Introducing Feature Fridays
: Every Friday, we'll highlight some of the best startups in the blockchain space and feature them on QuickNode's blog and Twitter account.
Click here to apply
!
Can you share any metrics or milestones that show off the traction Crossmint is receiving?
In less than a year, we have over 8,000 developers registered on our platform. We are also seeing exponential growth in NFTs minted through our platform. For example, last month we minted 24.3% of all NFTs minted in Solana.
How are you using QuickNode? How does QuickNode help your business?
We use QuickNode as an RPC provider across Solana, Polygon and Ethereum. QuickNode has helped us scale rapidly and meet the growing demands for our systems. In particular, we really like the level of support we have gotten from the team, how fast their RPC is vs others, and their broad chain support.
We also partner with QuickNode on their marketplace: the Crossmint minting API is available as an add-on for anyone using QuickNode endpoints, making it easy for them to create and deliver NFTs at scale. We're incredibly proud to be a marketplace partner and to grow together with the QuickNode team.

---
About QuickNode
QuickNode is building infrastructure to support the future of Web3. Since 2017, we've worked with hundreds of developers and companies, helping scale dApps and providing high-performance access to 16+ blockchains. Subscribe to our newsletter for more content like this, and stay in the loop with what's happening in Web3!