Feature Fridays: Kolibrio
Kolibrio is on a mission to up-level MEV ownership and protection.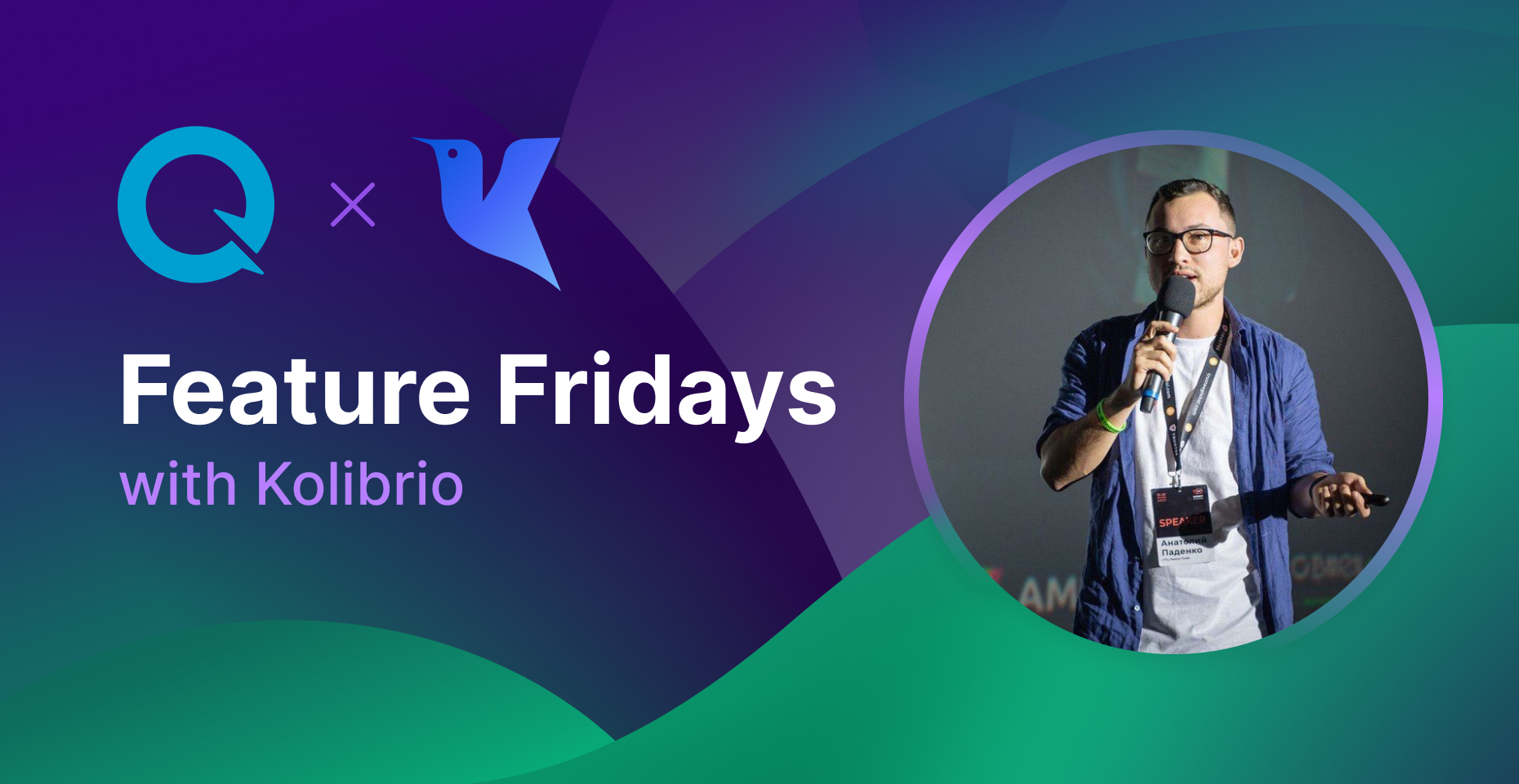 For this Feature Friday, we had the privilege of speaking with Anatolii Padenko, CEO and co-founder of Kolibrio, a pioneering force in the world of decentralized finance (DeFi). Anatolii shared insights into Kolibrio's mission to revolutionize MEV ownership and protection, while seamlessly integrating with existing transaction infrastructure.
Kolibrio has experienced remarkable growth since its inception, making significant strides in enabling fair MEV distribution and protection against malicious bots. The team's relentless focus on developing cutting-edge tools and solutions has positioned Kolibrio as a leading player in the industry, forging partnerships with major chains such as Ethereum, Avalanche, and Aurora.
Learn more about Kolibrio.
Get Kolibrio's Meow RPC Add-on from QuickNode Marketplace! It provides advanced frontrunning and sandwich attacks protection for BNB and other chains with automated arbitrage recovery payouts.
Q&A with Kolibrio 👇
Could you introduce yourself by sharing your name, prior experience, and current role within your company? Additionally, please briefly explain your company's mission and what it offers to its customers.
I'm Anatolii Padenko, CEO and co-founder of Kolibrio. Before founding Kolibrio, I worked in cyber security and DeFi product engineering. I was also running an MEV searcher for about two years.
Now at Kolibrio, we develop tools that enable MEV ownership and rebates, protect users from malicious bots, and can be smoothly integrated into the existing infrastructure of transaction broadcasters like wallets or node providers.
How has your company grown and changed since its inception, and what do you have planned for its future?
Kolibrio concept was born in early 2022. We've made a POC throughout that year, onboarded three partners, and launched on Ethereum, Avalanche, and Aurora chains.
In January 2023, we closed a seed funding round to accelerate the development.
Since then, we've launched the first order flow auction (OFAs) technology on the BNB chain and will add support for Polygon and other EVM chains soon.
In the world of web3, what are some of the most prominent trends you are currently observing? Which ones do you believe will gain momentum in the coming years?
Some of the central narratives in web3 we hear today are regulatory compliance, adoption of the new L2 scaling solutions, and overall wallet user experience, MEV and bots protection tools, etc. Despite all the bear market and regulatory uncertainty in the US, we've seen DEXs setting up new ATH in trading volumes, L2s growing in the number of users, and VC keep investing in the web3 industry.

In our opinion, L2s and Account Abstraction will help to bring 1 billion  DeFi users during the next cycle. Account abstraction will open the gates for the adoption of smart contract wallets, which will disrupt the web3 user experience, which is one of the significant barriers to mass adoption and get a lot of reasonable critics.

Order Flow Auctions and front-run protection providers will help to keep these users in DeFi and guarantee the maximum value for the interaction with dApps, while protecting users from malicious actors like sandwich bots.
📢
Introducing Feature Fridays
: Every Friday, we'll highlight some of the best startups in the blockchain space and feature them on QuickNode's blog and Twitter account.
Click here to apply!
What inspired you to develop Kolibrio, and how did you conceive of the idea?
MEV opportunity is a unique phenomenon that was possible due to the lightning-fast growth of the DeFi protocols. However, it comes with a grain of salt - there is no way for a user, the originator of MEV, to own and monetize it. All the profits go to other participants of the MEV supply chain, like searchers and validators. Kolibrio aims to solve this problem, and now we have a solution for fair MEV distribution that helps users and infrastructure providers to enable MEV ownership.
Can you provide insight into Kolibrio's progress by sharing any metrics or milestones indicating its traction?
Kolibrio is the first provider that runs OFAs on several EVM chains besides Ethereum. Our end goal is to launch on all chains and help our partners maximize user experience wherever it's possible. We are running pilots with several partners on Ethereum, BNB, Avax and will have more data to share soon. For example, our front-run and MEV-rebate extension has reached 60 installs and over 6000 transactions on Quicknode's marketplace in a few days.
Can you provide insight into the target market for Kolibrio and what types of clients you work with?
Kolibrio can be considered as a B2B2C and B2B simultaneously. While the end beneficiary of our tech is a DeFi user, mass adoption can be achieved via integration with MEV supply chain players, primarily node providers, wallets, bridges, dapps, etc.
What excites you most about the partnership with QuickNode?
Quicknode is one of the leading node infrastructure providers, and we, as developers, had a great experience working with the team so far. We love the concept of their Marketplace — deploying our extension was smooth and easy due to comprehensive tech documentation and support. We encourage developers to consider Quicknode Marketplace to promote and battle-test their products.

---
About QuickNode
QuickNode is building infrastructure to support the future of Web3. Since 2017, we've worked with hundreds of developers and companies, helping scale dApps and providing high-performance access to 22 blockchains. Subscribe to our newsletter for more content like this, and stay in the loop with what's happening in Web3!