Feature Fridays: Loop Crypto
Loop Crypto partners with QuickNode to ensure a seamless payment experience for both businesses and consumers.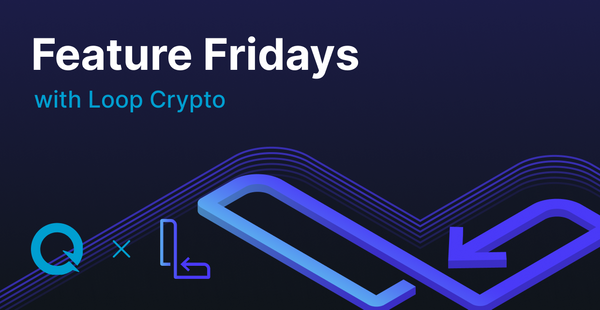 We are excited to present an exclusive conversation with Eleni Steinman and Shane van Coller, the Co-Founders of Loop Crypto, an innovative web3 payment platform. Making waves with their unique approach to simplify collecting and paying in crypto, Loop Crypto is driven by a mission to empower businesses with seamless payment integration. With their vast experience and insights from bloXroute Labs, they are poised to redefine how companies view and handle crypto transactions.
Learn more about Loop Crypto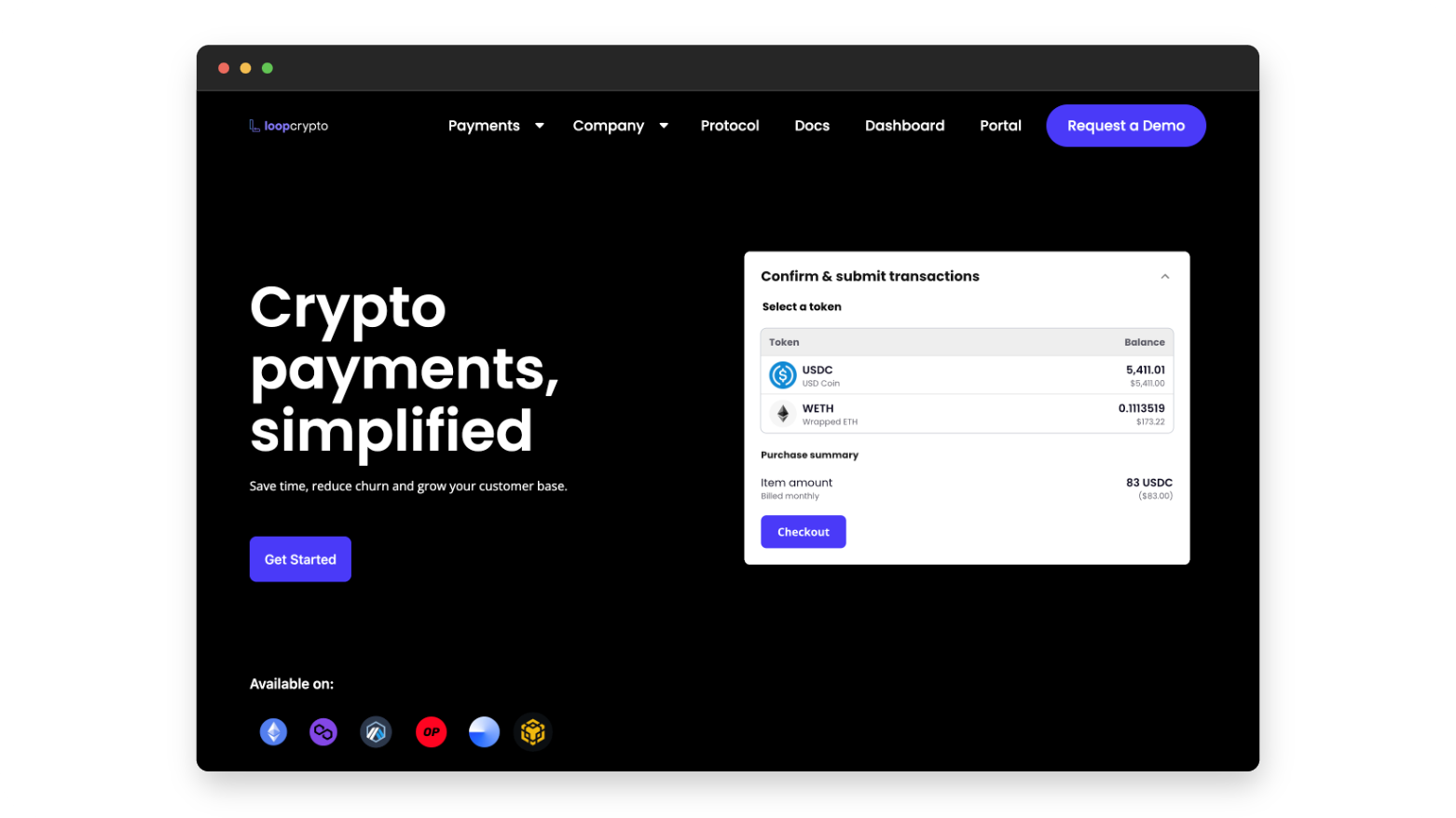 Q&A with Loop Crypto👇
Could you introduce yourself by sharing your name, prior experience, and current role within your company?
Eleni Steinman:
Hi! I'm Eleni Steinman, the Co-Founder & CEO at Loop Crypto. Before founding Loop, I worked alongside my Co-Founder, Shane, at bloXroute Labs, where our main focus was on blockchain scalability.
Shane van Coller:
Hey, I'm Shane van Coller, Co-Founder & CTO at Loop Crypto. As Eleni already mentioned, we previously collaborated at bloXroute Labs, where I took the role of an engineering lead and manager.
Loop Crypto's Mission and Offerings:
At Loop Crypto, our mission is simplifying the process of collecting and paying in crypto. We empower companies to enable autopay and schedule payments seamlessly. Our unique approach involves providing the essential smart contracts and tools that companies and DAOs require to effortlessly integrate crypto payments into their financial and technological frameworks. The innovative features of Loop, like crypto autopay and native capturing of payment metadata, not only save hours of manual work but also offer a delightful payment experience for users.
---
How has your company grown and changed since its inception, and what do you have planned for its future?
From our beginnings as crypto veterans, our inaugural product aimed to place all payment data on-chain. After presenting our MVP to our potential clientele, we discovered the diverse and unique payment requirements of each company. Recognizing the overarching demand for flexibility, we revisited our design. The revised version of our product retained the fundamental principles of web3, such as interoperability and decentralization, while providing the desired adaptability. Loop's design ensures only vital payment verification details are on-chain, with the payment specifics stored off-chain. This approach allows Loop to cater to any payment scenario, no matter how intricate. The integrations with Stripe and Chargebee add another layer of utility, enabling companies to merge the functionalities of these platforms with Loop's crypto payment processing.
---
In the world of web3, what are some of the most prominent trends you are currently observing? Which ones do you believe will gain momentum in the coming years?
Two significant trends are becoming apparent:
Cross-border Payments: The global and swift nature of crypto rails contrasts sharply with the limitations and delays of the traditional banking system. A rising number of both web3 and web2 companies are choosing crypto rails for these reasons. We foresee a future where all payments run on crypto rails, unbeknownst to the end user.
L2s Adoption: A surge in the demand for transactions on cost-effective networks is evident. The increasing tooling facilitates easier bridging and swapping. Simultaneously, companies desire to transact on networks where fees are negligible.
📢
Introducing Feature Fridays
: Every Friday, we'll highlight some of the best startups in the blockchain space and feature them on QuickNode's blog and Twitter account.
Click here to apply!
---
What inspired you to develop Loop Crypto, and how did you conceive of the idea?
Our journey with Loop began with the backing of Archetype as pre-seed investors. Reflecting on the challenges we faced in the crypto domain over half a decade, receiving payments in crypto emerged as a distinct pain point. We've been through the hassles of tracking down transaction hashes, manual user provisioning, and reminding customers for payments. Our aim with Loop was to simplify this, and the key was automation.
---
Can you provide insight into Loop Crypto's progress by sharing any metrics or milestones indicating its traction?
Metrics Indicating Traction
Here's how Loop is revolutionizing crypto payments:
90% of payments through Loop are settled on the same day due to native autopay.
Users, on average, authorize enough funds for 7 recurring crypto payments, and 40% opt to authorize for an entire year. This indicates a strong inclination towards autopay.
Our reminders, receipts, and alerts about potential payment issues boast a 70% open rate, a significant improvement from the industry's 20% average.
---
Can you provide insight into the target market for Loop Crypto and what types of clients you work with?
Loop Crypto is designed for businesses that intend to process subscriptions, invoicing, and payment schedules in crypto. Whether you're disbursing or receiving crypto, Loop can refine your procedures and significantly reduce time spent on reconciliations and automation.
---
What excites you most about the partnership with QuickNode?/How does your company utilize QuickNode, and what benefits does it bring to your business operations?
We've chosen Quicknode as our primary RPC provider to access on-chain data. Our smart contracts are central to tracking payments, so accessing this data reliably and promptly is paramount. Additionally, querying wallet balances and allowances on a large scale lets us offer a vast array of account-related services, ensuring a seamless payment experience for both businesses and consumers.
---

---
About QuickNode
QuickNode is building infrastructure to support the future of Web3. Since 2017, we've worked with hundreds of developers and companies, helping scale dApps and providing high-performance access to 24+ blockchains. Subscribe to our newsletter for more content like this, and stay in the loop with what's happening in Web3!