Feature Fridays: Oamo
With its user-centric focus and innovative Data Pools, Oamo is not just shaking things up; it's setting the new standard for ethical data sharing in the digital age.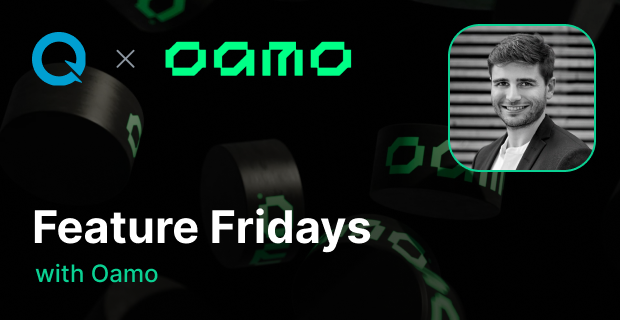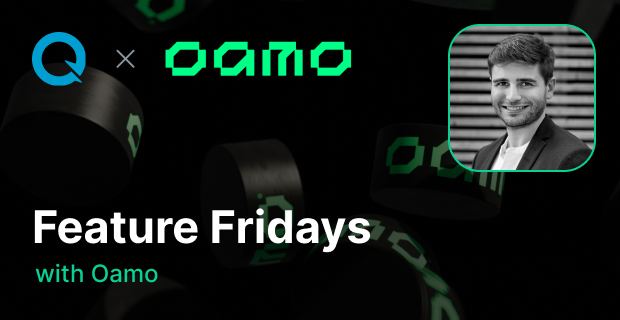 Feature Fridays is back, and this time we're spotlighting Oamo, the Web3 platform revolutionizing data ownership. Our guest, Yannick Folla, CEO and Co-Founder of Oamo, brings a wealth of Web3 experience to this groundbreaking venture.
Oamo allows consumers to share anonymized data with companies in exchange for USDC rewards, all while maintaining control of their information. From idea to Mainnet launch in just ten months, Oamo is quickly becoming a must-watch in the Web3 arena.
Learn more about Oamo.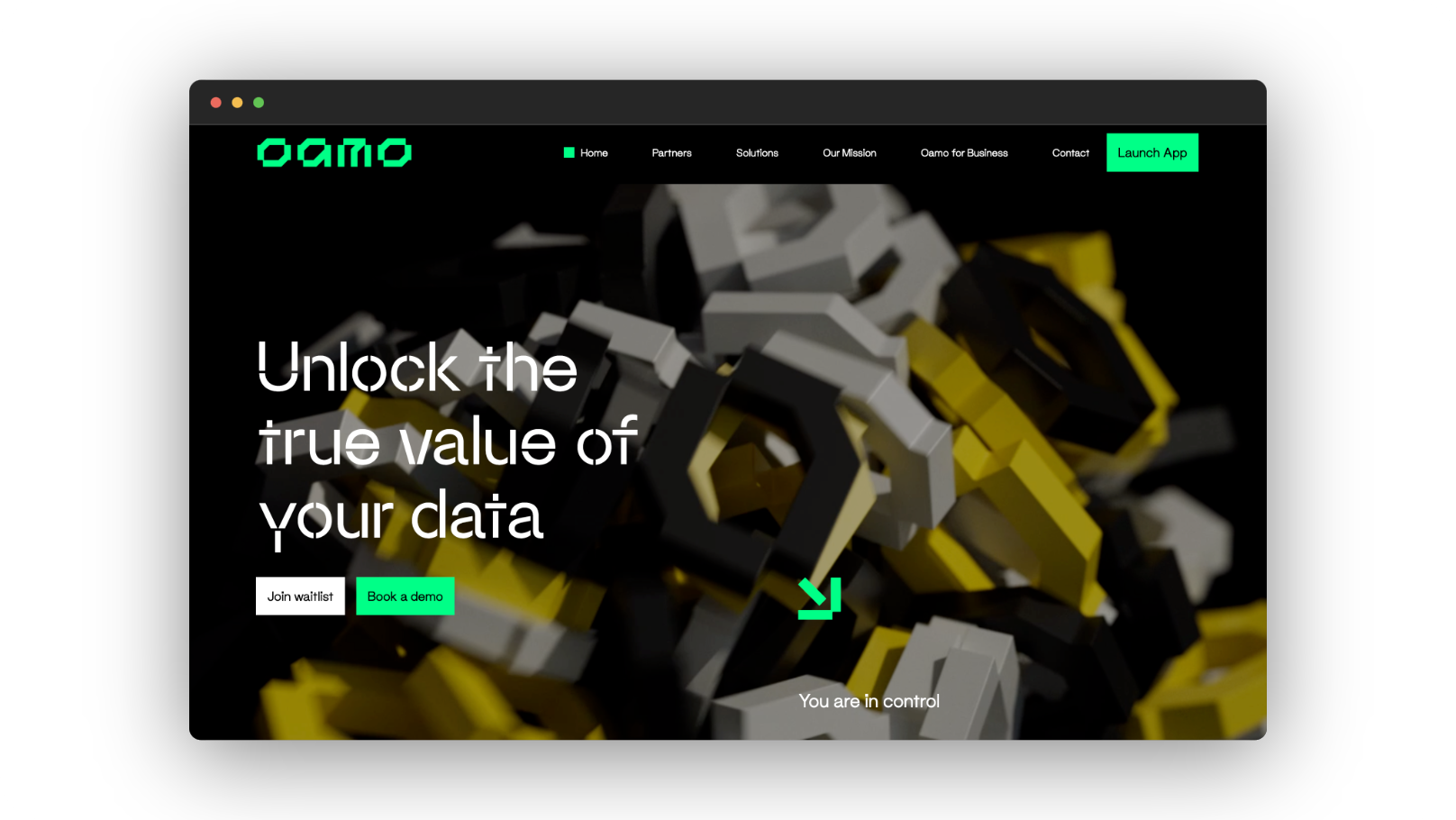 Q&A with Oamo👇
Could you introduce yourself by sharing your name, prior experience, and current role within your company?
I'm Yannick Folla, Co-Founder and CEO of Oamo. I began my career in Venture Capital at WhiteStar where I was quickly exposed to the world of cryptocurrencies. After going down the rabbithole in 2016, I decided to dedicate my career to the industry and launched a consulting company helping Venture Capital firms and early-stage startups leverage tokenization. In 2018, we pivoted to offering staking services, and after a few months, I joined Figment, our competitor at the time, as employee #3.
At Figment, I occupied various roles, starting in sales, before becoming the first product manager at the company, building what would become Figment's Data Hub, its API and Dev Tools suite. I eventually became Head of Data Hub where I led a team of over 30 people and helped the company achieve Unicorn status in 2021.
During my time at Figment, I also co-founded 0x Society, Canada's first NFT gallery, in Montreal, which I still run as a non-profit with my co-founder Bianca Lessard.
After nearly 4 years at Figment, I decided to go back to the entrepreneurial path and start Oamo. Oamo is a platform that allows consumers to share anonymized personal data with companies in exchange for rewards and personalized offers.
Users can create their Oamo profiles, which are DIDs, connect their wallets and Web2 accounts, and generate credentials representing their various behaviors. These credentials are encrypted with their own wallets, putting them truly in control of their data. Users can then share their data anonymously with companies of their choice through our Data Pool system if they fit the companies' requirements and earn USDC instantly.
Companies then obtain rich insights and analytics about the cohort of Data Pool participants and can send personalized offers to users, without ever having access to their wallet addresses or usernames, preserving their privacy in the process.
How has your company grown and changed since its inception, and what do you have planned for its future?
Oamo has gone from ideation to Mainnet launch in 10 months, piecing together a variety of decentralized technologies to create a seamless experience for both consumers and businesses. Surprisingly, most of the architecture and concepts we identified at inception have all been executed as planned.
The only core elements that evolved out of our system are Data Unions, third-parties that would aggregate and package user data for sale, as we realized that we could create a system, through Data Pools, where users could trustlessly share their data with companies in a way that would be valuable for data buyers while streamlining participation for users.
We are now a team of 9 including myself and my co-founder Ahmed Hadjeres. To summarize our objective for the future, we want to increase the value present in Oamo's data economy. This means constantly creating more value for businesses so that more value (in the form of rewards and offers) flows to users. Our public launch is set for September 26th, where our customers will start launching their own Data Pools and building relationships with valuable Oamo users.
In the world of web3, what are some of the most prominent trends you are currently observing? Which ones do you believe will gain momentum in the coming years?
Oamo definitely falls within the Web3 Growth Stack. As such, I'm constantly tracking its evolution to see existing issues and developments with analytics, attribution, acquisition and decentralized identity solutions.
Given the increasing amount of regulatory pressure on traditional data brokerage and the slow death of cookies, I believe marketers, both in Web2 and Web3, will need to turn to zero-party data platforms to truly understand their audience and reach them in a consensual way.
📢
Introducing Feature Fridays
: Every Friday, we'll highlight some of the best startups in the blockchain space and feature them on QuickNode's blog and Twitter account.
Click here to apply!
What inspired you to develop Oamo, and how did you conceive?
Having been investing in the industry since 2016 and working full-time since 2017, I have been able to witness first-hand the promises of Web3 technology for use cases previously impossible in Web2. I believe Oamo tackles one of the most fundamental ones, namely true data ownership, providing a seamless yet private way to monetize your data and unlock more value for both consumers and businesses.
At my previous role at Figment, I had the chance to be at the forefront of emerging technologies that could tackle new layers of the Web3 stack such as identity, data storage, encryption, and more. New protocols such as Ceramic and Lit Protocol matured to a point where the vision for Oamo became feasible. The idea for Oamo, which I had toyed with for the past two years before launching the company, could now see the light with a solution that respected user privacy, provided them with instant payout for data sharing, and allowed companies to better understand a user's behavior across Web2 and Web3 in order to acquire and retain them.
I had also analyzed previous attempts at data monetization in Web2 and Web3 and each fell short in at least one of these categories. Users would either share everything about themselves, or get paid with points or small amounts of app tokens. Companies would acquire either Web2 or Web3 data but never both, and would have no way to acquire the user thereafter.
I believe Oamo has the right approach, given the tools at our disposal now, to finally create a true data ownership and monetization platform.
Can you provide insight into Oamo's progress by sharing any metrics or milestones?
Oamo launched its private beta on Polygon Mainnet on September 12th. In 48 hours, over 1400 profiles were created and over 600 users have earned from their data.
The next major milestone will be our public launch on September 26th, where we will allow anyone to sign up and participate in Data Pools from Oamo and our customers, with over $75 available per user at launch if eligible to all Data Pools.
Can you provide insight into the target market for Oamo and what types of clients you work with?
Oamo is a B2B company which also provides services to consumers.
On the B2B front, Oamo works with consumer-facing brands and organizations looking to identify, understand, and acquire high-quality leads. We work with companies such as Figment, Ledger, Ledn, Zapper, Primex Finance, Index Coop, and more to help them build a relationship with future power users.
On the B2C front, Oamo helps consumers aggregate and anonymize Web2 and Web3 data and sell access to this data to companies of their choosing in exchange for rewards and personalized offers.
How does your company utilize QuickNode, and what benefits does it bring to your business operations?
Oamo utilizes Quicknode's Polygon Mainnet RPC for most of its backend actions, such as: - Creating Data Pools
Users participating in Data Pools
Reward payouts to users after Data Pool participation
Referral system payouts to users
---

---
About QuickNode
QuickNode is building infrastructure to support the future of Web3. Since 2017, we've worked with hundreds of developers and companies, helping scale dApps and providing high-performance access to 24+ blockchains. Subscribe to our newsletter for more content like this, and stay in the loop with what's happening in Web3!