Feature Fridays: Snag Solutions
Discover how Snag Solutions is supporting the growing web3 creator economy.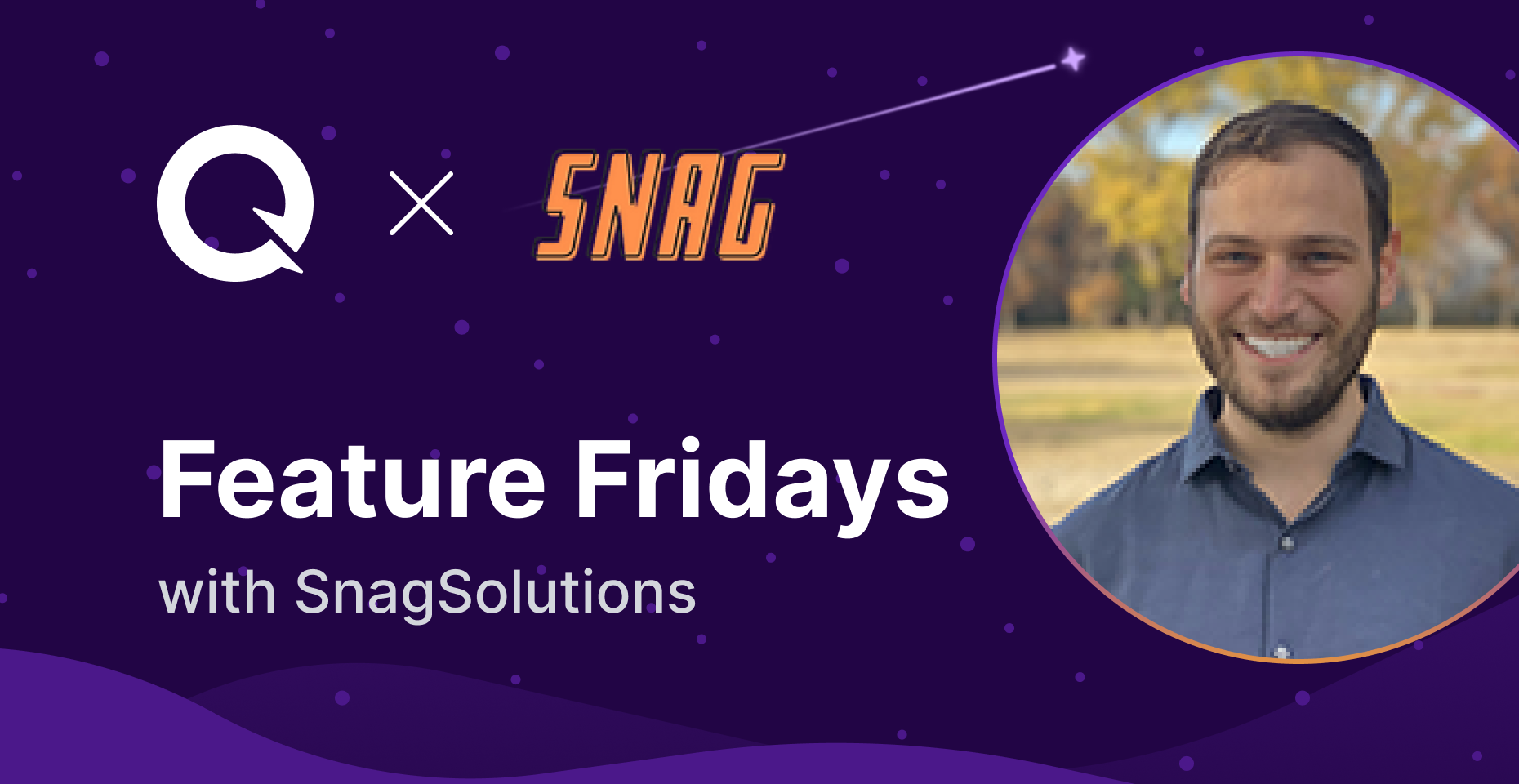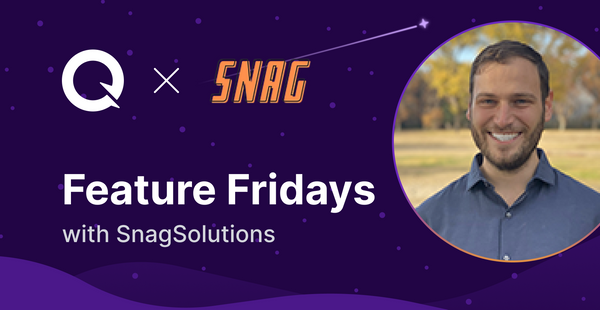 Snag Solutions is on a mission to empower creators by enabling them to own their marketplaces, maintain users on their platforms, and enforce royalties. Through an immersive digital experience, Snag Solutions aims to support the growing creator economy in the web3 space. In today's Feature Friday, we're excited to share an insightful Q&A with Zach, Co-founder, and CEO of Snag Solutions.
Zach's experience as an early leader at DoorDash, where he spearheaded sales strategy and developed new products, has prepared him for his current role at Snag Solutions. The company began with its first partner, Goblintown, in September, and has since grown to over 50 partners while refining their core product. They are now focusing on developing loyalty and social products to help partners offer value to holders and enable project-specific peer-to-peer trading in their marketplaces.
Learn more about Snag Solutions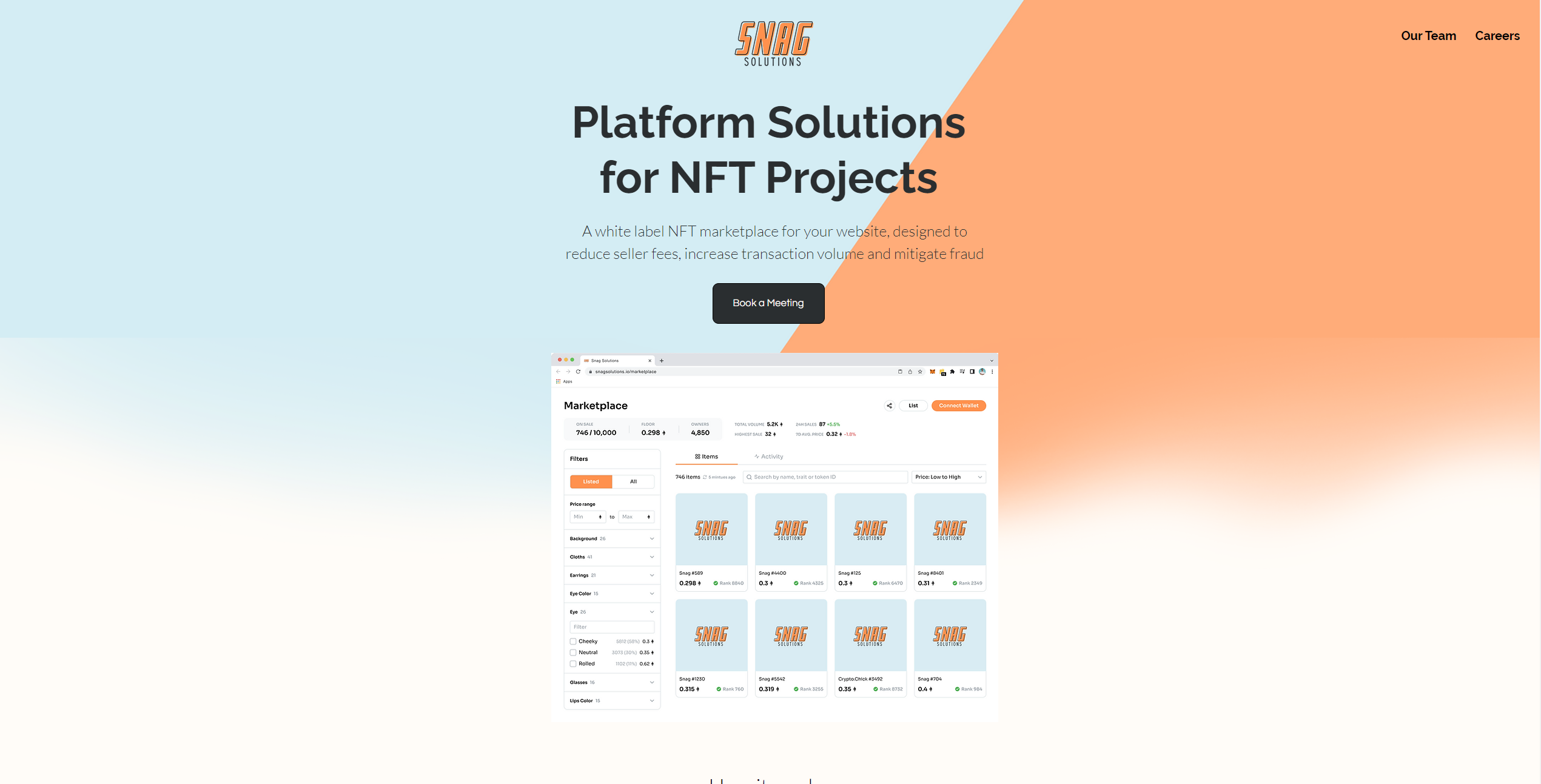 Q&A with SnagSolutions 👇
Could you introduce yourself by sharing your name, prior experience, and current role within your company? Additionally, please briefly explain your company's mission and what it offers to its customers.
I'm Zach, Co-founder and CEO at Snag Solutions. I was an early leader at DoorDash, leading sales strategy and building out new products as an intrapreneur, including leading our white-label restaurant business. Our mission at Snag Solutions is to help creators take control of the buying experience by owning their own marketplace to keep users on their platform and enforce royalties. We're building tools to help partners build an immersive digital experience.
How has your company grown and changed since its inception, and what do you have planned for its future?
Since our first partner, Goblintown, launched in September, we've grown to 50+ amazing partners and built a strong core product. We're currently working on our loyalty and social products that solve the puzzle for partners trying to drive growth by providing value to holders, and have project-specific peer-to-peer trading coming to our marketplaces soon!
In the world of web3, what are some of the most prominent trends you are currently observing? Which ones do you believe will gain momentum in the coming years?
Blur has taken market share via token rewards and reduction of royalties, hurting both creators and the space at large. We've noticed an increase in wash-trading along with a shift away from 'collecting' as a core use case. Creators are fed up, and have expressed the need to control their revenue.
We believe that in the future, 80%+ of creator smart contracts will be upgradeable and include logic to help enforce + incentivize royalties. Creators need full control over their revenue model and control over the trading experience. Web3 was built off of the creator economy and the ability to support revenue. Things will swing back.
📢
Introducing Feature Fridays
: Every Friday, we'll highlight some of the best startups in the blockchain space and feature them on QuickNode's blog and Twitter account.
Click here to apply!
What inspired you to develop SnagSolutions, and how did you conceive it?
I was leading the DoorDash white label business building new tools and services to help large brands like Chipotle and Panera run pickup + delivery through their own app & website when I redpilled into NFTs. After flipping a monkey JPEG and sending several thousand dollars to OpenSea for not a whole lot of value, I saw the opportunity to build the same business in Web3.
Is there a new feature of SnagSolutions that you find particularly exciting or noteworthy?
V2 of our social product is launching in the next few days, which enables holders to access feeds with project announcements and community posts with trading posts and marketplace activity to follow!

NFT communities see a ton of fragmentation, so we're solving for social + trading use cases as part of our native marketplaces, while standing up a secure 'single source of truth' for communities.
Can you provide insight into Snag Solutions' progress by sharing any metrics or milestones indicating its traction?
We have 50+ partners, including ApeCoin DAO, Goblintown, The Plague, and Genuine Undead, with many top names in the pipeline! We're seeing up to 20% of our top partners' listings go through their dedicated marketplaces, and continue to see strong volume come through fiat checkout from partner communities.
How does your company utilize QuickNode, and what benefits does it bring to your business operations?
We're not set up with QuickNode quite yet, but we are thrilled to use the credits from the hackathon to get started!

---
About QuickNode
QuickNode is building infrastructure to support the future of Web3. Since 2017, we've worked with hundreds of developers and companies, helping scale dApps and providing high-performance access to 20+ blockchains. Subscribe to our newsletter for more content like this, and stay in the loop with what's happening in Web3!