Introducing QuickNode's New Pricing and Plans!
Dive into our new enhanced plans, extended API credits, cryptocurrency payment options, and much more!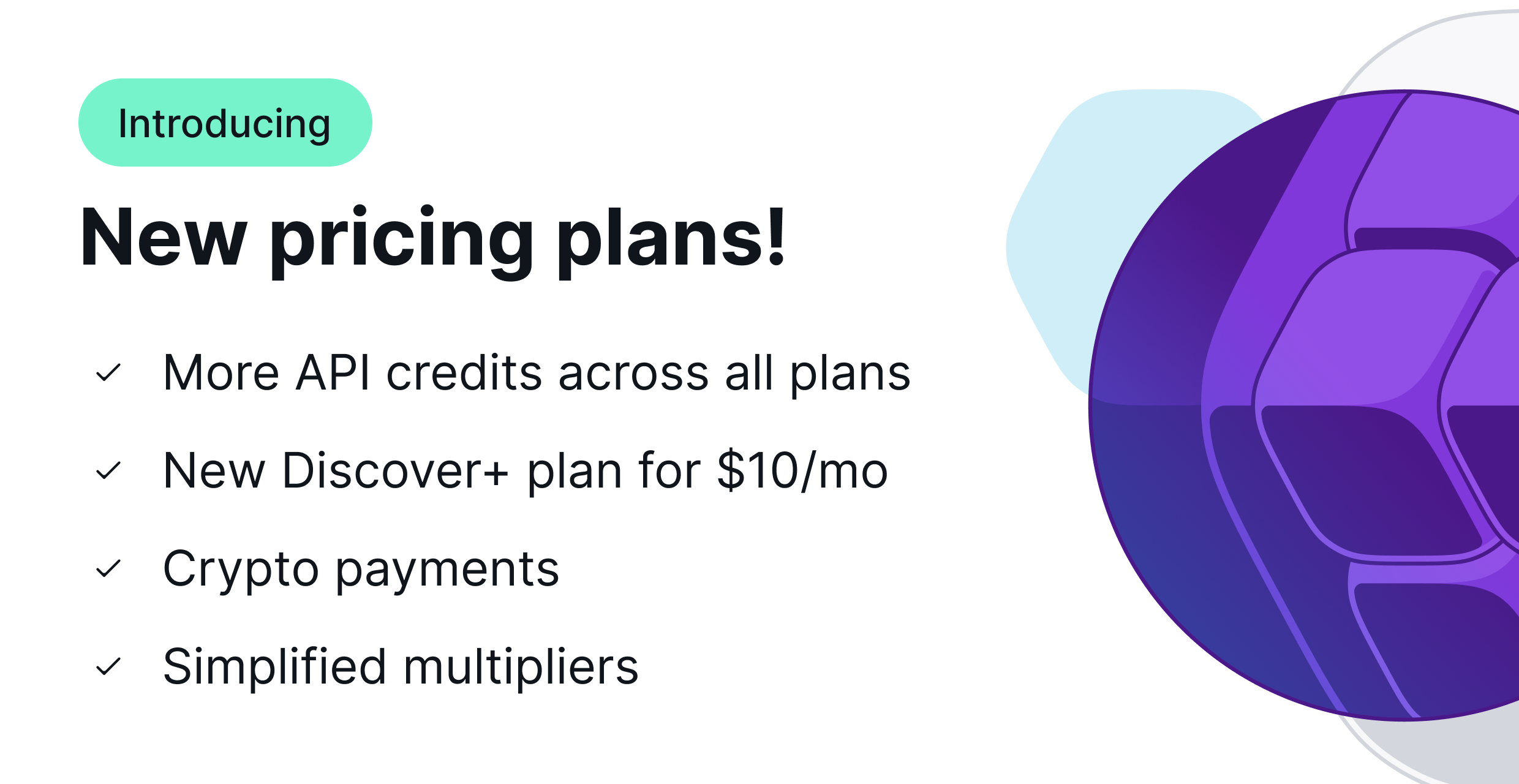 We're excited to announce some significant updates to our pricing plans! To better serve blockchain builders, we're rolling out new plans with more API credits, more product features, and more pricing options — underscored by unparalleled reliability and lightning-quick access to 24+ blockchains. The most generous infra plans in the industry just got even better! Did we mention our free plan that offers 50 million API credits?

As QuickNode continues to grow and evolve, we're always listening to the varied needs of our community, from budding web3 builders to global enterprises. Our goal is to ensure that everyone has access to the best tools and resources to leverage the power of the blockchain — and at the price that works for them!
Here's what's new:
Across our current plans, we've ramped up API credits for each plan based on the needs of our customers. For example, we increased our plan to 3 Billion API credits for startups and businesses. That makes our Scale plan 2.6x better than competitors like Alchemy.
We simplified our multipliers so it's easier for our customers to plan their usage with Quicknode. Instead of 100s of different multipliers across calls, most method calls fall within five buckets, so you will never be surprised with a bill again.
We introduced a brand new Discover+ plan for $10/mo that supercharges our current Discover plan. It's best for builders and developers who need more API credits and two endpoints to launch their project.
Crypto payments are now available for all Discover+, Build, Scale, and Enterprise users in the dev portal. Users can "top up" (prepay) account credits using the cryptocurrency of their choice.
Expanded IPFS features for decentralized storage and data access needs — now available on the Discover+ plan.
New QuickAlerts features are available on all plans to stay updated on key blockchain events.
QuickNode's new plans:
* Learn more about API Credits.
Why These Changes?
Our revamped plans are not just about introducing new features; they're about maximizing value for you! With the feedback we've gathered over time, these plans are designed to offer you more flexibility, better cost-efficiency, and powerful tools tailored to your needs.
Our mission remains the same: to empower each of you with the best blockchain infrastructure, no matter where you are in your web3 journey. Our new plans reflect that mission, offering flexibility, scalability, and value.
Choose the plan that aligns with your needs and join the network processing hundreds of billions of requests per month across dozens of regions worldwide!
What these updates mean for current QuickNode users
Paid Plan Users: If you are currently on any of our paid plans, you can decide whether to stay on your current plan or migrate to one of our new offerings. Whichever you choose, you'll now have the option to use crypto to top-up payments. If you want to upgrade your account now, just open a support ticket, and our team will help you.
Free Plan Users: If you are on our current free plan, we'll help you migrate to our new Discover Plan in the coming weeks. Our team will support this migration. More detailed information will be provided soon.
New API credit calculations and multipliers at QuickNode
As QuickNode continues to expand and refine its offerings, we've taken a fresh look at our API credit calculations. This ensures transparency and clarity for our users as they interact with our platform.
Previous API Credit Calculations:
Our old system calculated API Credits based on a method's intensity on our platform. This calculation considered multiple complex factors such as compute, memory, disk, and network resources. For instance, the eth_getLogs method had an API Credit value of 8. Additionally, we had an Archive Method Multiplier that applied to calls made to the archive.
New Simplified API Credits Multipliers and Logistics:
Our revamped system is designed to be more intuitive, straightforward, and user-friendly. Here's a breakdown: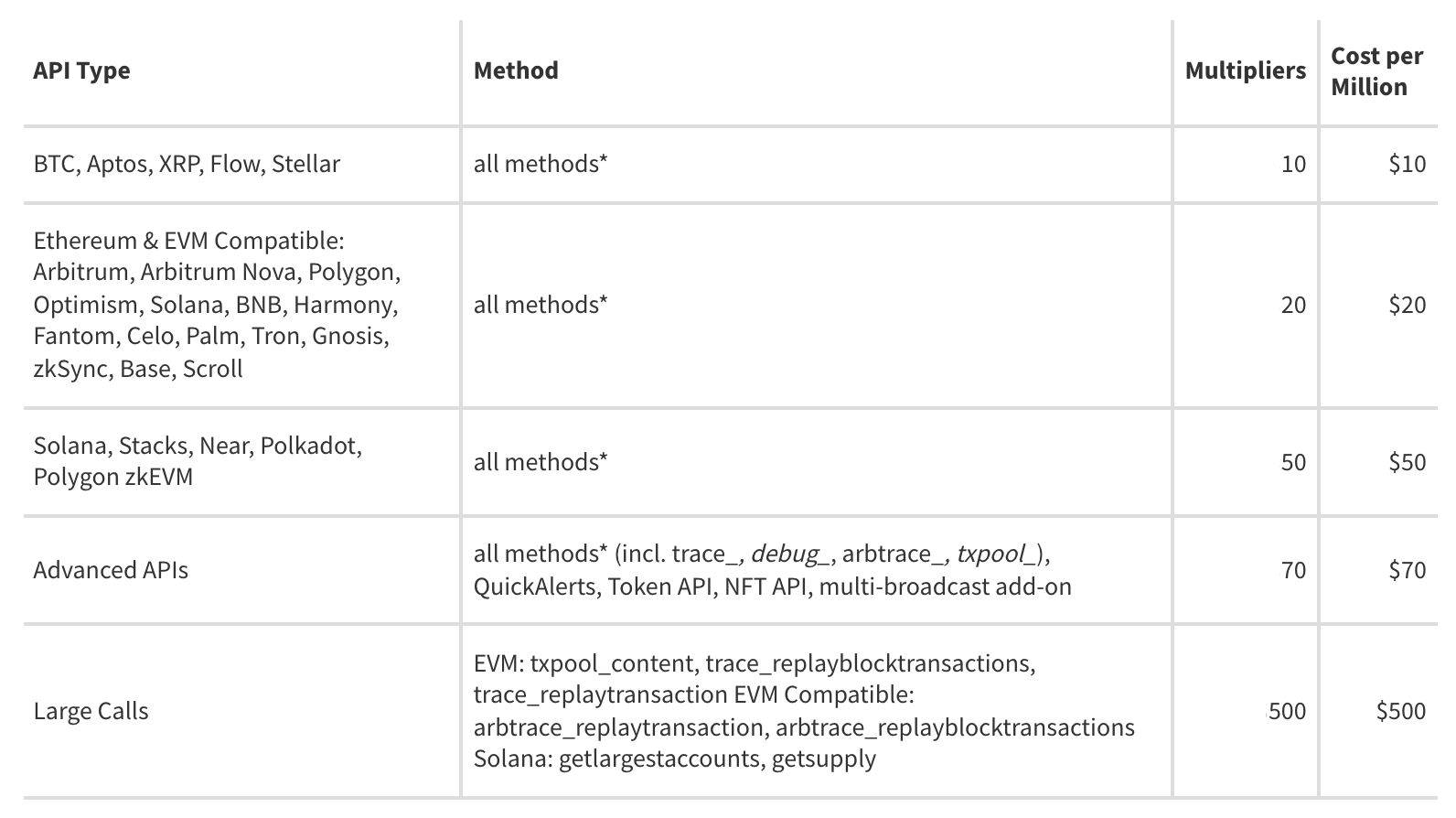 Our decision to restructure the API credit calculations stems from our ongoing commitment to providing our users with the best, most seamless experience possible. The multipliers and costs are now arranged by platform and method type, making it easier for developers to calculate their costs and manage their API usage.
For further questions or custom enterprise solutions, feel free to Contact Us.
Thank you for being a part of the QuickNode journey. We look forward to seeing what you'll build next!
Why QuickNode?
QuickNode makes blockchain infrastructure easy, freeing developers to focus on the dApps (decentralized applications) they're building instead of everything that goes into running blockchain infrastructure, such as DevOps/NodeOps, uptime, scaling, security, tooling, etc...
By eliminating the headache of node maintenance & synchronization and providing a comprehensive, end-to-end platform, we save developers valuable time getting a high-quality dApp to market faster and help businesses scale and execute their Web3 strategies.
QuickNode is an indispensable tool in a Web3 developer's arsenal created by developers for developers, battle-tested by industry-leading projects.
Today, the QuickNode network processes over 200 Billion monthly requests across 35+ networks in 14+ regions worldwide.‌‌
Visit QuickNode.com or check our guides section for more information.

---
About QuickNode
QuickNode is building infrastructure to support the future of Web3. Since 2017, we've worked with hundreds of developers and companies, helping scale dApps and providing high-performance access to 24+ blockchains. Subscribe to our newsletter for more content like this, and stay in the loop with what's happening in Web3!‌