Introducing The QuickNode Startup Program!
The QuickNode Startup Program offers product discounts, API credits, personalized support, and access to exclusive resources and events.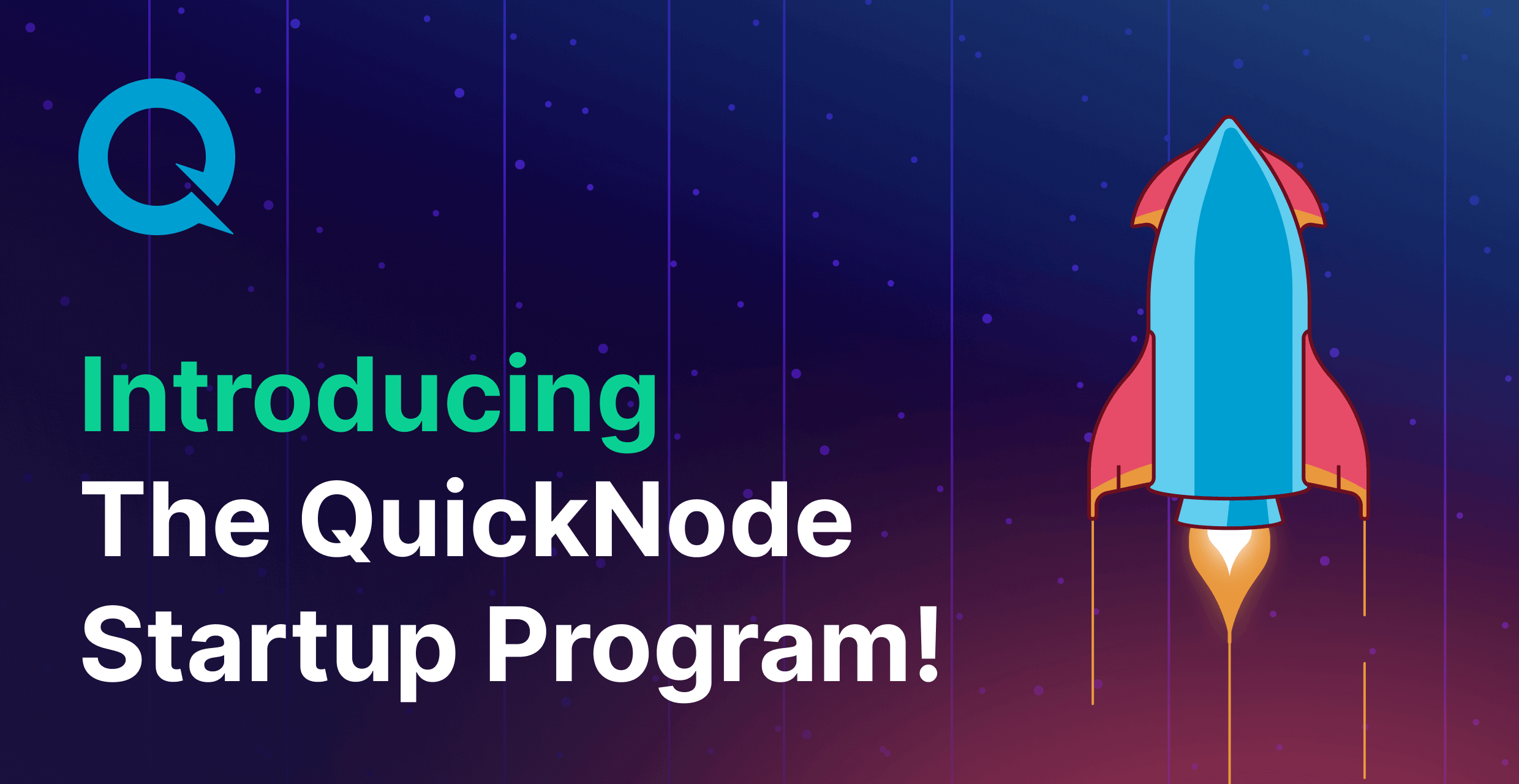 We're excited to announce the public launch of the QuickNode Startup Program!
Over the past 18 months, we've been building partnerships and fine-tuning our program with the collaboration of over 150 top-tier VCs and startup organizations. After many months of careful planning, we're ready to open the gates for all startups to apply and join the QuickNode Startup Program! As a YC-backed company, we know how important it is to support founders from the earliest days, which is why we're thrilled about the official launch of the program.
Why apply to the Startup Program?
Accepted applicants are eligible for a range of benefits, with access to each being determined by their unique qualification status. Possible program benefits include, but are not limited to:
Free QuickNode credits and resources: Get started on the platform for free! We'll provide the credits to get you going without opening your wallet.
Technical office hours: Benefit from personalized reviews of your architecture and gain insights into the best practices for building your application. Access expert engineering support from the top talent in web3.
Investor introductions: No network? No problem. We can help introduce you to investors with a thesis that aligns with your startup. You do the building, and we'll help with the intros.
Co-promotion & marketing: Get your startup in front of our 35K+ audience on X and the 150K+ developers using our platform.
3rd party offers: Discounts and credits for products and services commonly used by startups. We'll share special partner offers designed for projects just like yours.
Workshops: Exclusive access to invite-only workshops you won't find anywhere else.

A gateway to growth
We're not just offering a program; we're extending a partnership to help you build, scale, and make a significant impact in the blockchain industry. With benefits from hundreds of partners like AWS and unlimited growth opportunities across 24+ blockchains, your pathway to meeting customers and achieving scalable success is clear and promising.
Innovation driven by strong partnerships
Our collaboration with giants like Sequoia, OV, ChainLink, Alliance, and YC, fuels the innovation driving our program.
Take the leap with QuickNode!
Don't let this chance slip by. Apply now to be part of QuickNode's Startup Program. For more details on credit eligibility and the approval process, check our Startup Program FAQs.
The future is blockchain, and with QuickNode, you're already ahead!

---
About QuickNode
QuickNode is building infrastructure to support the future of Web3. Since 2017, we've worked with hundreds of developers and companies, helping scale dApps and providing high-performance access to 24+ blockchains. Subscribe to our newsletter for more content like this, and stay in the loop with what's happening in Web3!‌