Metaco Relies on QuickNode for Secure Digital Asset Management for Tier 1 Financial Institutions
Metaco uses QuickNode to help the world's largest financial institutions securely interact with public and private blockchains.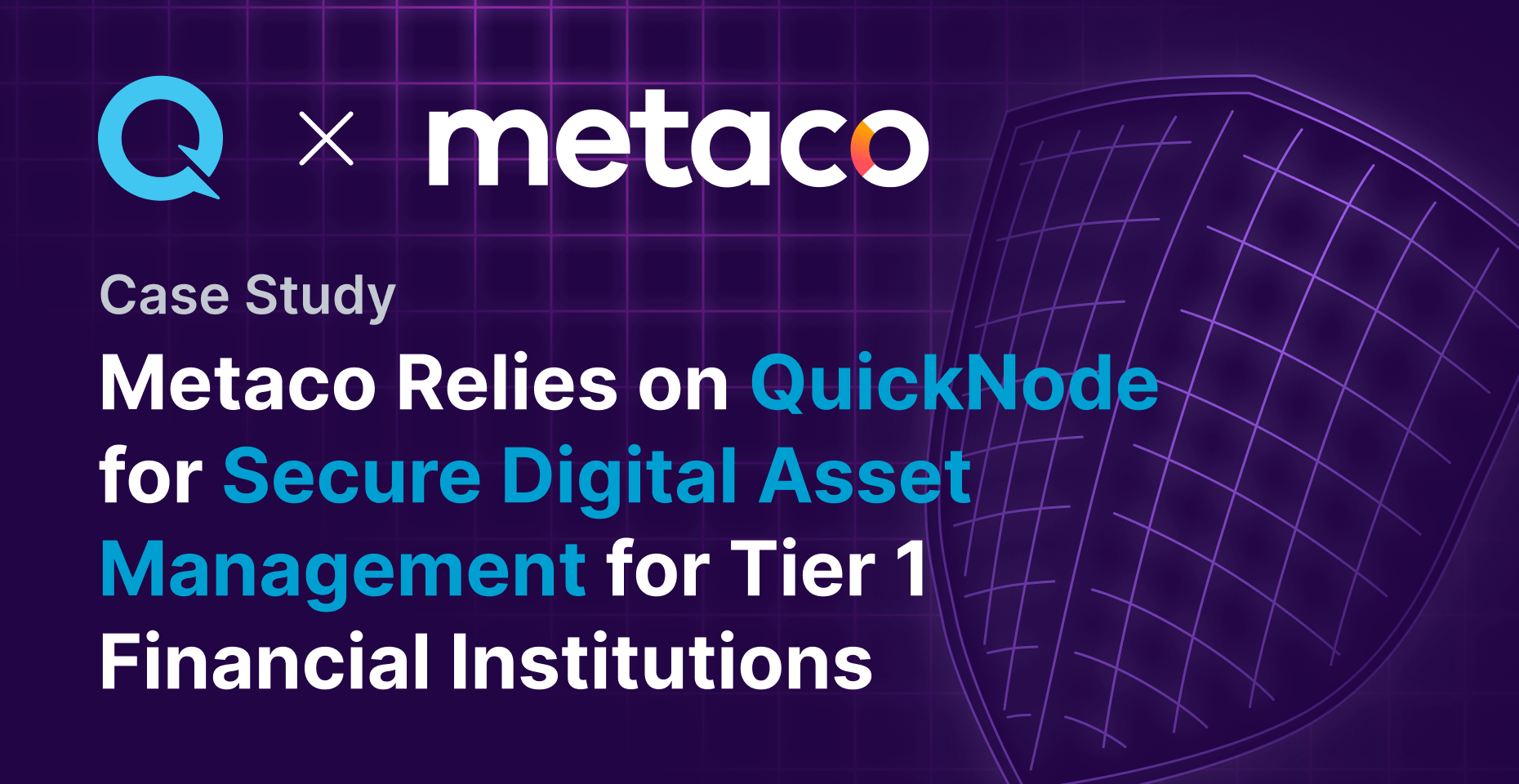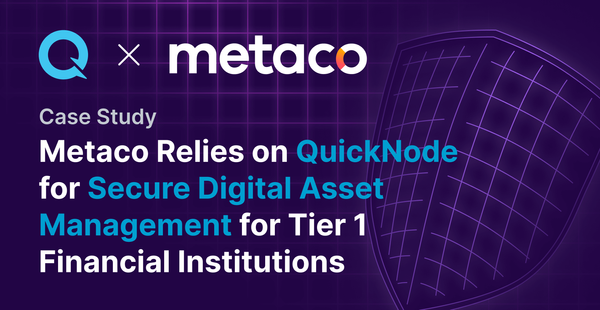 The Challenge: Addressing the Complex Needs of Top Financial Institutions
As part of its mission to establish itself as the institutional standard for digital asset infrastructure, Metaco searched for a reliable and secure way to support its clients. Metaco works with some of the largest Tier 1 custodian banking institutions, including Citigroup, BNP Paribas, Société Générale, and BBVA. These large financial institutions required a solution for safeguarding, transferring, and trading cryptocurrencies such as Bitcoin and Ethereum, tokenized securities, and other financial assets represented on-chain, such as equities bonds, collateral, certificates, and structured products. In addition to providing a secure platform for Tier 1 custodian banking institutions to interact with public and private blockchains, Metaco addresses the private key management problem associated with representing assets on-chain, allowing for the secure custody of digital assets.
When working with the world's top banks and financial institutions, there is no room for errors or downtime, so Metaco needed to find a solution for reliable and secure blockchain communication. Metaco quickly recognized that self-hosting wasn't part of their core business, as maintaining blockchain nodes would be resource-intensive.
Solution: Partnering with QuickNode for Reliable Blockchain Infrastructure
Metaco's selection criteria for blockchain infrastructure providers were primarily based on the quality of service, customer support, and pricing. Before QuickNode, Metaco had tried several different providers that proved inadequate in supporting the level of service required by Metaco's platform.
QuickNode's lightning-quick response times and superior reliability ensured that Metaco could meet its clients' expectations for speed, data quality, and uptime. In addition, QuickNode's fast-reacting customer support team helped Metaco address any issues that arose, providing instant responses and enabling Metaco to focus on delivering value to its clients.
"We deal with very fast-moving chains, and it's not a matter of if but when we encounter problems, and we want those problems addressed ASAP. Reactivity is crucial for us, and with QuickNode, whenever we have an issue, we get an instant response — sometimes in a matter of seconds"
 -Hugo Esquibet, Head of Engineering Operations at Metaco
Results: Empowering Financial and Non-Financial Industries with Secure Digital Asset Management
Metaco's partnership with QuickNode has allowed them to offer an unparalleled solution to their clients. The quality of data and reactivity provided by QuickNode has been a significant factor in this success. As a result, Metaco's clients have experienced secure, reliable, and efficient digital asset management, leading to increased adoption and a positive impact on their businesses.
In addition to financial institutions, Metaco has expanded its use cases to non-financial industries, including car manufacturing, luxury goods, and consumer goods. One notable example is Togg, a Turkish electric car manufacturer that uses Metaco's solution to tokenize mobility services and assess each vehicle's carbon footprint. Togg CEO Mehmet Gürcan Karakaş stated, "Blockchain-enabled digital tokens allow data and other assets to be stored and transferred in a fast, secure, and green way. By leveraging technology from Metaco, we make this possible."
Conclusion: A Strong Partnership for Continued Success in the Digital Asset Space
Metaco's partnership with QuickNode has enabled them to provide a secure, reliable digital asset management solution for Tier 1 financial institutions and non-financial businesses. By leveraging QuickNode's superior blockchain infrastructure, Metaco has simplified the management of digital assets, allowing its clients to interact confidently with public and private blockchains. As Metaco continues to grow and expand its use cases, its partnership with QuickNode will remain a cornerstone of its success.


---
About QuickNode
QuickNode is building infrastructure to support the future of Web3. Since 2017, we've worked with hundreds of developers and companies, helping scale dApps and providing high-performance access to 20+ blockchains. Subscribe to our newsletter for more content like this, and stay in the loop with what's happening in Web3!