QuickNode and Chainlink Labs Establish Partnership To Help Provide Secure Blockchain Infrastructure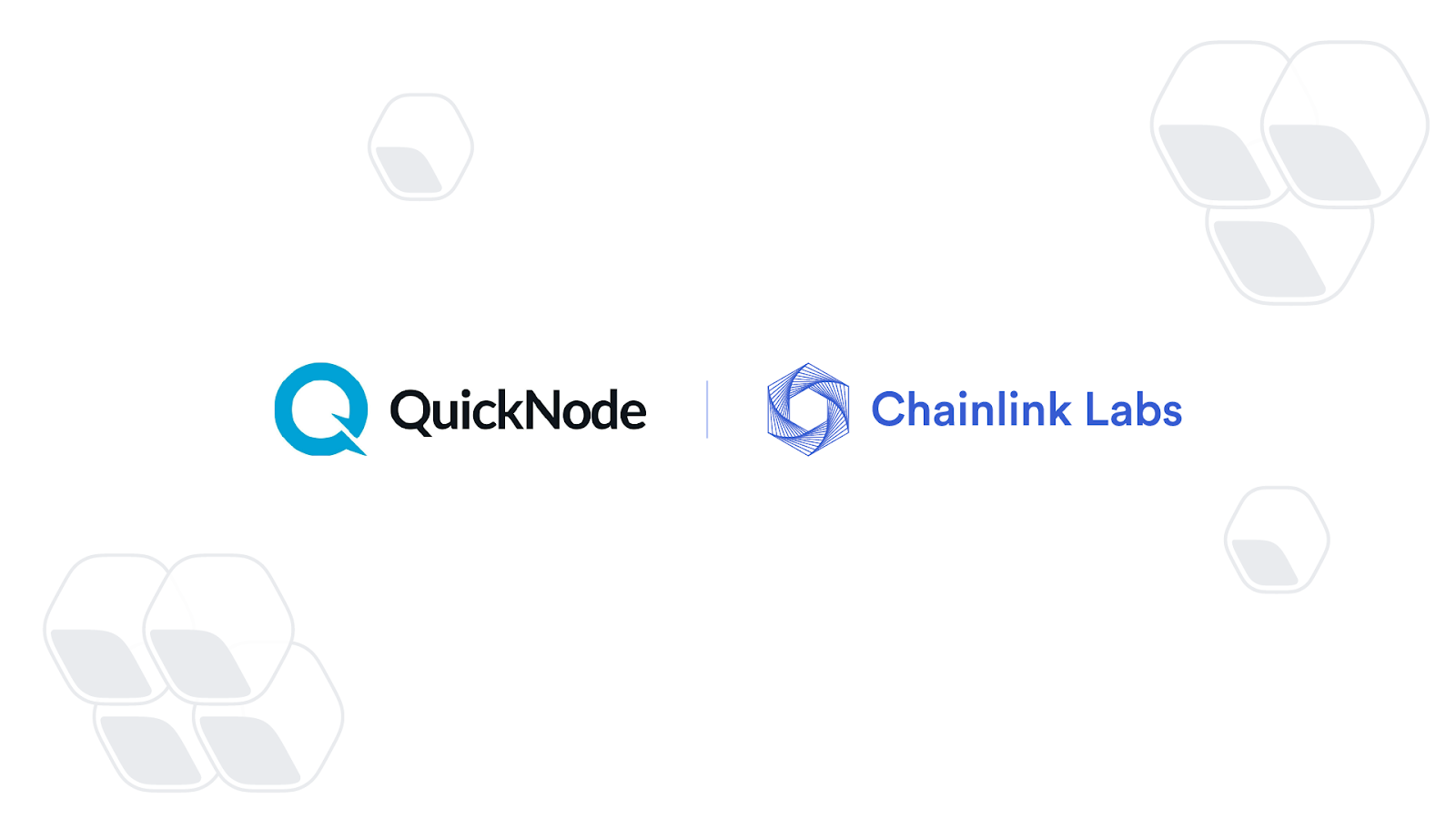 We're excited to announce that QuickNode—the leading blockchain infrastructure provider and end-to-end Web3 development platform—has entered into a partnership with Chainlink Labs, the developer of the Chainlink Network. QuickNode will offer Chainlink BUILD projects QuickNode Credits to easily create RPC endpoints and access key Web3 services, tools, and developer resources across a 22+ chain ecosystem.
How QuickNode and Chainlink Labs Empower Web3 Builders
QuickNode is a blockchain development platform that provides projects of all sizes with reliable infrastructure, managed RPC services, elastic APIs, and the powerful analytics needed to scale successfully. With globally-distributed multi-chain infrastructure and auto-scaling, QuickNode can support applications across the Web3 ecosystem throughout their entire growth journey from MVP to mass adoption.  
In partnership with Chainlink Labs, QuickNode is working to grow the blockchain ecosystems by providing secure and reliable core infrastructure to scale projects seamlessly. To better empower Web3 builders, QuickNode recently sponsored the Chainlink Spring 2023 Hackathon to help developers grow their toolkits and effectively leverage blockchain infrastructure. They are also providing credits to Chainlink BUILD projects to help them get started. Additionally, representatives from AWS, Base, and Chainlink Labs recently joined the judging panel for QuickNode's QuickPitch competition, where $80,000+ in prizes was up for grabs.

"We're excited to partner with Chainlink Labs to help support Web3 projects with secure blockchain infrastructure. Combining our on-demand tools with the industry-leading Chainlink Web3 services empowers developers to build advanced, secure applications." —Jason Hunt, VP of Ecosystem at Quicknode
"We are thrilled to partner with Quicknode to help advance Web3 and bring perks to Chainlink BUILD projects and Quicknode platform support to the expanding Chainlink ecosystem."—Kate Lane, Partnerships at Chainlink Labs
About Chainlink Labs
Chainlink Labs is the leading provider of secure and reliable open-source blockchain oracle solutions, enhancing smart contracts by connecting them to a wide range of off-chain data sources and computations, such as asset prices, web APIs, IoT devices, payment systems, and more. Chainlink Labs is dedicated to the development and integration of Chainlink as the standard decentralized oracle framework used by smart contracts across any blockchain.
About Chainlink
Chainlink is the industry-standard Web3 services platform. It has enabled trillions of dollars in transaction volume across DeFi, on-chain finance, gaming, NFTs, and other major industries. As the leading decentralized oracle network, Chainlink empowers developers to build feature-rich Web3 applications with seamless access to real-world data and off-chain computation across any blockchain and provides global enterprises with a universal gateway to all blockchains.
Learn more about Chainlink by visiting chain.link or reading the developer documentation at docs.chain.link. To discuss an integration, reach out to an expert.
About QuickNode
QuickNode, the leading end-to-end developer platform, is transforming Web3 and blockchain infrastructure by simplifying dApp development and providing high-performance access to over 22 blockchains. Since 2017, QuickNode has empowered hundreds of thousands of top developers and companies to focus on innovation by accelerating dApp build times and offering enterprise-grade solutions to businesses of every size.