QuickNode Archival Node Arrives on Solana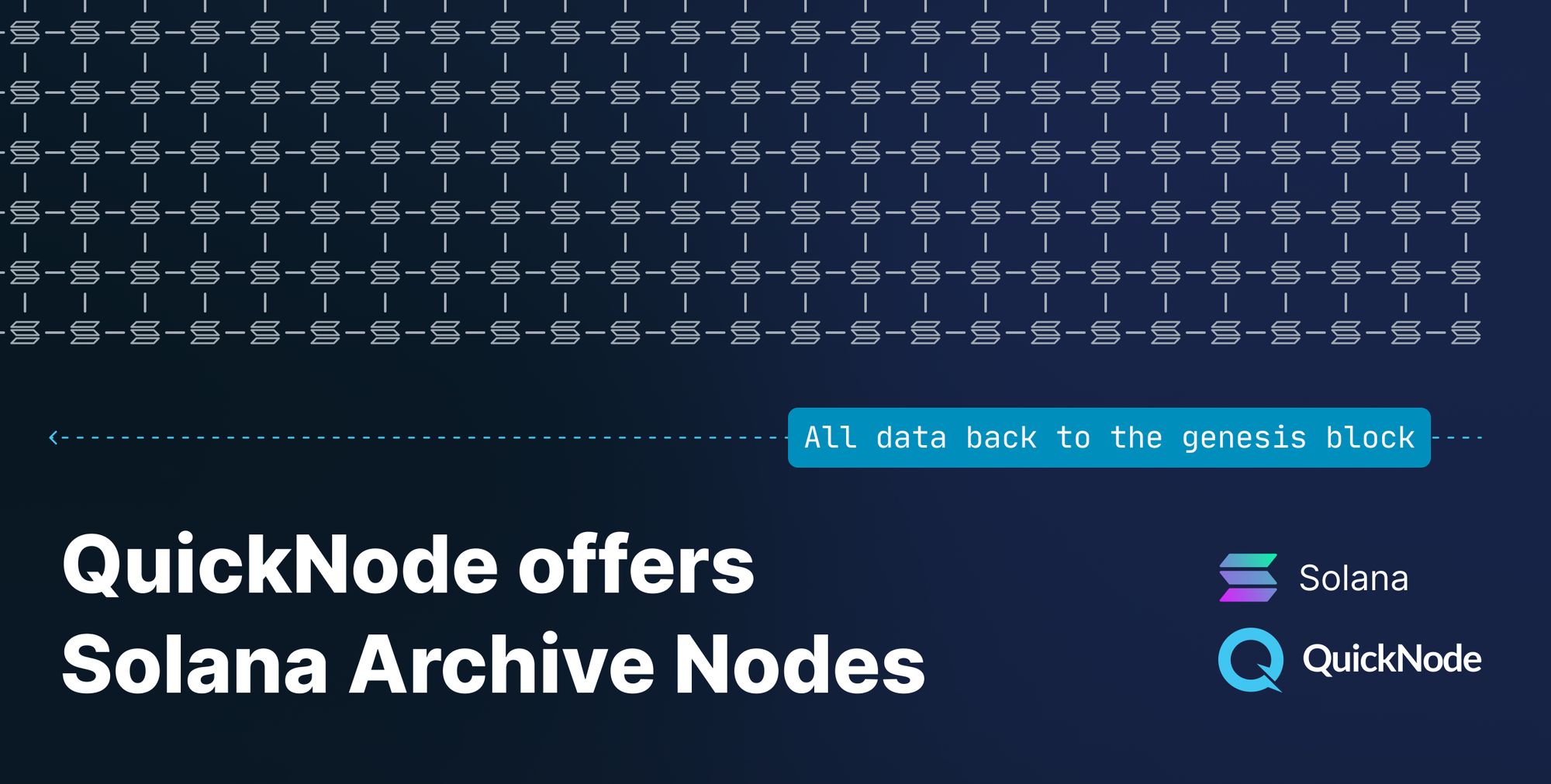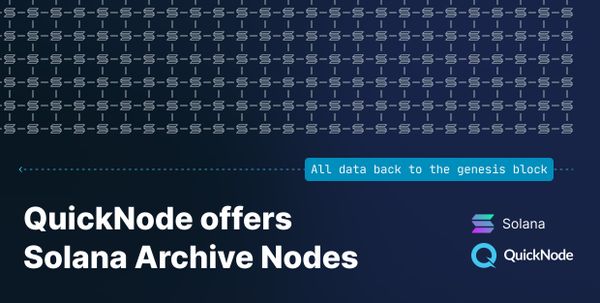 Update, July 2023: All Solana Endpoints now include Solana Archival Data at no additional cost. Don't have an account yet? Sign up free today!
QuickNode Archive Nodes combine the full nodes that QuickNode offers across all our base plans, which users know and love, with an add-on feature, Archive mode, that provides full access to all historical data going back to the original genesis block.
Anyone building products and services with blockchain data needs access to low-latency, reliable node infrastructure, which is why we built QuickNode. QuickNode's standard nodes are used extensively by NFT projects, exchanges, and custody providers to mint tokens, trade on the blockchain, and check an address' current balance. But for many companies, including analytic services, data providers, and financial services companies,  a standard node with access to just the most recent 128 blocks is simply not enough.
As a result, QuickNode offers globally distributed, scalable, and highly resilient archival nodes as an add-on feature for many chains, without the hassle and expense of maintaining them in-house. QuickNode Archive mode serves archival data instantly by leveraging the QuickNode Boost feature of our API. QuickNode Boost considers the high volume calls/requests from our users and caches that data to serve future requests faster. A user with QuickNode Archive mode addon can replay smart contracts, explore the historical balances of an address, run complex multi-dimensional queries, and simulate the blockchain state at any given block in history.
The Challenges of Archival Infrastructure
Managing infrastructure across multiple protocols is a time-consuming process, and the complexities of archival nodes make the process even more challenging. Archival systems contain significantly more data than full nodes, requiring multiple terabytes of storage for trace and index data.
QuickNode Archive mode is designed to address these challenges.  Deploying new archival systems, scaling capacity, and managing failure recovery is a resource-intensive and time-consuming process for in-house management. Today's announcement around Solana archive nodes is a great example: running an archive node on Solana requires over a terabyte of disk space. And before a Solana archive node can be operational, it has to sync block-by-block. Creating a full archive node in-house for a developer is a process that can take over three weeks. QuickNode's Solana archive mode gives instant access to the archive nodes within few clicks!
A full node that only captures the latest 128 blocks of the chain is enormous and tough to manage. For example, if you wish to run a Solana full node, the following are the recommended hardware configuration:
CPU - 16 cores / 32 threads, or more.
RAM - 512GB or more.
Disk space - 4TB+
And to run a Solana Archive node, you need the above, but the disk space requirements increase to over 17TB! For many developers, keeping that volume of data in sync is pretty challenging.
QuickNode's experience in cloud server management enables us to seamlessly handle this for customers. We leverage a multi-cloud globally distributed system to provide robust, scalable archive node infrastructure. This was not an easy task, but our API has been developed so that the user's requests are routed automatically to their nearest location without them having to worry about the location and speed. If a system fails, the API automatically balances it and routes the requests to other nodes in the cluster. Users have peace of mind knowing they don't have to worry about infrastructure needs regarding latency, scalability,  redundancy, and cost.
QuickNode's Archive Advantages
QuickNode's archive nodes are available on all of the most popular protocols, and our offering of supported chains is only increasing. This means that while you grow your application to support cross-chain availability, you do not have to worry about changing your infrastructure.
The tooling that we are building here at QuickNode is second to none. We know that you need to spend time developing business-critical features. This is why we offer multiple add-on services to our archive nodes. Whatever that is debug capability, tracing,  or even WebHook support, you can rely on us for the tooling you need to build your application.
When building an application, the configuration can take days or even weeks to get set up before you get the ball rolling. At QuickNode, we offer instant availability across our supported chains. Whether it is for a dozen calls or a million. We provide a scalable solution that is highly available and redundant. Instead of waiting weeks for your own node to sync, you can spend that time building rather.
Says QuickNode's Director of Blockchain engineering, Mauro Delazeri, "Building and managing terabytes of data for blockchains is hard, but QuickNode's years of technical expertise gives us an advantage in being able to deliver for our clients."
QuickNode Archive Node Support
In addition to Solana, QuickNode offers Archive nodes on all of the following chains:
Be sure to check out archive mode features when you sign up for a Solana node on QuickNode here: https://www.quicknode.com/chains/sol.
Sahil Sen is a Developer evangelist at QuickNode, a web3 developer bridging the gap between developers and the QuickNode team.
---
Need help with your project or have questions? Contact us via this form, on Twitter @QuickNode, or ping us on Discord!
About QuickNode
QuickNode is building infrastructure to support the future of Web3. Since 2017, we've worked with hundreds of developers and companies, helping scale dApps and providing high-performance access to 16+ blockchains. Subscribe to our newsletter for more content like this and stay in the loop with what's happening in Web3! 😃