QUICKNODE ANNOUNCES SUPPORT FOR SOLANA BLOCKCHAIN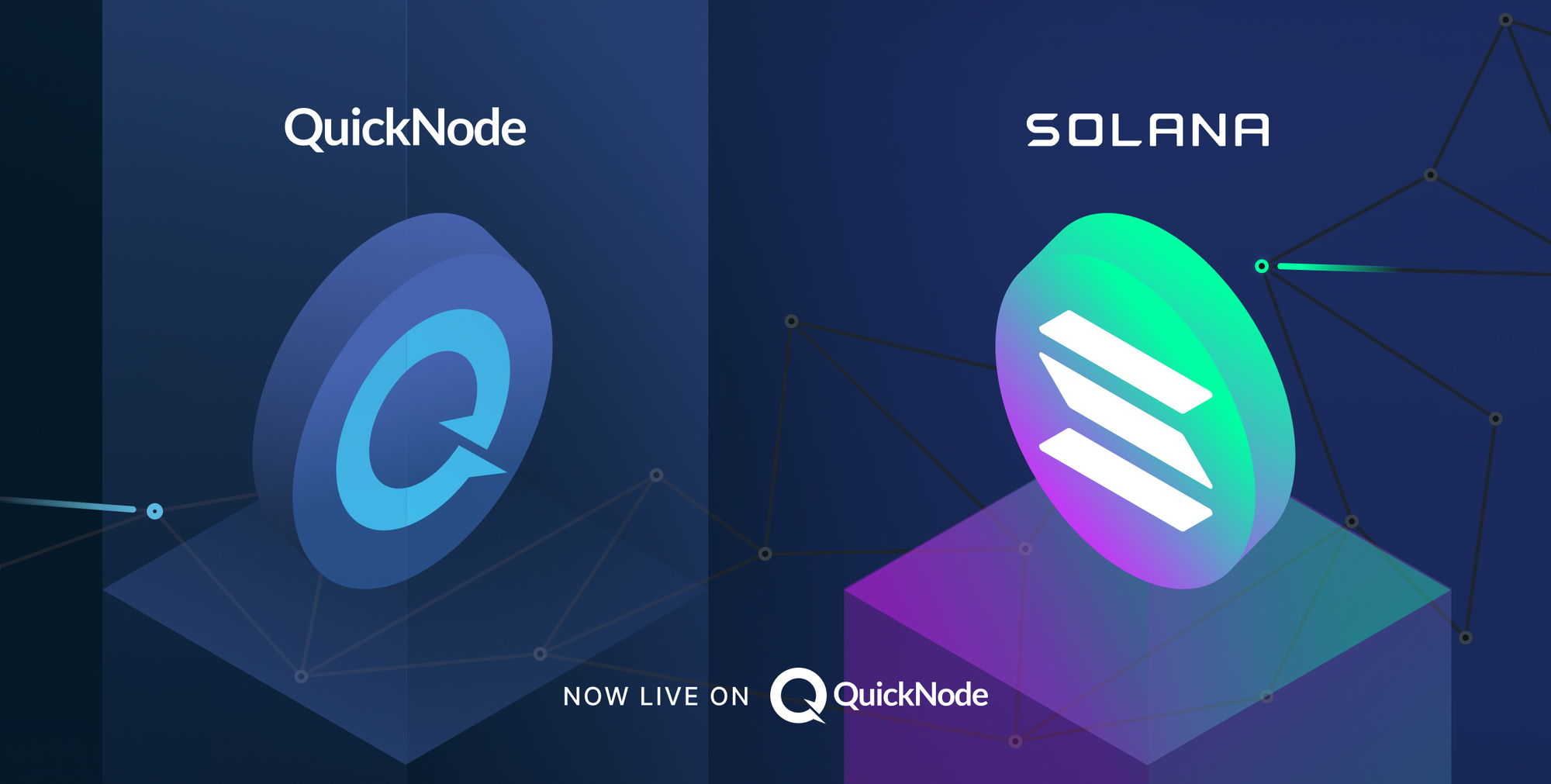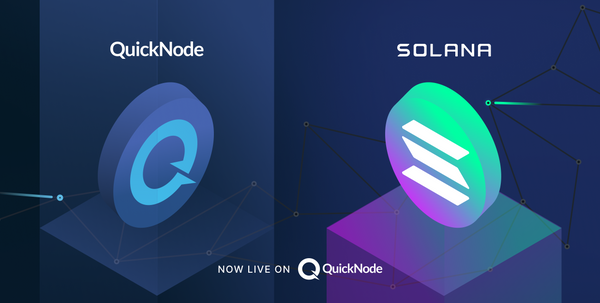 ---
MIAMI – August 3, 2021 - QuickNode, the leading Web3 developer cloud platform for building and operating blockchain-powered applications, today announced the expansion of its blockchain ecosystem with the launch of Solana support on its platform. The Solana blockchain, which launched in 2020, allows the processing of up to 65,000 transactions per second with transaction costs of just 1/40th of a penny.
Solana features an innovative proof-of-history feature which enables decentralized, trustless ordering of transactions based on submission time, delivering breakthrough speed and capacity. Validators can run thousands of smart contracts in parallel, allowing much more efficient confirmations of blocks, increased capacity and reduced overall transaction fees. In addition, Solana boasts interoperability with Ethereum through a feature titled Wormhole, a cross-chain bridge between the two chains.
Today more than 250 Web3 applications have signed on to Solana and developer interest has only grown in the community with the announcement of $120M in funding to encourage Solana applications in emerging markets.
"Developers are the backbone of Solana and critical in building the Web3 ecosystem of the future. We are delighted to welcome QuickNode, a leading blockchain development player, who will provide developers everywhere access to scalable node infrastructure and developer tooling to make building on Solana easy," says Anatoly Yakovenko, Founder and CEO of Solana.
"Companies in the market are telling us that, above all, they want one-stop access to multiple chain types to handle blockchain scalability challenges," says QuickNode Vice President of Revenue, Amol Shah. "This increases complexity and infrastructure demands but ultimately improves end-user economics, which fundamentally drives growth, and we are excited that QuickNode helps power that."
Giving Developers the Most Options
Solana marks the third blockchain with a scaling focus that QuickNode has added in the past month. In addition to today's announcement, QuickNode in mid-July launched support for Fantom, a high performance Ethereum Virtual Machine (EVM) compatible blockchain that can achieve 10,000 transactions per second, and in early July, launched support for Optimistic Ethereum, a Layer 2 solution running on top of Ethereum with the added ability of driving higher transaction volume and lower gas prices.
Scalability and transaction costs are some of the most cited impediments to the growth of blockchain-powered ecosystem, and the addition of Solana, Fantom, and Optimistic Ethereum to the stable of chains QuickNode supports show the company's focus on tackling scaling issues with chain types that offer compatibility with Ethereum while offering the greatest flexibility for application developers.
"To unlock the potential of blockchain, it has become increasingly clear that the world needs the picks and shovels provided by players like QuickNode, who can provide best-in-class infrastructure, so companies are free to focus their precious development efforts on their end product," says Dmitry Shklovsky, Co-Founder of QuickNode. "Partnering with foundations like Solana enables us to help the entire Web 3 community, which is incredibly exciting for developers everywhere."
QuickNode serves over 50 billion requests per month and has grown 10x in the 1H 2021.This announcement comes on the heels of the company's $5.3M seed funding round led by Alexis Ohanian's Seven Seven Six with participation from SB Opportunity Fund, Y Combinator, Arrington XRP Capital, Crossbeam.vc, and Anthony Pompliano, among others.
---
Need help with your project or have questions? Contact us ([email protected]), on Twitter @QuickNode or ping us on DISCORD!
About QuickNode
QuickNode's mission is to enable blockchain businesses everywhere by providing scalable infrastructure and powerful developer tools. QuickNode makes it simple to build, fast to deploy, and easy to scale on blockchain, to help power the next wave of the internet. To learn more, please visit www.quicknode.com