QuickNode Partners with LG CNS to Power Blockchain Innovation in Asia
Robust blockchain solutions, technological innovation, and a shared vision for APAC's blockchain transformation underscore this monumental partnership.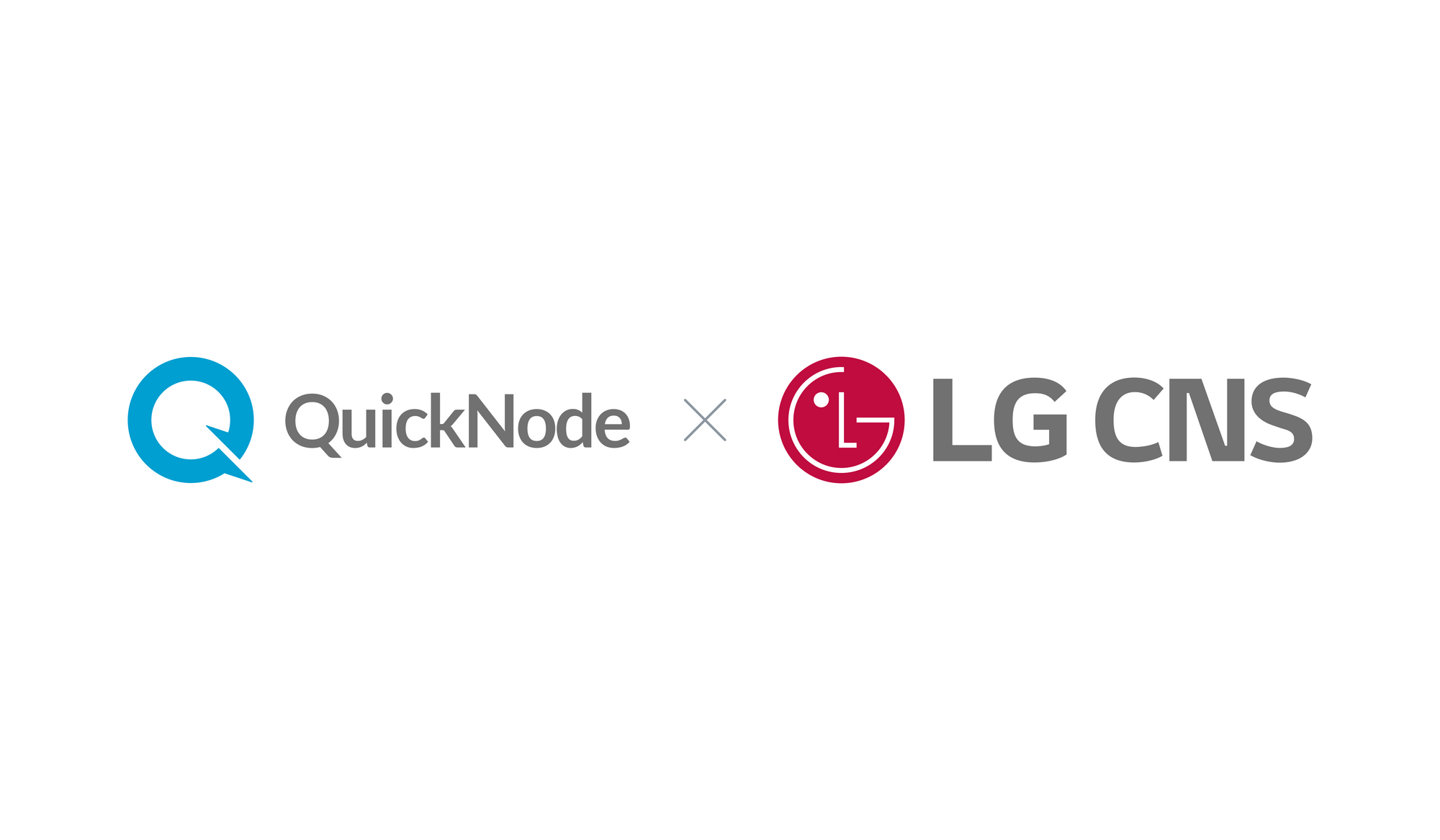 We're thrilled to announce a strategic partnership with LG CNS, the Digital Transformation specialist in South Korea!
This collaboration marks the beginning of a transformative era for blockchain infrastructure, particularly in the influential APAC market, with an emphasis on South Korea's dynamic tech scene. The partnership is punctuated by a strategic investment into QuickNode, bringing total funding for the company to over $100M.
A shared vision for digital interactions, finance, and data security
This isn't just a partnership of two industry leaders but a reflection of a shared vision for a blockchain-empowered future. QuickNode, known for best-in-class blockchain solutions, and LG CNS, a leading digital transformation specialist and growth partner with a strong focus on client-centric DX optimization, cloud, AI/Big data, smart factory, smart logistics, and web3, setting the stage for groundbreaking innovations in APAC's digital domain.
"Together with QuickNode, we will create a robust blockchain foundation in the APAC region, starting with South Korea, and through this partnership, LG CNS will provide cutting-edge blockchain solutions to our customers," said Min Bae, VP of Security Solutions division at LG CNS.
Alexander Nabutovsky, Co-founder and Co-CEO of QuickNode, commented, "This collaboration is more than just a partnership; it's the merging of technological visions. With our expertise, we're set to redefine blockchain accessibility and utility in South Korea and beyond. By partnering with LG CNS, we're setting a course for a future where blockchain technology is integrated into every digital facet, especially in the dynamic APAC market."
Beyond the tech, the collaboration highlights the two firms' commitment to fostering a more inclusive, informed, and empowered blockchain community in the APAC region. This is not just about technological integration but also about shaping the region's future of digital interactions, finance, and data security.
Paving the way for global blockchain adoption
This announcement comes just nine months after QuickNode announced an initial Series B Raise of $60 million led by 10T Holdings in January 2023. During that time, QuickNode has continued to grow its user base by adding over 100k new users in 2023 and expanding its global team. QuickNode currently provides industry-leading blockchain infrastructure on over 24 blockchains, including elastic APIs, powerful analytics, and expert-crafted resources that enable a wide range of use cases — all backed by end-to-end support and world-class, SOC 2 certified security. QuickNode's dedication to removing the complexities of blockchain infrastructure allows companies to zero in on innovation.
LG CNS Web3 business group has led over 50 customers of blockchain projects successfully in Korea with Monachain, an enterprise blockchain platform enabling interoperability with other blockchains like Hyperledger Fabric, Besu, Ethereum, and Solana.
Through this partnership, QuickNode has broadened its global outreach and ensured businesses in the APAC region can harness the best of blockchain without any hassle. Businesses across APAC can anticipate swift blockchain solutions deployment, superior data querying, node performance tracking, and a comprehensive suite of QuickNode's developer tools. The two companies are poised to detail strategic rollouts in the coming months, promising a vibrant future for blockchain enthusiasts and businesses in the APAC region.

---
About QuickNode
Since its founding in 2017, QuickNode has emerged as the go-to solution for businesses and innovators requiring world-class blockchain development tools for speed, reliability, and security. Handling over eight billion blockchain requests daily, QuickNode boasts a 2.5X faster response time than competitors and 99.99% uptime across 24+ chains and 35+ networks. With a user-friendly interface and a robust multi-chain developer tool suite, QuickNode is an ideal choice for top Web3 businesses and global brands. Subscribe to our newsletter for more content like this, and stay in the loop with what's happening in Web3!‌