QuickNode's Q1 Roundup: Shipped Products and Features
Product launches, new chain support, additions to QuickNode Marketplace, and more.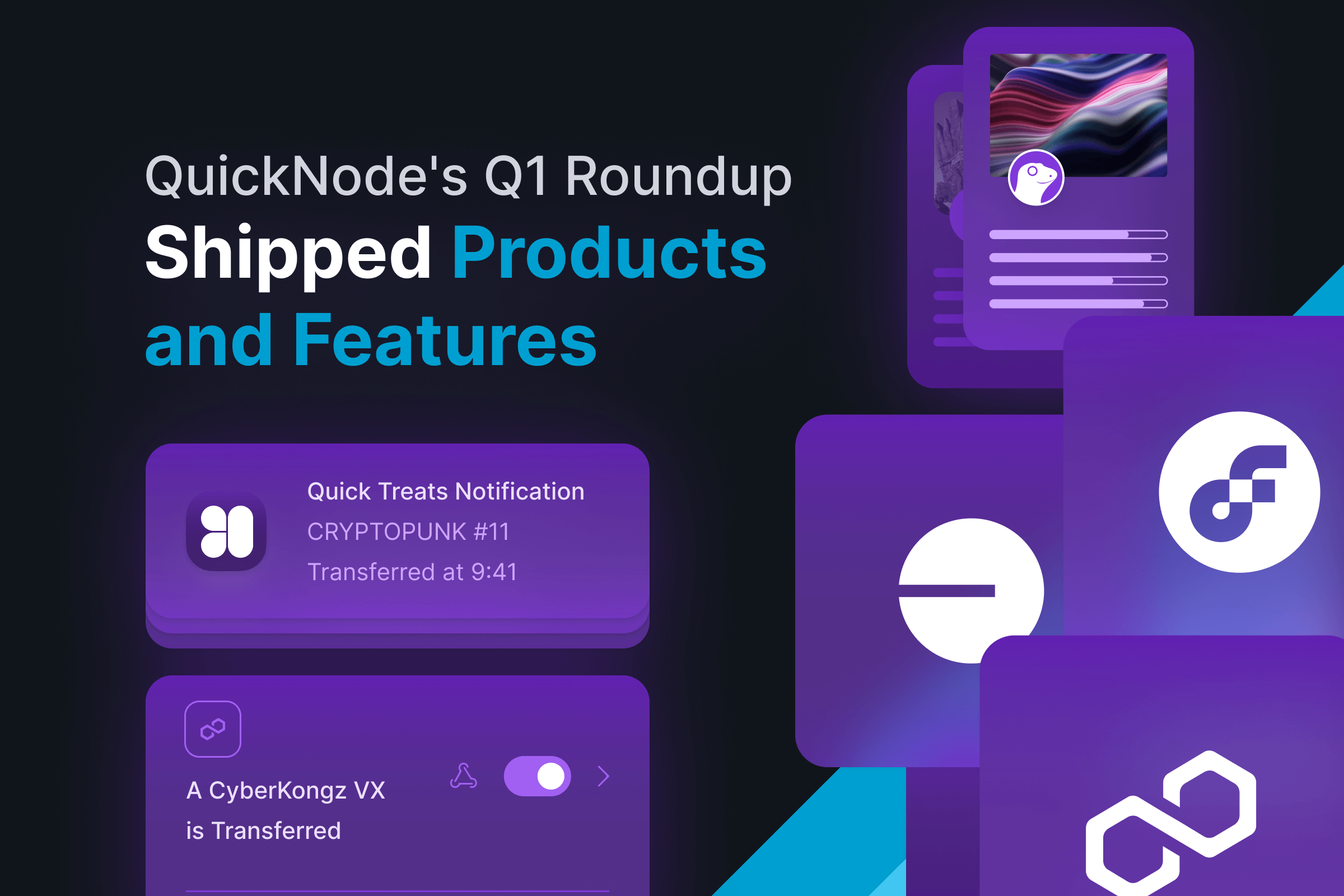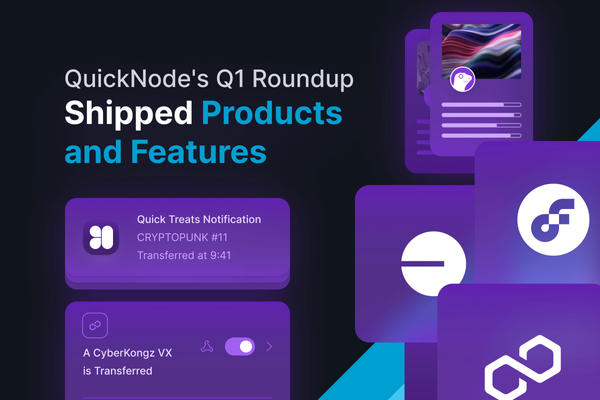 Build season is no joke around QuickNode HQ. (It also happens to be every season, all year long.)
Welcome to the first quarterly roundup of 2023! In this edition, we'll provide you with a comprehensive overview of the latest products and updates shipped by the QuickNode team. Coming off our successful $60M Series B Raise, we hit the ground running this year and haven't looked back since.
From the introduction of QuickAlerts and over half-dozen new additions in the QuickNode Marketplace to adding three new chains to our ecosystem and four new networks to our Faucet, we've been plenty productive in Q1 2023.
Let's dive in!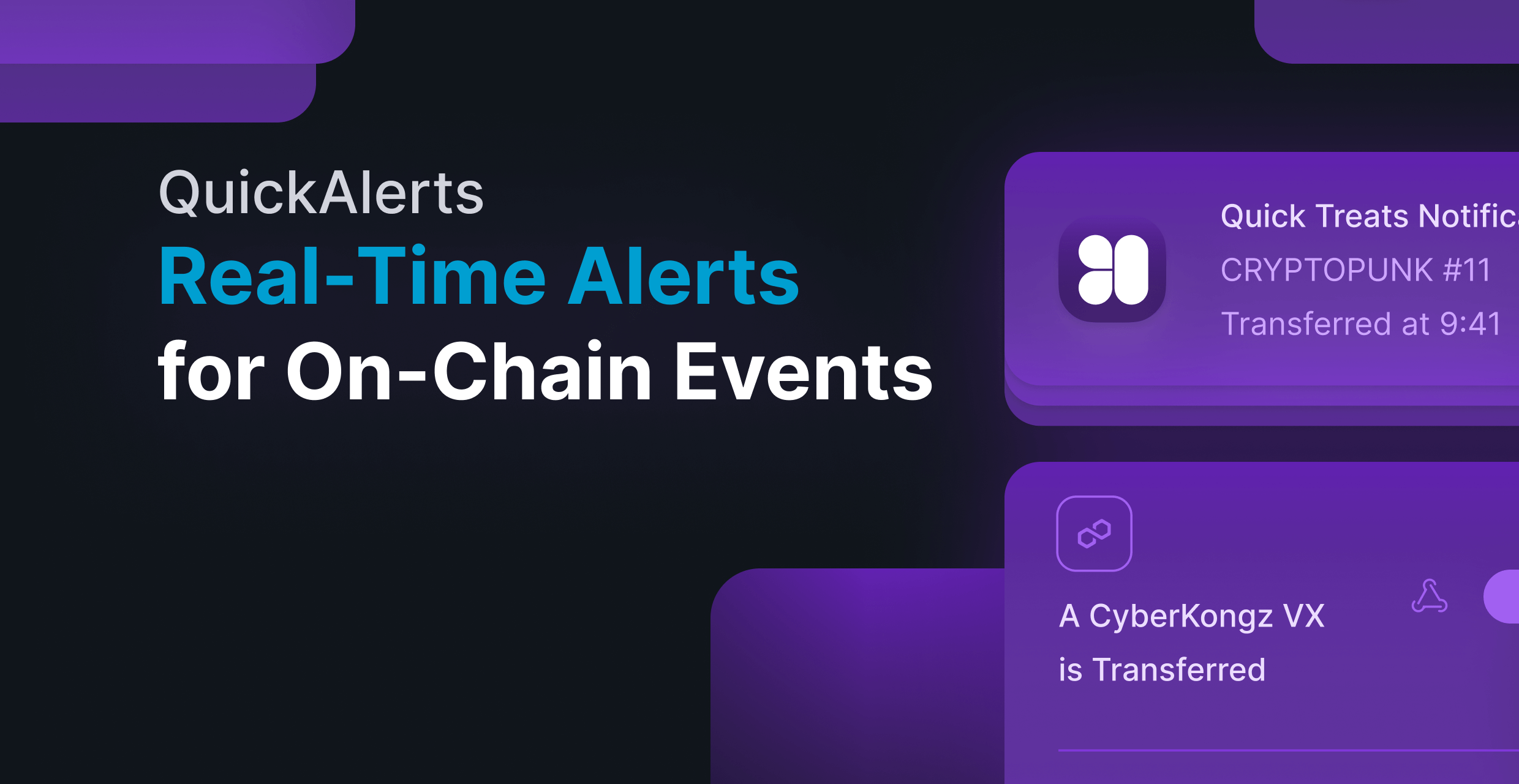 QuickAlerts: Real-Time Alerts for On-Chain Events
QuickAlerts is a powerful new product that enables users to receive real-time notifications for on-chain events happening across multiple blockchain networks, including Ethereum, BNB Smart Chain, and more. With QuickAlerts, you can create a custom data feed tailored to the blockchain events that matter to you the most, delivered directly to your webhook in real-time.
QuickAlerts has a wide array of use cases, from wallets and DeFi to NFT platforms and analytics. Its flexible targeting allows developers to unlock the potential of real-time blockchain events in their dApps. And those are just a few of the use cases you can get started with. QuickAlerts is an astonishing new primitive that gives users the tools to build custom expressions that return the information they need to innovate and delight.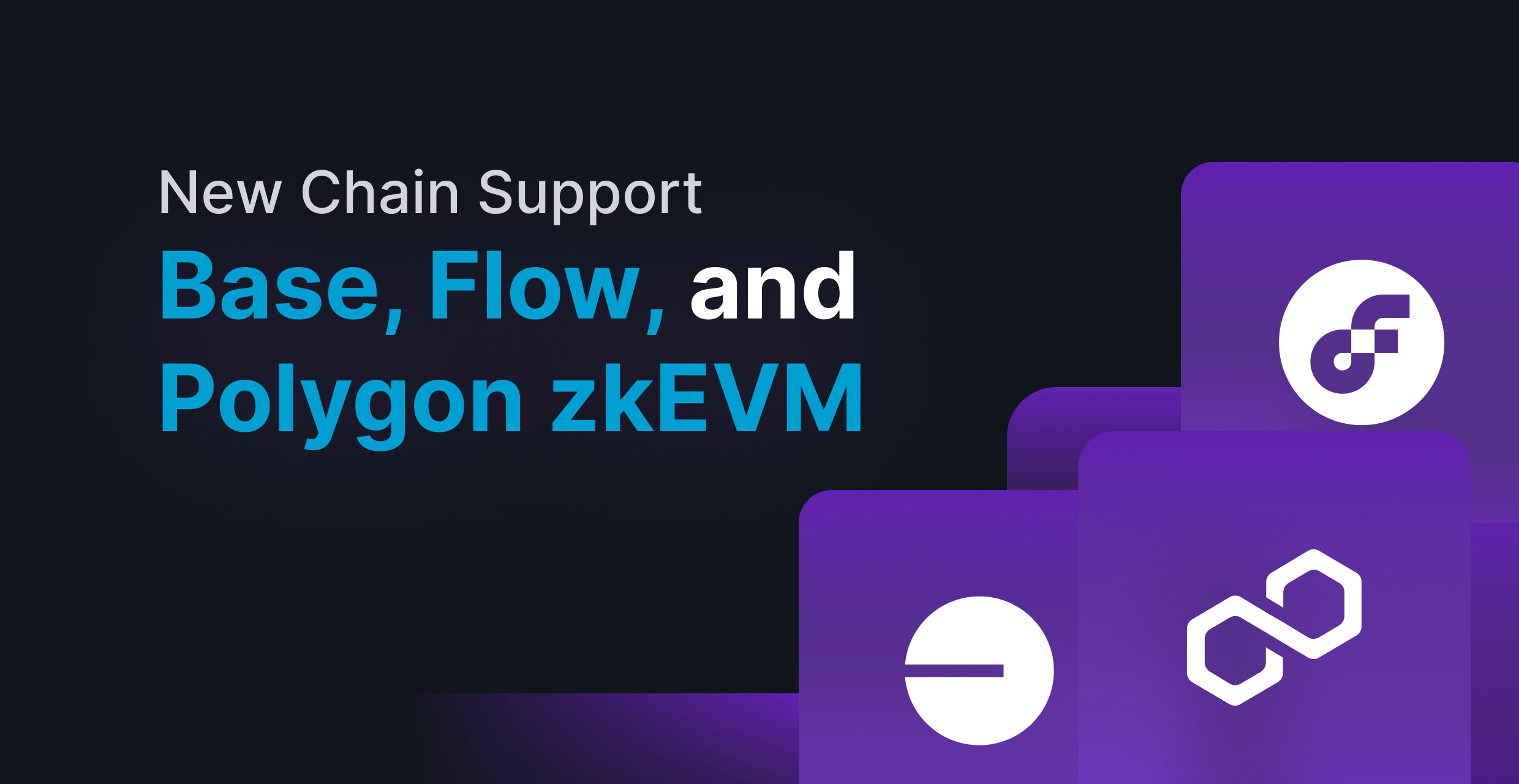 New Chain Support: Base, Flow, and Polygon zkEVM
In Q1, QuickNode expanded its chain support to include Base, Flow, and Polygon zkEVM. Base is a new L2 incubated by Coinbase, while Flow is a permissionless blockchain designed for mainstream adoption. Polygon zkEVM is a leading ZK scaling solution equivalent to Ethereum Virtual Machine.
Base
Base is a new L2 incubated by Coinbase, with a vision to decentralize over time. Base offers a low-cost, secure, and developer-friendly way to build dApps. Base benefits from Coinbase's expertise in building crypto products, which they've leveraged to create a platform with full EVM compatibility, seamless Coinbase product integrations, and powerful acquisition tools.
Flow
Flow is a permissionless blockchain designed for mainstream adoption. Flow is trusted by world-class brands like the NFL, NBA, Ticketmaster, and Mattel, and provides frictionless onboarding with easy user registration, familiar payment methods, and the option to use any wallet of choice.
Polygon zkEVM
Polygon zkEVM represents a major breakthrough in Ethereum scaling, and QuickNode is thrilled to support this innovative, cutting-edge technology. By providing fast, reliable access to the Polygon zkEVM, we're empowering the world's most vibrant blockchain developer community to further innovate and build on the future of Web3.
📢
Introducing Feature Fridays
: Every Friday, we'll highlight some of the best startups in the blockchain space and feature them on QuickNode's blog and Twitter account.
Click here to apply
!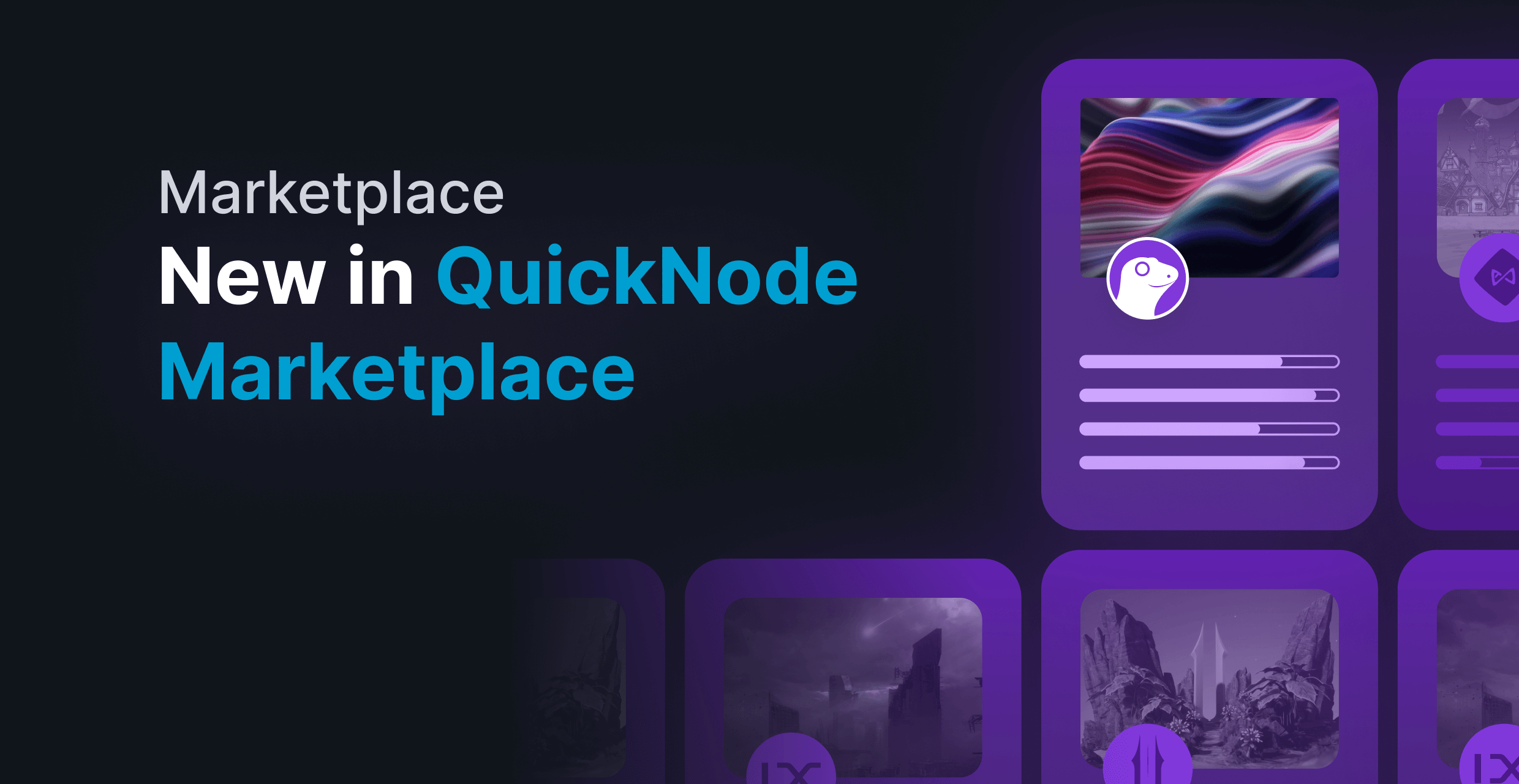 New in QuickNode Marketplace
QuickNode Marketplace is the one-stop shop for web3 development tools and add-ons. We're currently working with the best partners to add even more functionality and versatility to the platform — empowering developers to build innovative applications and solutions. Here are the new add-ons that have been released so far this year:
Blockbook RPC Add-On
Anti-fraud APIs by Goplus
CoinGecko Price Feed Data
Subgraph Hosting by Satsuma
GameFi Fetch Tool by Footprint Analytics
MistTrack AML API
Token and NFT API v2 bundle
Blockchain Risk API by Arda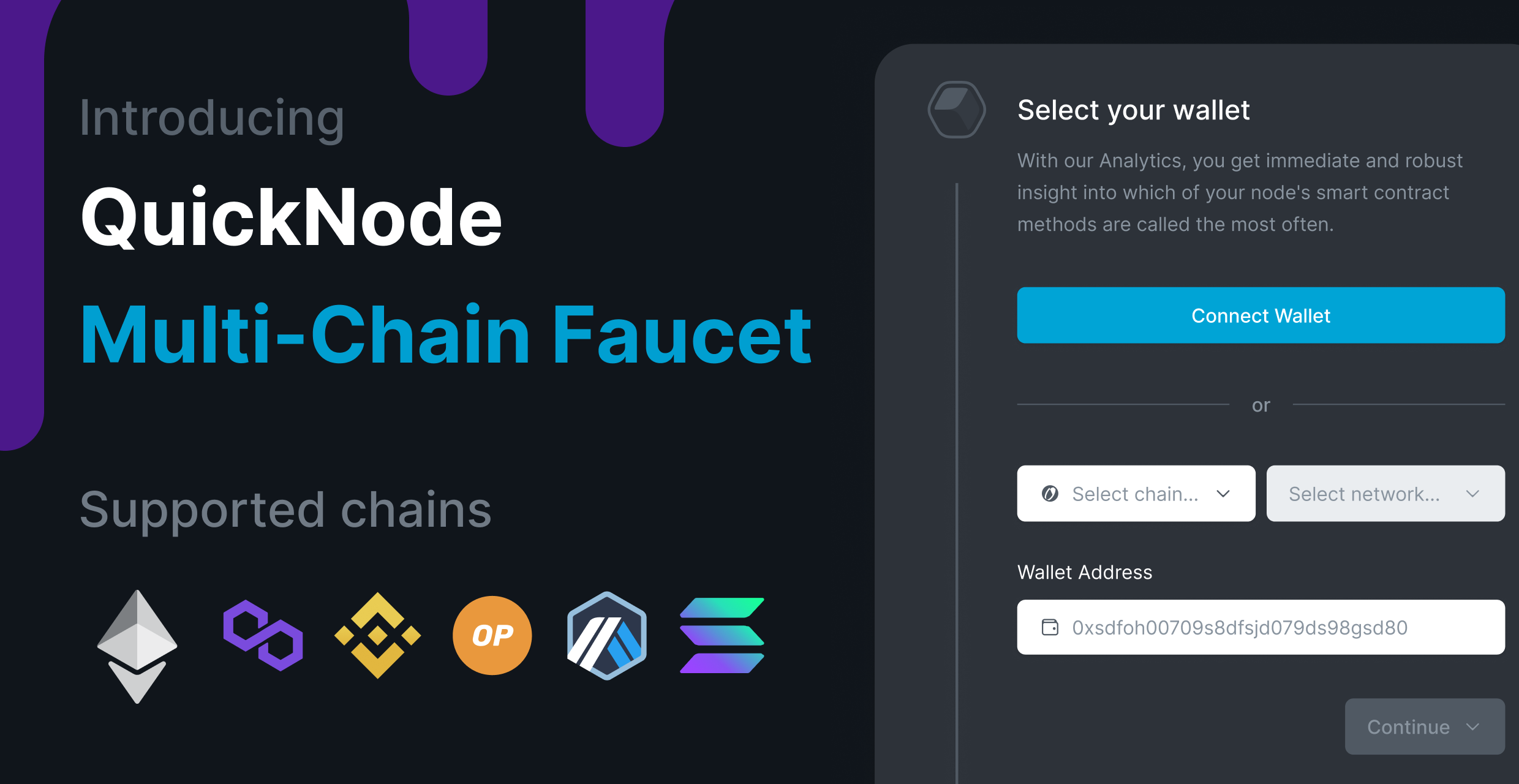 New networks added to QuickNode Faucet
QuickNode Multi-Chain Faucet is a blockchain tool that drips testnet tokens to developers — and anyone else that requests them — for free. You typically use these tokens for creating test transactions on the associated blockchain, such as contract deployments, transferring funds, and debugging failed transactions. In Q1, we added another four networks to our already awesome faucet:
Avalanche Fuji
Polygon zkEVM Testnet
Base Goerli
Ethereum Sepolia
2023 is just getting started...
QuickNode's Q1 2023 roundup highlights the company's commitment to delivering powerful tools and expanded support for developers and users alike. With new products like QuickAlerts and the growing list of supported chains and Marketplace offerings, QuickNode is at the forefront of the blockchain ecosystem. Stay tuned for more exciting updates in the coming months!

---
About QuickNode
QuickNode is building infrastructure to support the future of Web3. Since 2017, we've worked with hundreds of developers and companies, helping scale dApps and providing high-performance access to 20+ blockchains. Subscribe to our newsletter for more content like this, and stay in the loop with what's happening in Web3!