Terra & QuickNode: Advancing Decentralized Economies and Infrastructure
A blockchain technology partnership rooted in ease-of-use, innovation, and performance: Terra support arrives on QuickNode today.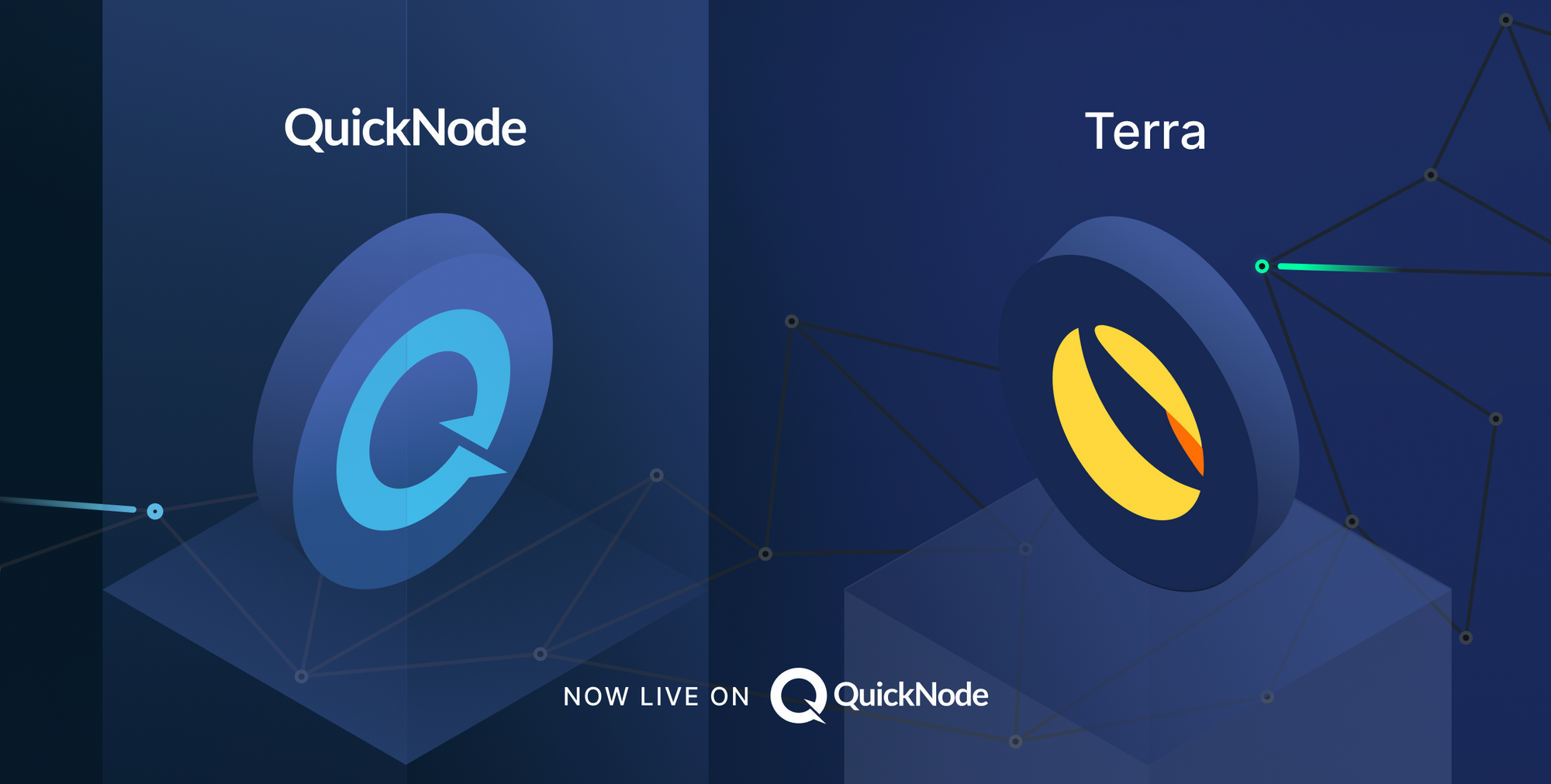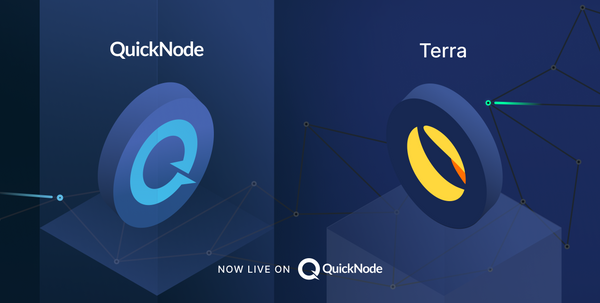 Today we're super excited to announce support for Terra, a blockchain ecosystem to create stablecoin-based decentralized applications (dApps).

With the growth of cryptocurrencies in the space, stablecoins have become one of the most widely used types of tokens; they bridge the gap for conventional finance because their value is pegged with a fiat currency like USD, EUR, GBP. Stablecoins also have versatile usages - from a store of value like gold to the transfer of huge funds between individuals or organizations.
---
So here's the issue: The current state of stablecoins, which are primarily US-based, is highly centralized and is thus flawed as the power exists within only a few hands and lacks the key benefits of decentralization.

Enter Terra: Terra empowers dApps by providing a world-class decentralized financial infrastructure for stablecoins fully pegged by their fiat counterparts. Terra is on a mission to power the innovation of money with its decentralized stablecoin cryptocurrencies, which can store value and transfer value.
Cryptocurrencies are tremendous, but volatility is one of the significant factors affecting their adoption. Many good projects have tokens but are left behind or fail due to poor tokenomics or high volatility. Terra eliminates this by providing intuitive and transparent ways to make their token policies with Terra stablecoins and instead focus on other significant areas of their application.
Terra protocol creates these stablecoins by using a combination of open market arbitrage incentives and decentralized oracle voting.

The Terra protocol runs on Tendermint, a proof-of-stake algorithm, and is powered by Cosmos SDK. Terra is very scalable and robust; it is designed in such a way that Terra stablecoins are meant to maintain the price in any market size and conditions.
---
"Terra is revolutionizing the way people exchange value online, all over the world. We are excited to partner and support the ecosystem with high-performance Web3 infrastructure. Today's projects don't have months to waste on building out robust node services in-house. QuickNode's instant access to blockchain data helps developers focus time & resources on creating the best possible applications, and businesses building on Terra to scale rapidly — to keep up with the pace of demand." - Dmitry Shklovsky, co-founder QuickNode.com.
"QuickNode's industry-leading node infrastructure service provides the Terra ecosystem with a more scalable and accessible avenue to build Web3 applications," says Do Kwon, Co-Founder, and CEO of Terraform Labs. "Projects can tap into on-demand resources like elastic APIs, dedicated node endpoints, and powerful tooling and analytics. As Terra's growth continues to accelerate, we're thrilled about the opportunity QuickNode offers builders and creators in the Terra economy."
---
Check out the following link to get more information on Terra:

How to Get Started with Terra on QuickNode:
1. Sign up for an account on QuickNode.com
2. Click "CREATE NODE" and select an API plan:
3. Select "TERRA" at the top of the next page, and choose the network from Tequila Testnet and Columbus Mainnet.
4. Click on "CONTINUE TO BILLING" and complete the checkout process on the next page.
5. Woohoo, congratulations!! You are now all set to use your Terra node.
---
Ready to set up a node? Try QuickNode free for 7 days --> Sign Up!
Looking for developer guides on Web3? Check out our KB and Docs!
Want the latest in Web3 in your inbox? Check the #Web3Vibes newsletter!
---
Why QuickNode
QuickNode makes running Blockchain nodes easy so developers can focus on the dApps they're building, instead of worrying about DevOps/NodeOps, uptime, scaling, security, etc...
QuickNode saves valuable time getting to-market while taking away the headache of node maintenance and synchronization. It's a valuable tool in every dApp developer's arsenal that was created by developers for developers. Visit QuickNode's Guides section for more information.
Today, the QuickNode network processes over 50 Billion requests per month, from over 10 regions worldwide!
---
Need help with your project or have questions? Contact us ([email protected]), on Twitter @QuickNode, or ping us on DISCORD!
About QuickNode
QuickNode.com is building infrastructure to support the future of Web3. Since 2017, we've worked with hundreds of developers and companies, helping scale dApps and providing high-performance Ethereum, Bitcoin, Polygon, BSC, Optimism, Fantom, Celo, Solana, and xDai node access. Subscribe to our newsletter for more content like this and stay in the loop with what's happening in Web3!! 😃