$80,000 Prize Pool Fuels Web3 Innovation in QuickNode's Third QuickPitch Competition
NFT ownership verification tool, ethpass, claims QuickPitch victory – winning $10,000 cash, one year of free QuickNode service, $25,000 of AWS credits, Dust Labs OS Credits, and more.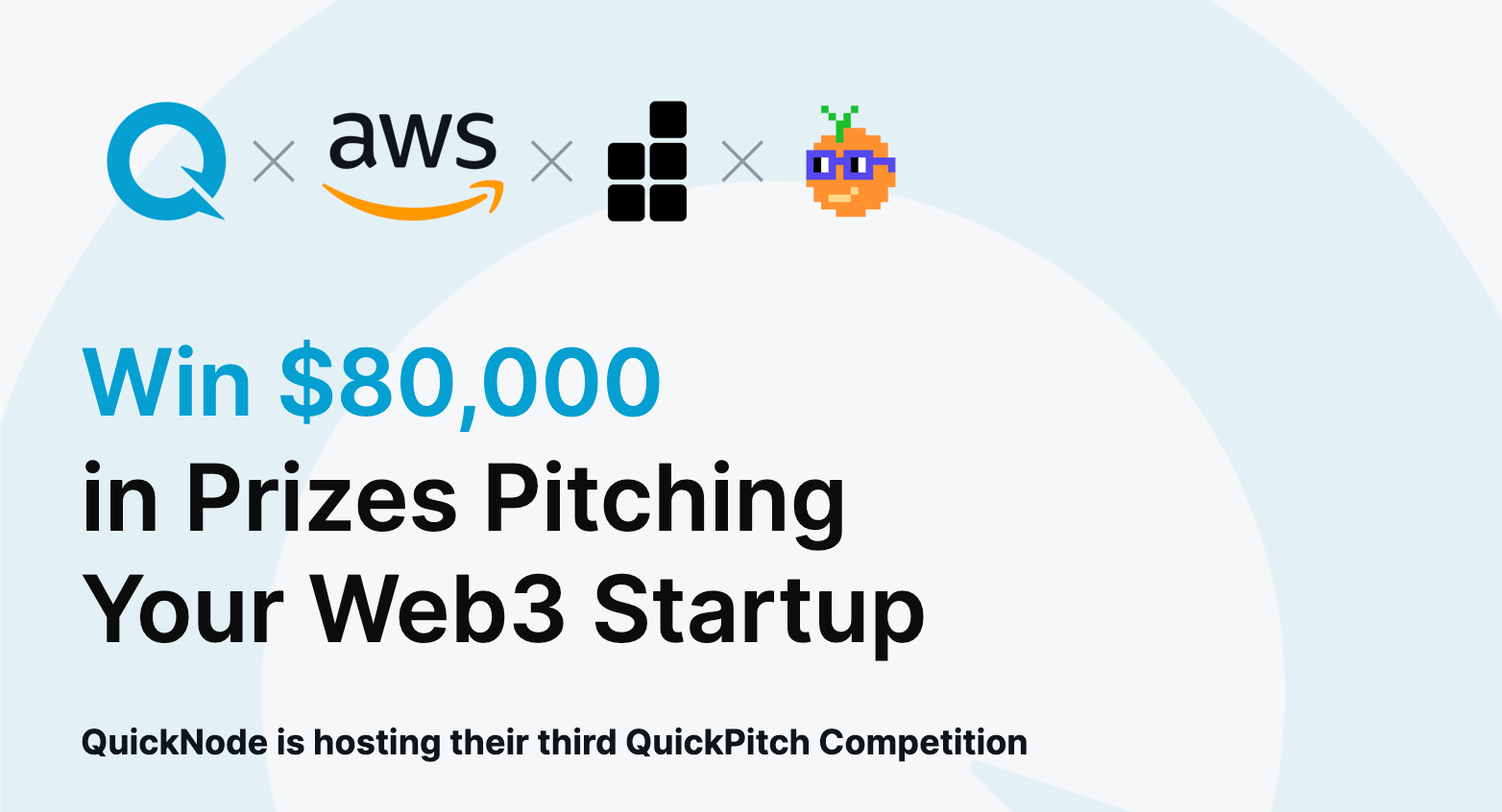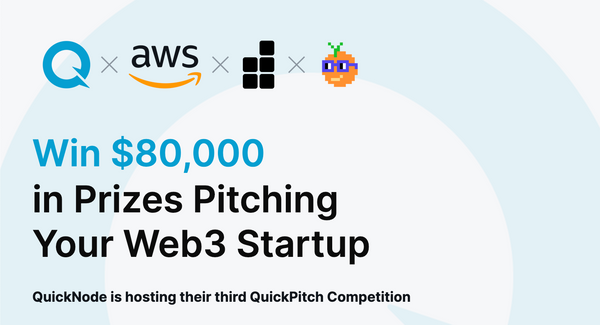 After another great event, we're excited to announce the winners of our third QuickPitch competition! Claiming first place was ethpass, a cutting-edge NFT ownership verification tool for Google and Apple wallets — securing $10,000 in cash, a year of free QuickNode service, $25,000 of AWS credits, Dust Labs OS Credits, and more. Runners-up included Snag Solutions in second place and Moonstream in third. In total, over 350 applicants participated in the competition, with $80,000 in prizes awarded.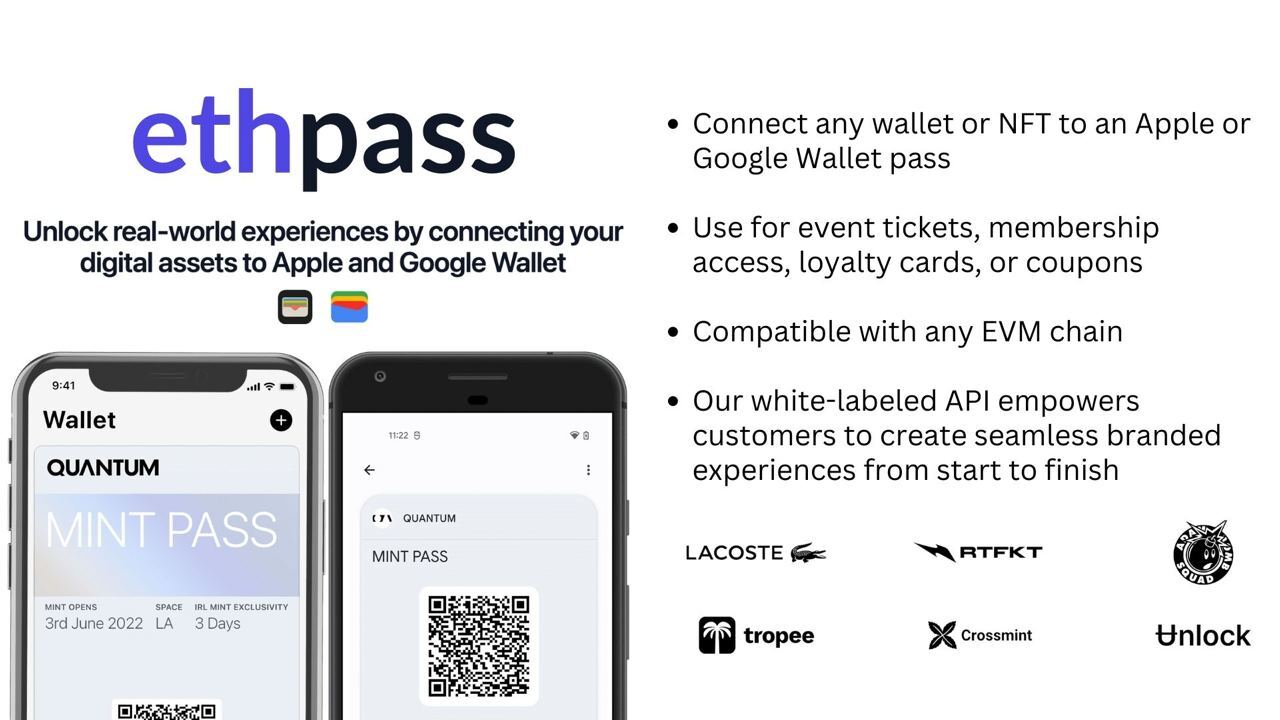 QuickNode's Third QuickPitch
Designed to empower startups and foster innovation in the web3 space, QuickPitch has quickly become a hotbed for groundbreaking projects. And it's clear that QuickPitch is just getting started. This round saw an impressive 40% increase in applications from the last, with over 350 startups vying for a chance to pitch their ideas to a panel of industry experts from Amazon Web Services (AWS), OrangeDAO, Variant, and Dust Labs. Nobody walked away empty-handed, as every applicant received one free month on QuickNode to kickstart their projects.
"Having met talented founders at events all over the world, we created QuickPitch as a new platform for them to share their vision with the broader community, and ultimately help them grow their businesses," said Jason Hunt, QuickNode's VP of Ecosystem. "This event showcased that talent and innovation, reinforcing our belief that blockchain technology will be used to create the next generation of customer experiences. QuickNode is committed to cultivating an ecosystem where builders can come together, and bring amazing new projects to life. We're excited to continue hosting QuickPitch events that support the web3 startup community."
QuickPitch is a live contest hosted on Twitter Spaces open to all web3 startups, offering a global stage to present their ideas and compete for valuable prizes. Fully chain-agnostic, and welcoming to innovators from around the world, QuickPitch is a prime example of all the best characteristics that web3 has to offer. The event assembled a prestigious panel of industry-leading judges, including:
Jeff Hasselman, AWS Global Head of Web3
Kevin DeGods, CEO of Dust Labs
Ishan Goyal, Head of Ecosystems & Orange DAO
Tina Dai, Investment Partner at Variant
From 350+ Web3 Startups to 6 Finalists to 1 Winner
From the pool of 350+ applications, six finalists were chosen to pitch their startups to the judges and a live audience via Twitter Spaces. The team from ethpass rose above the rest, impressing the judges with their NFT ownership verification tool that won the top prize, which includes $10,000 cash, one year of free QuickNode services (up to $25,000), $25,000 of AWS credits, Dust Labs Credits, one week of ad space on icy.tools, advisory sessions with DeGods founders, and more. In addition to the top three winners, every applicant will receive one free month of QuickNode, up to $299, and a total of over $80,000 in prizes were awarded to the community to support builders and encourage innovation.

---
What is the QuickPitch Competition?
This virtual contest offers web3/crypto startups the opportunity to showcase their innovative ideas and compete for prizes. The QuickPitch Competition features presentations to a wide audience of technology enthusiasts, and a panel of judges will select the winners based on their pitch and potential.
For more details on prize distribution and upcoming QuickPitch competitions, visit: https://go.quicknode.com/quickpitch
---
About QuickNode
QuickNode, the leading end-to-end developer platform, is transforming Web3 and blockchain infrastructure by simplifying dApp development and providing high-performance access to 20+ blockchains. Since 2017, QuickNode has empowered hundreds of thousands of top developers and companies to focus on innovation by accelerating dApp build times and offering enterprise-grade solutions to businesses of every size.