What is QuickNode API?
How to register for an account and get instant access to Ethereum, Bitcoin, Fantom, Solana, Optimism, Polygon, BSC and xDai blockchain networks.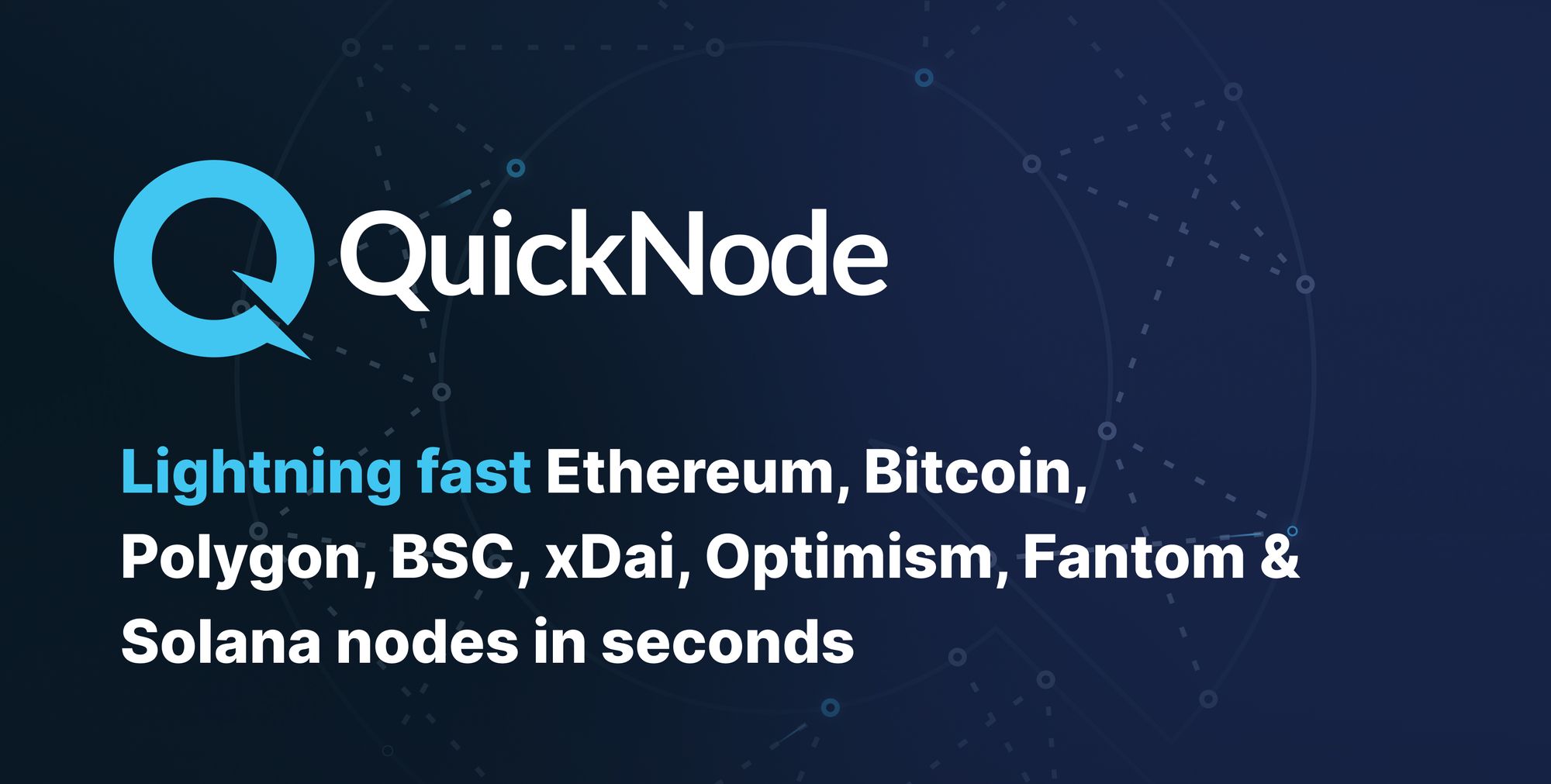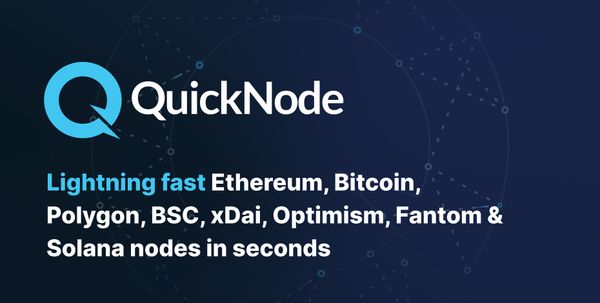 Service & Features Overview
QuickNode API is your high-performance access to the Ethereum, Bitcoin, Fantom, Solana, Optimism, Binance Smart Chain, Polygon (Matic) and xDai networks.
Using this API endpoint, developers can access data on the BTC, ETH, FTM, SOL, OP, BSC, MATIC, and XDAI blockchains (eg. block info, smart-contract data, accounts), and use it to build, test, and run Web3 dApps.
Get instant access to XDAI, BTC, SOL, FTM, OP, BSC, MATIC, ETH MainNet, Ropsten, Kovan, and Rinkeby networks — register now.
---
After login, you'll see the dashboard with ability to Create Nodes, Add Team Members, get Chat Support, and manage your Nodes — all in one place.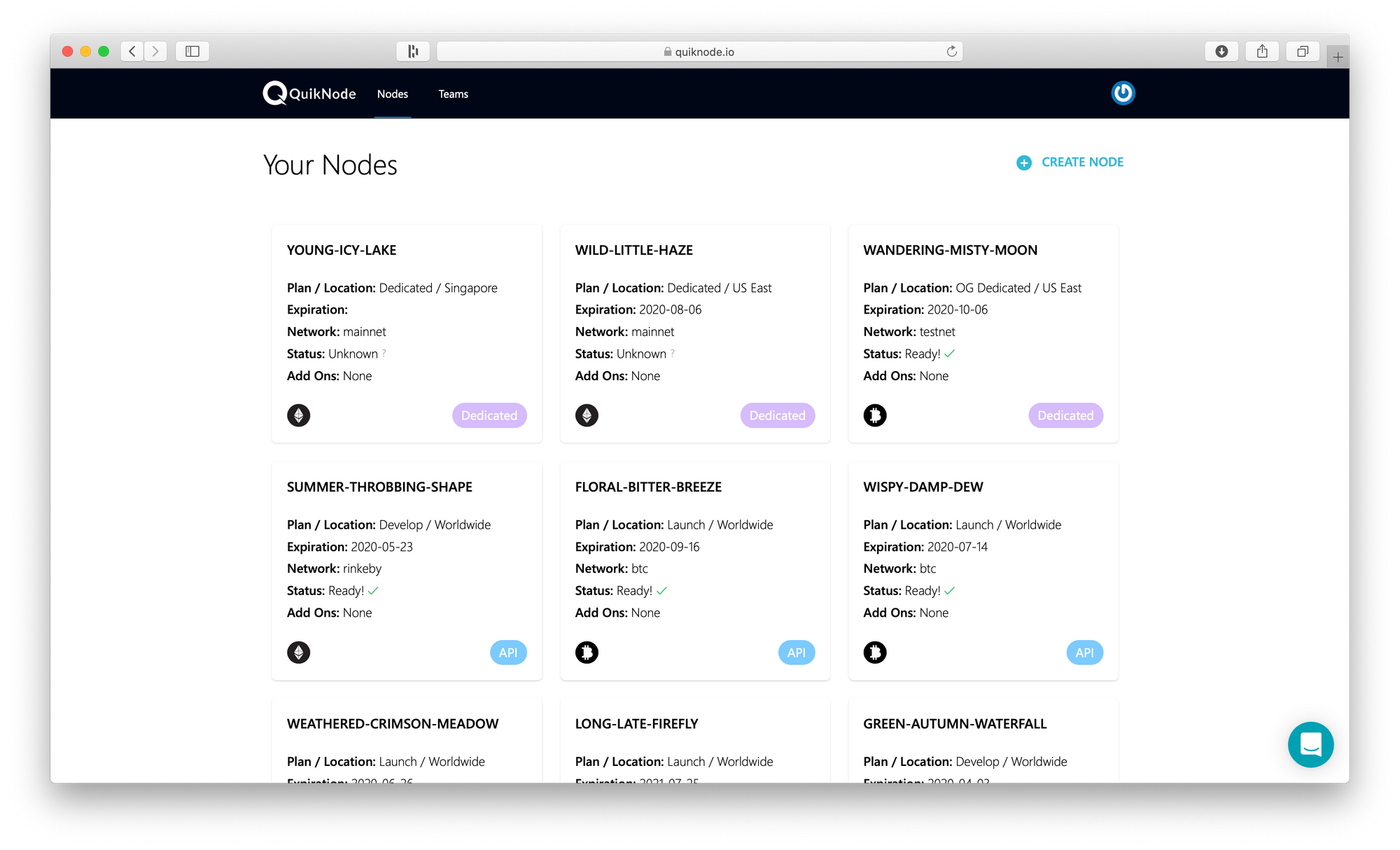 Clicking on the node will bring you to the Node dashboard, where your Web3 URLs (rpc endpoint, httpProvider & websockets) is shown, as well as Getting Started guides: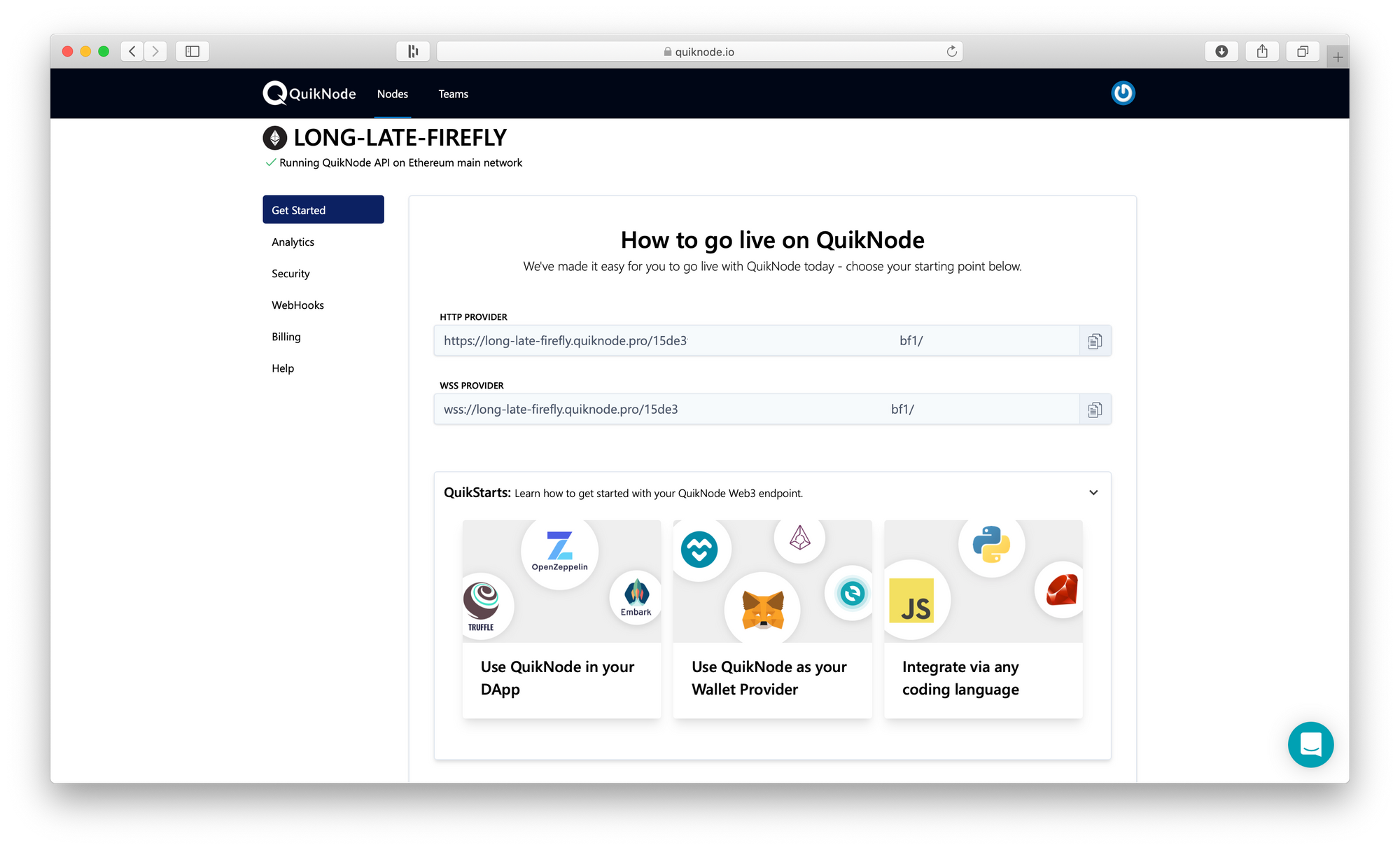 For more guides & tutorials, including how to set up with ethers.js, web3.py, ethereum.rb, and write your first smart-contract in Solidity, check our guides page!
---
How do I set up my code?
In web3js, for example, copy/paste the httpProvider link like so:
const Web3 = require('web3')

const httpProvider = "https://your-node-name.quiknode.pro/hash/"

var web3 = new Web3(new Web3.providers.HttpProvider(httpProvider));
Check out this article for more examples on how to set up your QuickNode.
---
Ready to get started?
Sign up here 👉 https://www.quicknode.com
---
Features
Analytics
See what your node is doing with detailed call/request metrics: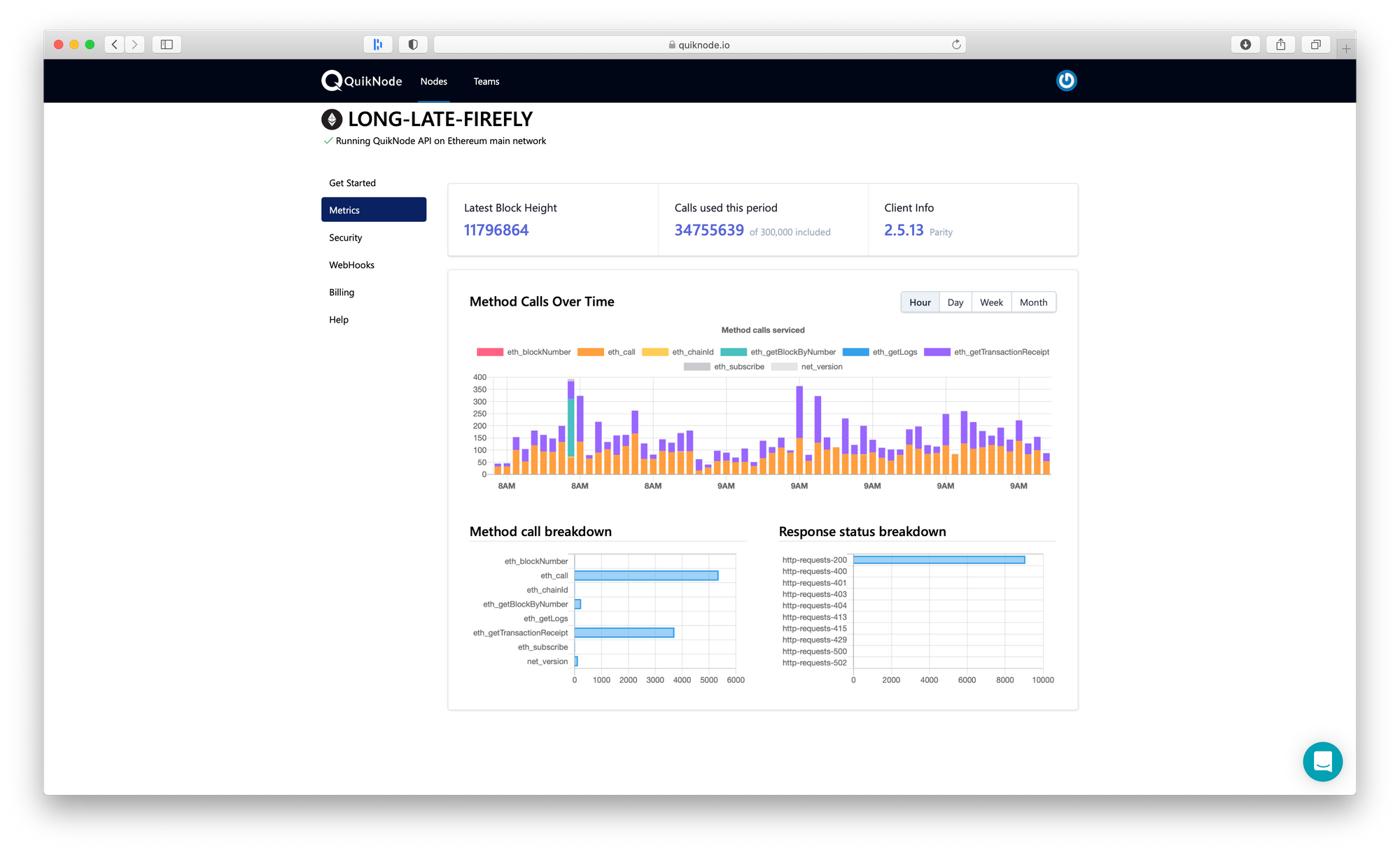 Security
Lock down (or open up) your endpoint. Use a custom domain if you want!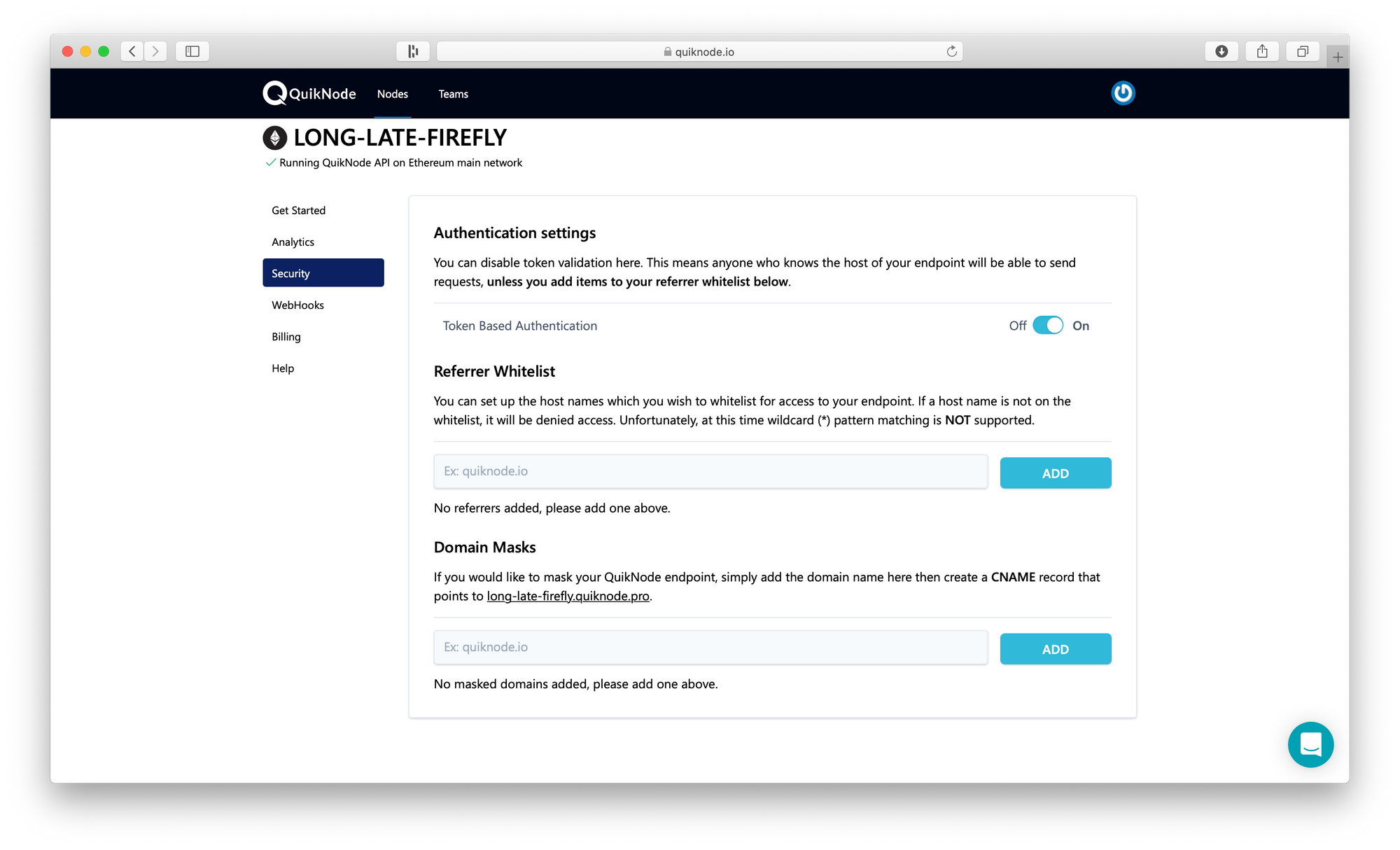 Ethereum WebHooks
Monitor smart-contracts for events and get notified in real-time with zero code — just 5 minutes for setup!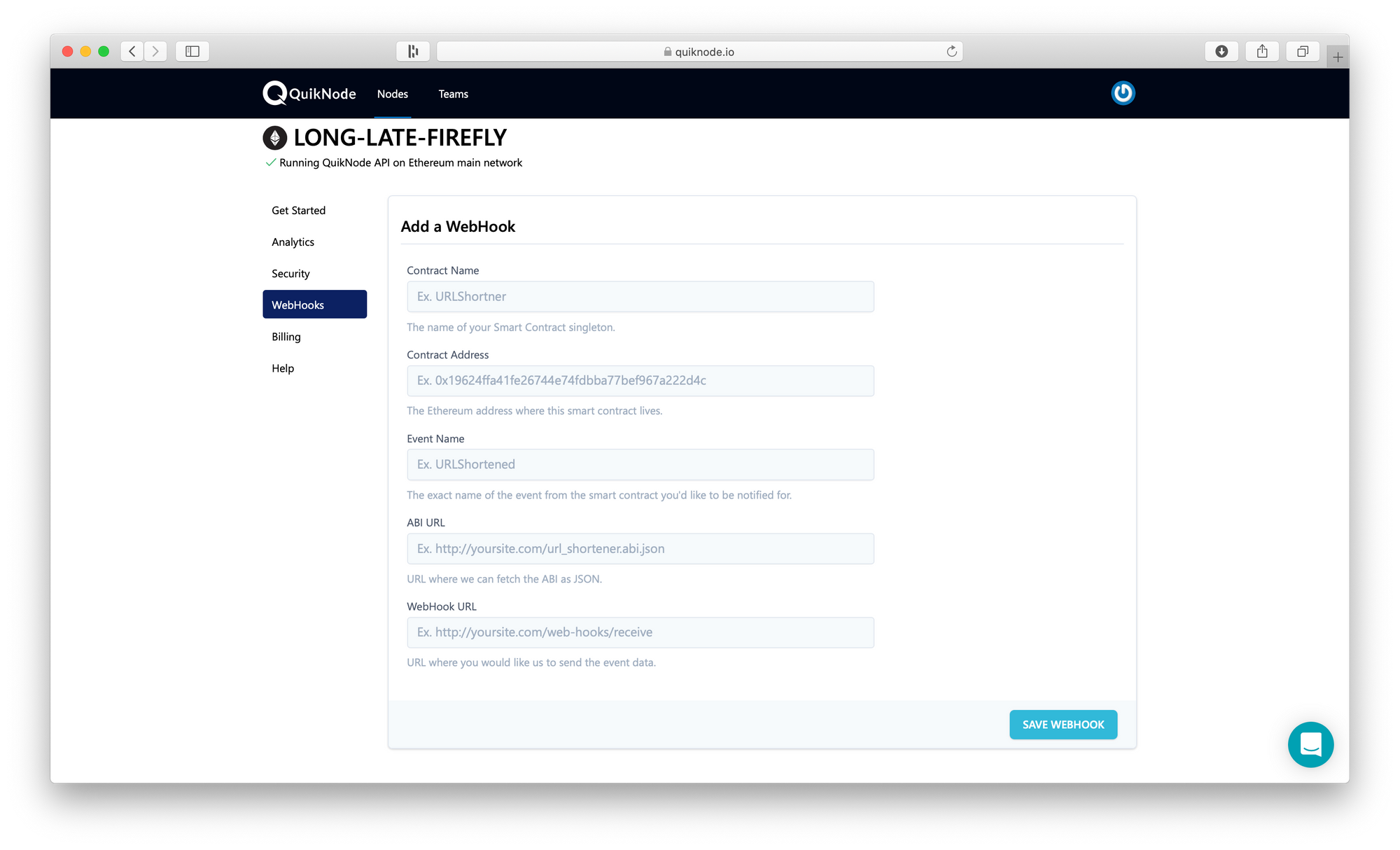 ---
FAQ
Which RPC calls and modules are supported?
Ethereum & EVM-based: web3, eth, net, shh, parity, trace (add-on).
Bitcoin: Bitcoin Core RPC API on bitcoind, including "txindex".
Check out the QuickNode Docs for more info!
Does QuickNode API have access to Archive Node data?
Absolutely! Just select the "Archive" add-on at checkout and you'll have access to all the data since Genesis block.
Using a different provider already?
It's easy to switch. Just swap your request URL/endpoint with the one from QuickNode — and you're done!
Looking for a step-by-step tutorial on how to build with blockchain and QuickNode?
Check out this tutorial on how to build an Ethereum Block Explorer!
---
Develop on Ethereum Now!
Sign up now to access to QuickNode API, and start developing on MainNet or TestNet of the most popular blockchain networks today!