Service & Features Overview
QuickNode API is your high-performance access to the Ethereum, Bitcoin, and xDai networks.
Using this API endpoint, developers can access data on the BTC, ETH or XDAI blockchains (eg. block info, smart-contract data, accounts), and use it to build, test, and run Web3 dApps.
Get instant access to XDAI, BTC, ETH MainNet, Ropsten, Kovan, and Rinkeby networks — register now.
---
After login, you'll see the dashboard with ability to Create Nodes, Add Team Members, get Chat Support, and manage your Nodes — all in one place.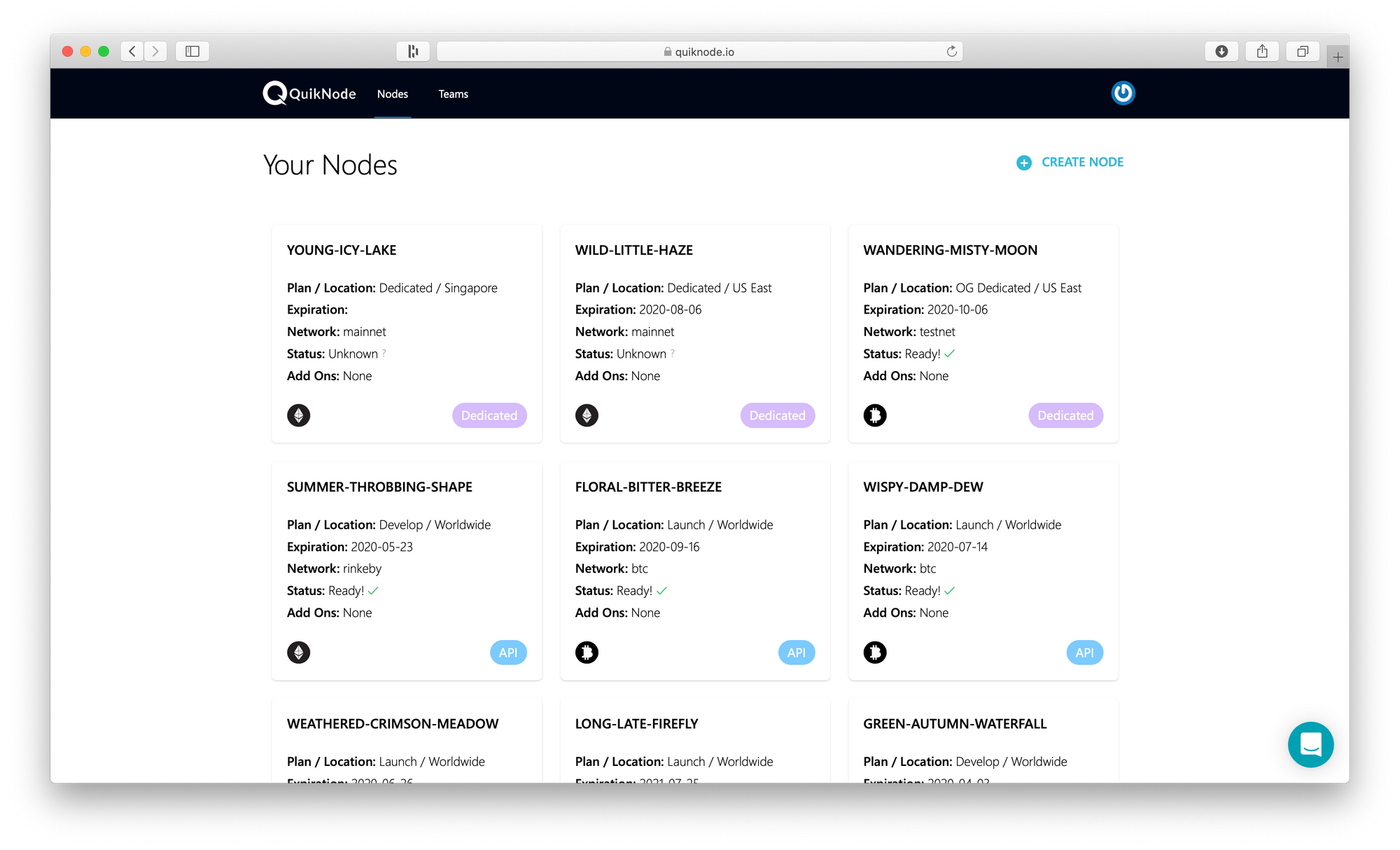 Clicking on the node will bring you to the Node dashboard, where your Web3 URLs (rpc endpoint, httpProvider & websockets) is shown, as well as Getting Started guides: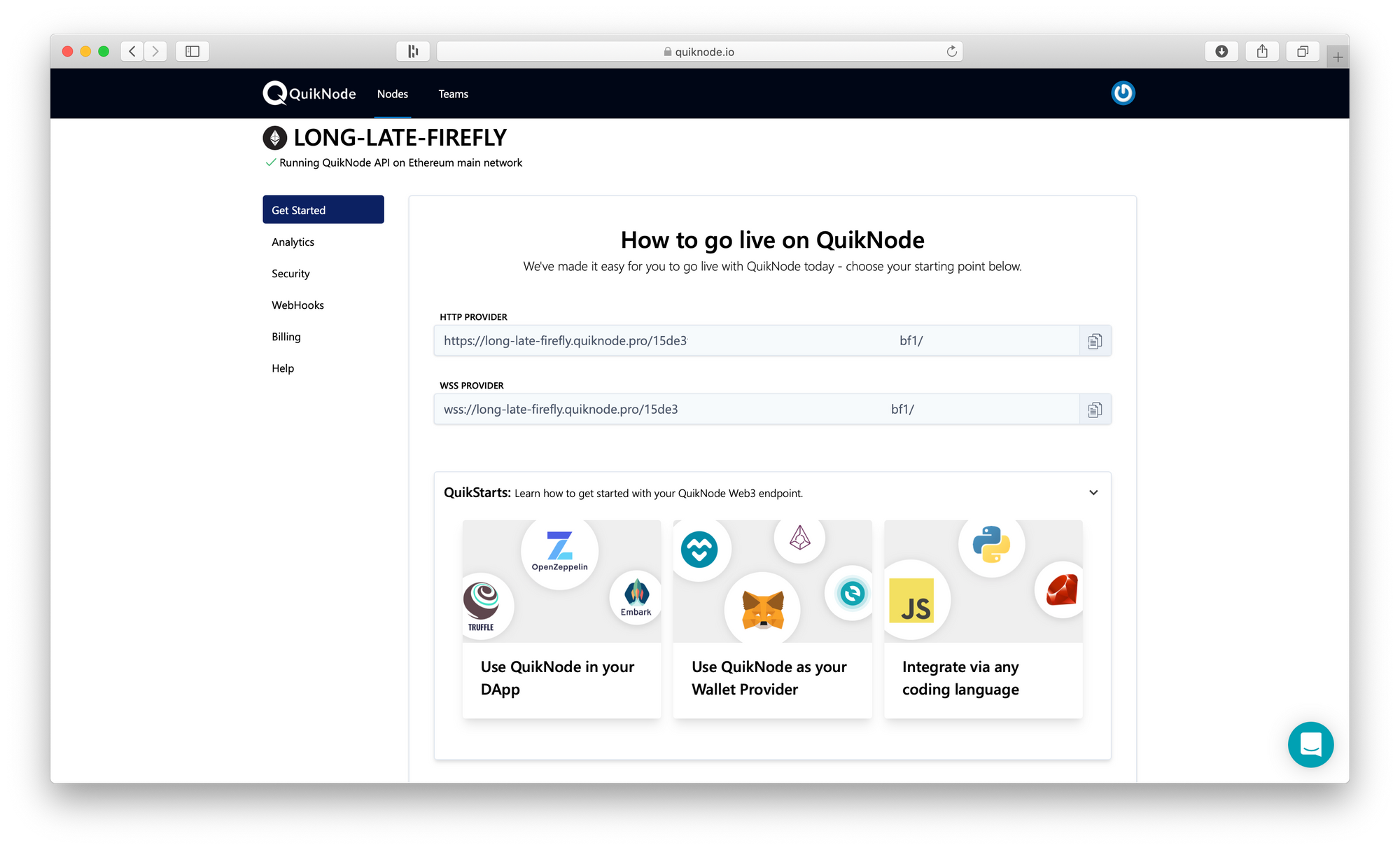 For more guides & tutorials, including how to set up with ethers.js, web3.py, ethereum.rb, and write your first smart-contract in Solidity, check our guides page!
---
How do I set up my code?
In web3js, for example, copy/paste the httpProvider link like so:
const Web3 = require('web3')

const httpProvider = "https://your-node-name.quiknode.pro/hash/"

var web3 = new Web3(new Web3.providers.HttpProvider(httpProvider));
Check out this article for more examples on how to set up your QuickNode.
---
Ready to get started?
Sign up here 👉 https://www.quicknode.com
---
Features
Analytics
See what your node is doing with detailed call/request metrics: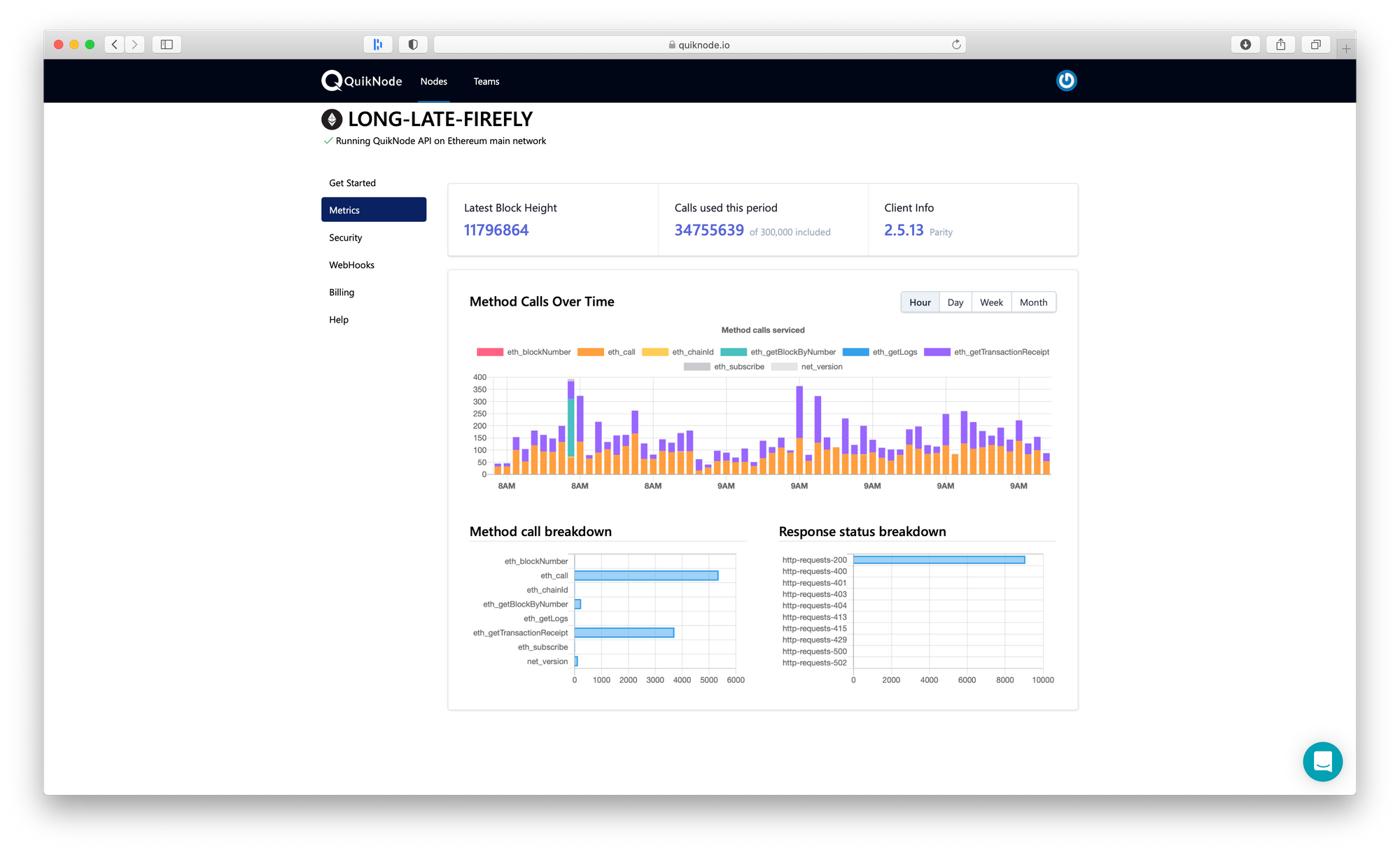 Security
Lock down (or open up) your endpoint. Use a custom domain if you want!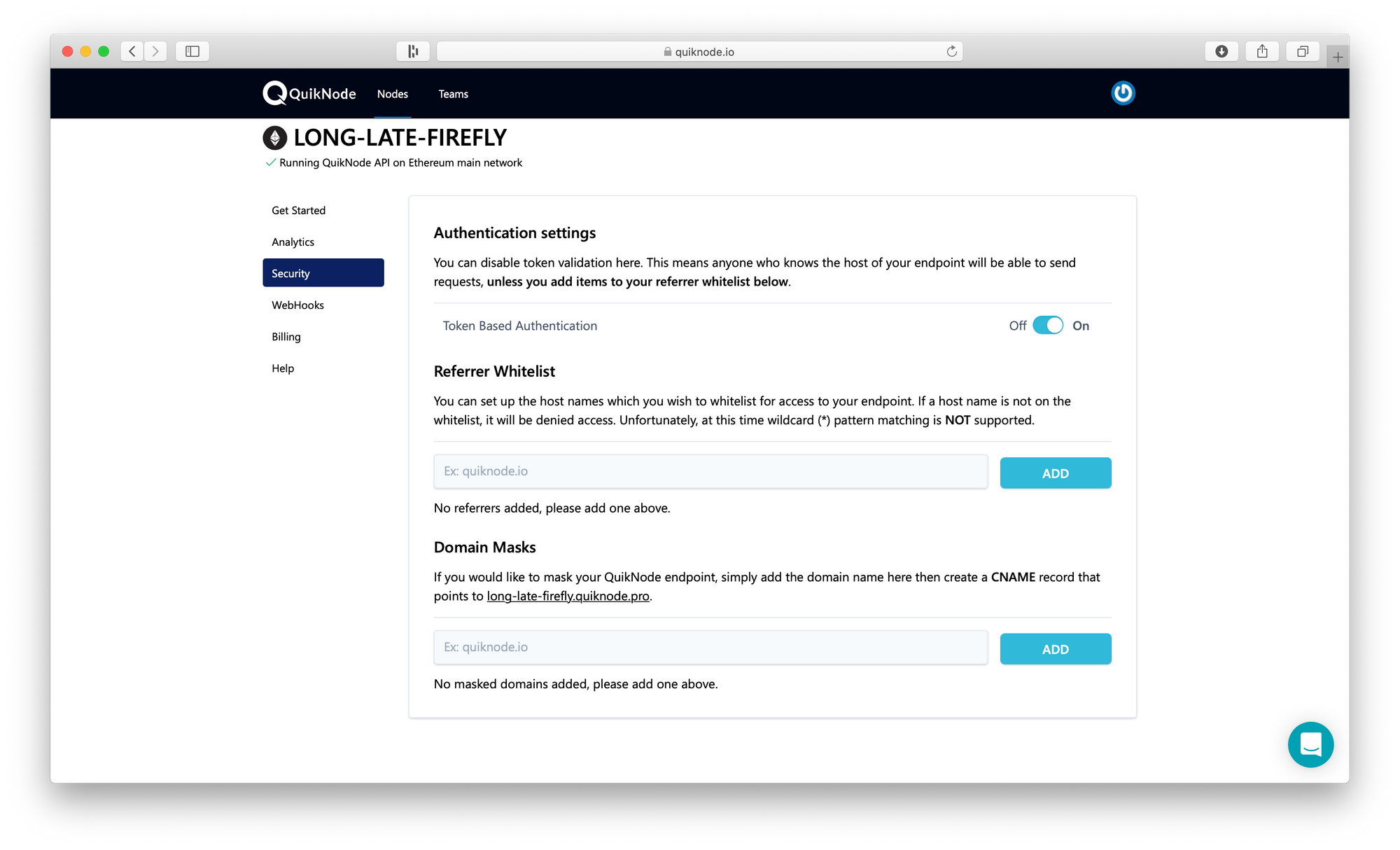 Ethereum WebHooks
Monitor smart-contracts for events and get notified in real-time with zero code — just 5 minutes for setup!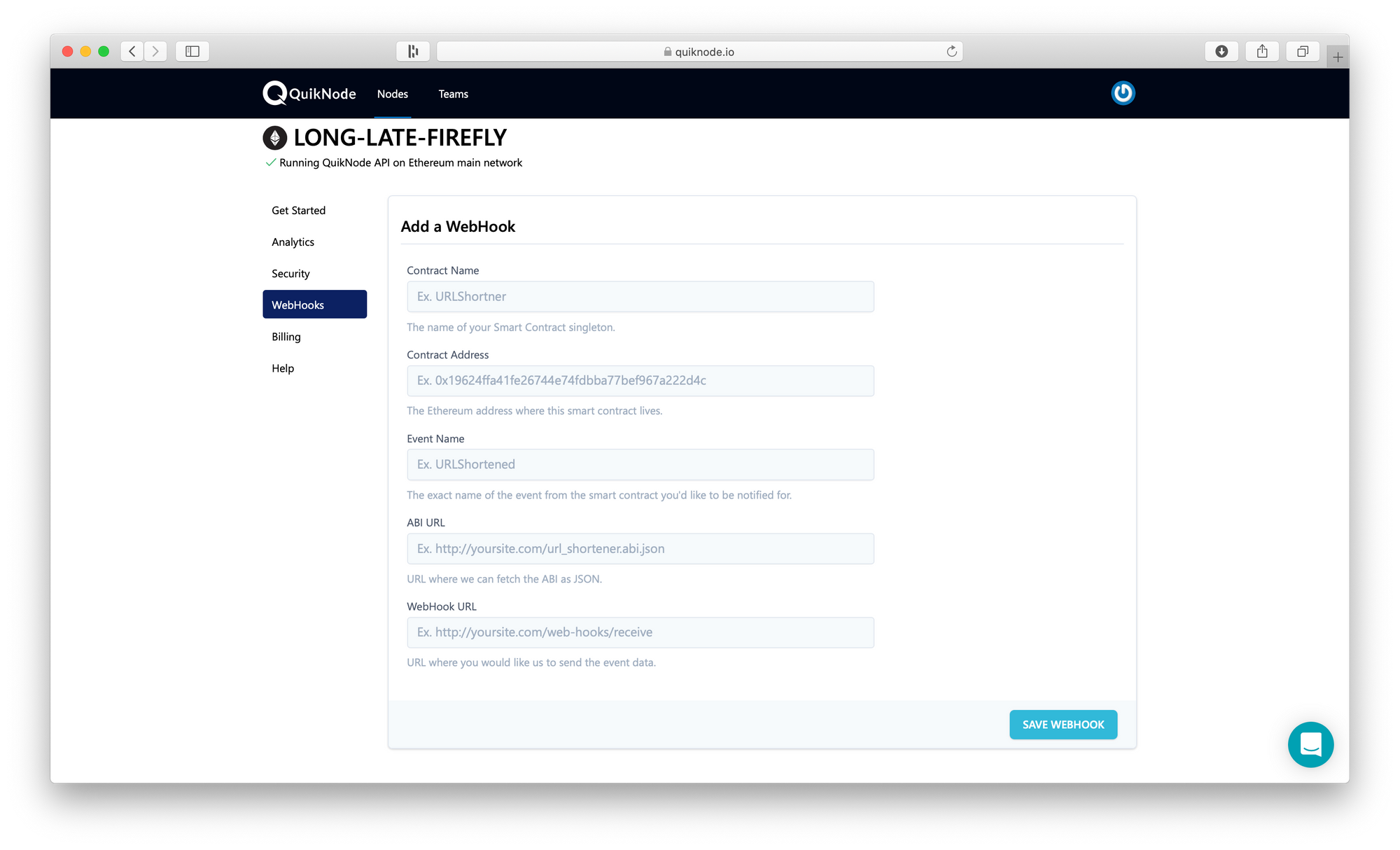 ---
FAQ
Which RPC calls and modules are supported?
Ethereum & xDai: web3, eth, net, shh, parity, trace (add-on).
Bitcoin: Bitcoin Core RPC API on bitcoind, including "txindex".
Does QuickNode API have access to Archive Node data?
Absolutely! Just select the "Archive" add-on at checkout and you'll have access to all the data since Genesis block.
Using a different provider already?
It's easy to switch. Just swap your request URL/endpoint with the one from QuickNode — and you're done!
Looking for a step-by-step tutorial on how to build with blockchain and QuickNode?
Check out this tutorial on how to build an Ethereum Block Explorer!
---
Develop on Ethereum Now!
Sign up now to access to QuickNode API, and start developing on BTC & ETH MainNet or TestNet today!