QuickNode has humble beginnings; what started out as a side-project to help friends accelerate their Ethereum transactions, grew into an indispensable power-user and Web3 developer tool. Now powering dozens of projects, including games, decentralized exchanges, and blockchain accounting tools, QuickNode looks ahead to its next offering: QuickNode PRO (QNP).
Early on, gathering feedback from the first 100 QuickNode users, the team understood that there is a demand for a globally balanced, highly-available, elastic node service. Projects with large volumes of API requests wanted a single endpoint that could handle their needs 24/7/365 — 100 requests today, 1,000 tomorrow, and 10,000 the next, and so on. The infrastructure needed to scale up & down with demand for service to be both fast and reliable; a node layer that was transparent and 'just worked'. With this in mind, the PRO service from QuickNode was conceived!
Alpha testing for QNP began in early January 2018. Users are given a single endpoint URL which they can use in their app. Each call made to the URL is routed to the nearest node location from which the request came — thus reducing latency and network hops — resulting in faster performance and a more pleasant Web3 experience. QNP currently operates out of 8 locations: New York, San Francisco, Toronto, London, Amsterdam, Frankfurt, Bangalore, Singapore.
Over recent months the platform has seen significant improvements — from backend tweaks to the flourishing of a nifty User Interface.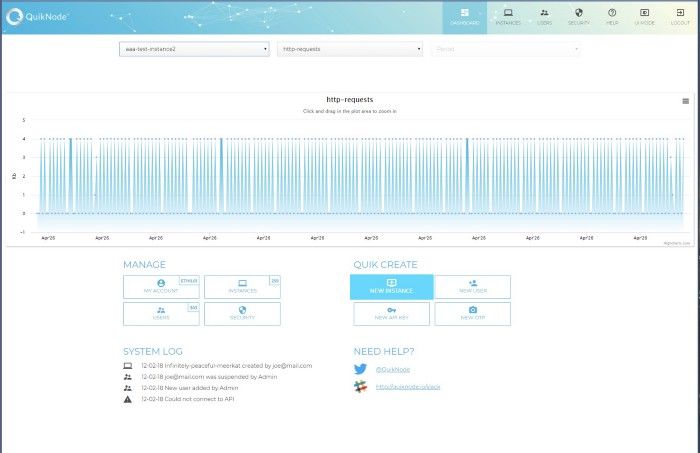 Team QuickNode aims to release a public BETA shortly. If you are interested in knowing more about QNP and even getting a video sneak-peek of the UI in action, just register your email address here: https://quicknode.com/
QuickNode is committed to building awesome blockchain infrastructure, supporting the developer community, and its mission of helping blockchain ecosystems scale.
BIG thanks to all of our early adopters, supporters, and friends across our Twitter, Facebook, and Slack channels. It's so much fun creating tools for you… we can't wait to see what you #buidl next!