Zelus Leverages QuickNode for Seamless Multi-Chain Support and Always-On Infrastructure
QuickNode provides the backing Zelus needs to ensure the user experience remains uninterrupted, no matter which chain they're using.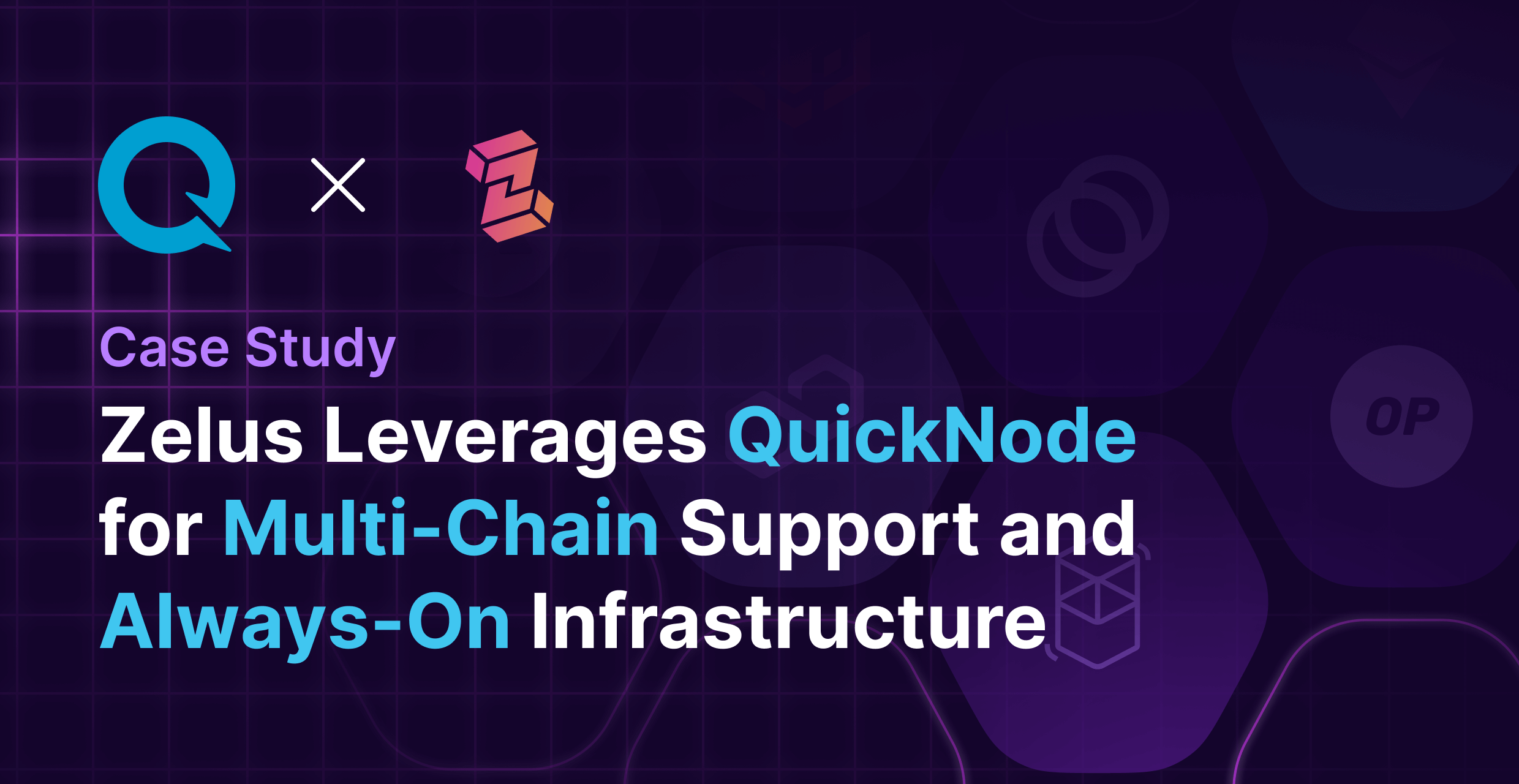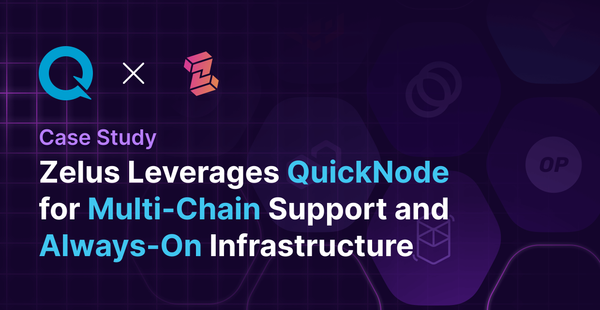 The Challenge: Zelus' Pursuit of a Seamless User Experience
Zelus, a top-tier crypto wallet, aims to accelerate blockchain adoption through an intuitive, omni-chain wallet experience. The primary challenge faced by Zelus Wallet was to provide an easy-to-use and seamless multi-chain user experience, especially in terms of in-app response times and NFT support. They wanted to ensure that their wallet was not only fast and reliable but also able to handle complex NFT and token data with ease. Zelus needed an infrastructure partner that could support cost-effective multi-chain scaling, while still maintaining low latency — not an easy feat.
Solution: How the Right Infrastructure Transformed Zelus' User Experience
Zelus was lucky enough to find QuickNode early in its development, but they did consider other providers and even briefly tried one before deciding on a permanent solution. Of the five or six they looked at, only three were serious options. And with a clear multi-chain roadmap, Zelus kept running into the same problems:
Insufficient multi-chain access.
High latency on those providers that did offer a sufficient variety of chains.
Lack of customer support.
"QuickNode was the one that offered these in a single package. So it was a no-brainer to go with y'all."              -Will Traweek, CTO of Zelus
QuickNode's comprehensive multi-chain infrastructure gave Zelus the tooling needed to optimize its wallet's performance, enabling users to interact with the blockchain faster and more efficiently. It also gave Zelus the ability to build a seamless NFT viewing experience by pre-processing and caching users' NFT data, leading to faster load times and improved interaction with various content types. This, in turn, enabled the wallet to display NFTs seamlessly, without relying on third-party APIs for metadata — which had previously caused delays and led to broken image issues.
Zelus was also impressed with just how fast QuickNode's dedicated support team responded when the rare issue did arise. Within single-digit minutes, the support team was already troubleshooting and remedying the issue.
Results: The Perfect Mix of Multi-Chain and Power
The Zelus Wallet currently supports five chains: Ethereum, Polygon, BSC, Avalanche C-Chain, and Fantom. Working with a multi-chain provider like QuickNode made it easy for Zelus to integrate new chains into the platform, as the foundation and playbook were already in place. Plus, Zelus knew they had an expert support team to assist them with the new integrations.
Users frequently praise the wallet's speed and NFT handling capabilities. As a result, Zelus Wallet has seen steady growth in its user base and plans to continue expanding its support for new chains, such as the upcoming launch of Bitcoin and Arbitrum support this summer.
The vision for Zelus was always to create a high-performance multi-chain wallet and first-class user experience. What the Zelus team realized as they grew and onboarded more non-native web3 users, was that they needed to provide an experience that went beyond multi-chain.
"We're an omni-chain wallet. We interact with many chains, but it feels like a single experience to the end user. Supporting the higher throughput, and higher block count chains, requires lots of pre-processing and effective data caching to provide the end user with a seamless experience. Otherwise, the end user will send a transaction and wait, wait, wait — and then two minutes later, all of a sudden, the transaction gets reflected in their wallet. That doesn't work for us."
QuickNode provides the backing Zelus needs to ensure the user experience remains uninterrupted, no matter which chain they're using. This gives Zelus users access to instantaneous chain variability without disruptions.
"And again, that's why it's helpful that y'all, over other providers, have a wide variety of blockchains you support. We couldn't do that with somebody who only had, you know, three or four providers, for example."
Providing the Right Recipe to Onboard En-Mass
Zelus has been pushing what's possible when you have creativity and blockchain technology in your toolbox. They recently partnered with Rolling Loud, the world's largest hip-hop festival, as the festival's official crypto wallet. As part of the partnership, they released free Digital Collectibles and offered festival attendees the chance to win exclusive prizes available only through the Zelus Wallet.
The first activation occurred at Rolling Loud Miami, followed by Rolling Loud Toronto, and Rolling Loud NYC. Attendees could sign up for the wallet via the Zelus app on their mobile devices, where they can view and manage all of their digital collectibles across multiple blockchains, including those obtained at the festival. Releasing a new offering in the field, especially at a live event where expectations are high, can be a somewhat nerve-wracking experience. Knowing their product was built on QuickNode's robust, globally-available infrastructure definitely gave Zelus peace of mind. And needless to say, attendees at Rolling Loud were treated to a seamless user experience via their Zelus wallets.
Conclusion: Redefining the Blockchain Experience
The collaboration between Zelus and QuickNode demonstrates the potential of merging user-friendly solutions with robust infrastructure to propel blockchain adoption. By concentrating on delivering a seamless user experience and broadening support for new chains and technologies, Zelus and QuickNode play a vital role in the expansion of the blockchain space and in bringing the advantages of this groundbreaking technology to a larger audience.

---
About QuickNode
QuickNode is building infrastructure to support the future of Web3. Since 2017, we've worked with hundreds of developers and companies, helping scale dApps and providing high-performance access to 20+ blockchains. Subscribe to our newsletter for more content like this, and stay in the loop with what's happening in Web3!