Feature Fridays: ethpass
ethpass is on a mission to unlock the real-world utility of blockchain assets.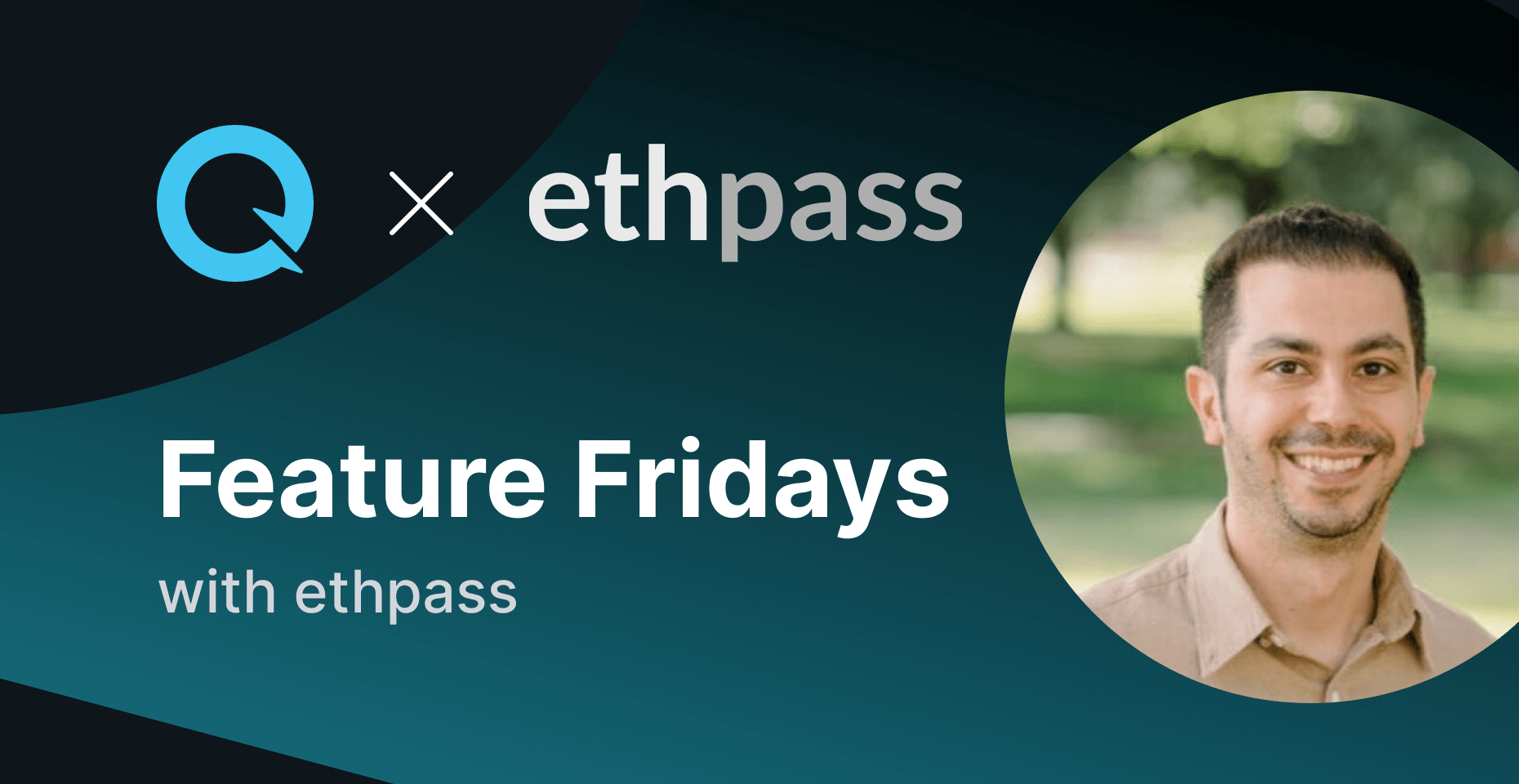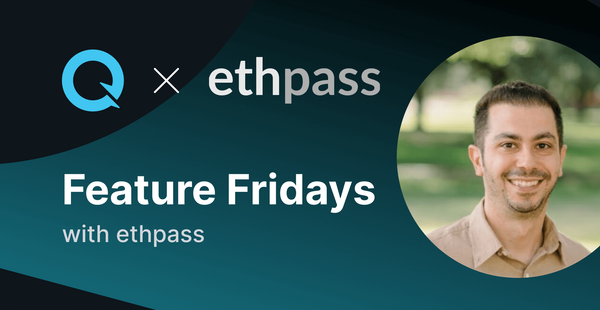 ethpass allows users to unlock real-world experiences by connecting their digital assets to Apple and Google Wallets. ethpass is also the winner of QuickNode's most recent QuickPitch Competition!
For this Feature Friday, we sit down with Chris Dro, founder of ethpass, to discuss his journey into web3 and the innovative solution ethpass provides to unlock the real-world utility of digital assets. From his early days tinkering with computers and Visual Basic to the ambitious plans for ethpass, Chris discusses the rapidly evolving landscape of web3. We'll also look at the inspiration behind ethpass, how it's poised to significantly impact the industry, and how the company leverages QuickNode to streamline its operations.
Learn more about ethpass.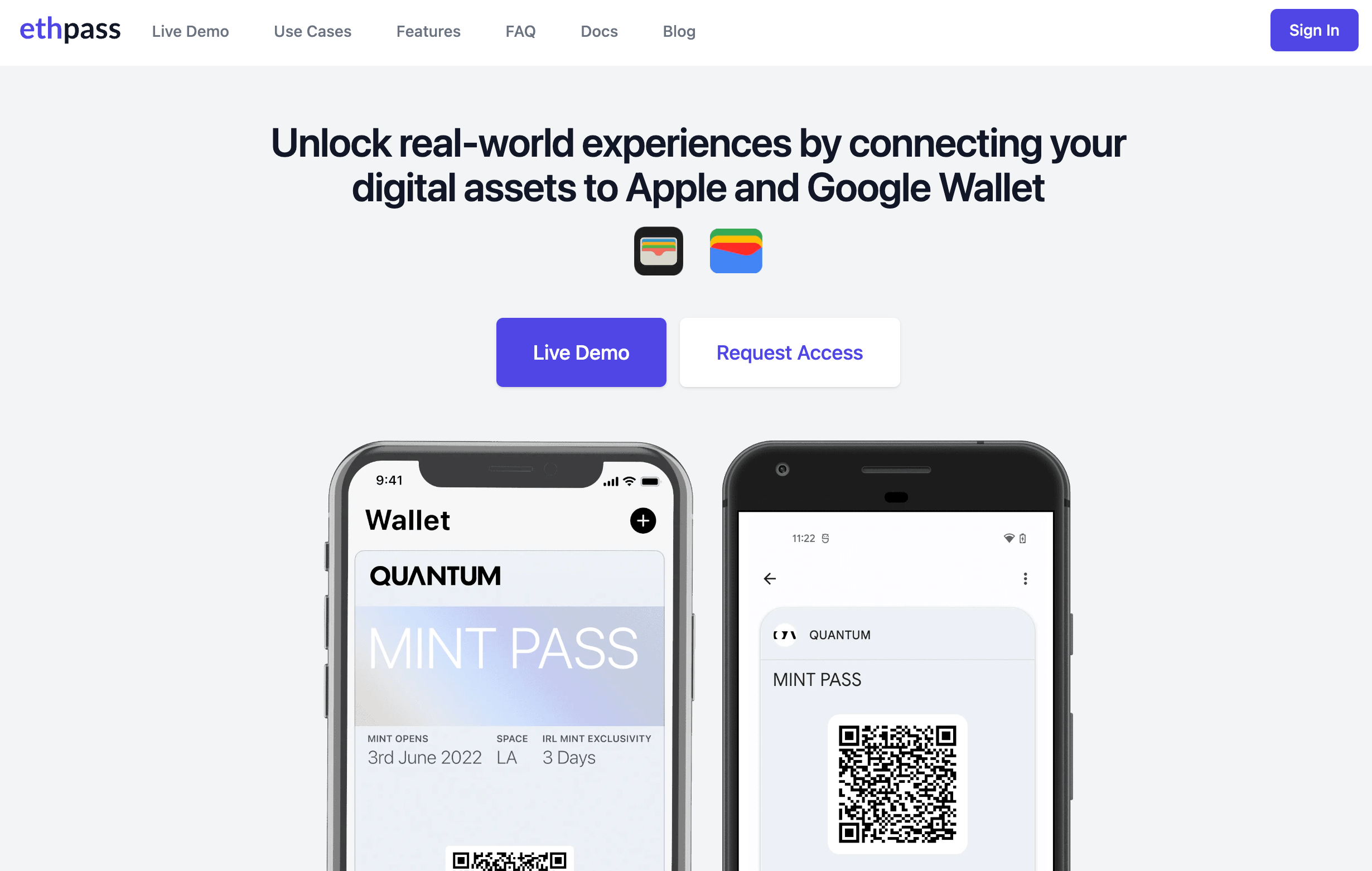 Q&A With ethpass 👇
Could you introduce yourself by sharing your name, prior experience, and current role within your company? Additionally, please briefly explain your company's mission and what it offers to its customers.
My name is Christopher Dro Asheghian, but I typically go by Chris Dro. I have had a strong interest in computers and programming since a young age, where I began building my own PCs and creating apps for AOL using Visual Basic, as well as developing websites on platforms like Geocities and Angelfire.
Prior to starting my current venture, ethpass, I ran my own software development agency in Los Angeles. There, we built applications for enterprise companies such as Hyundai Motor America, as well as startups that went on to IPO, be acquired, or raise future rounds.
At ethpass, our mission is to unlock the real-world utility and experience of blockchain assets. We offer an API solution that provides a secure and efficient way to represent a crypto wallet or verify digital assets using an Apple or Google Wallet Pass. Through our solution, customers can issue, manage, and monitor passes through a branded experience for the user, all while integrating with existing tech stacks.
How has your company grown and changed since its inception, and what do you have planned for its future?
Looking ahead, we have ambitious plans for the future of ethpass. We aim to continue expanding our solution to support additional blockchain networks and digital assets, as well as to develop new functionality and features that meet the evolving needs of our clients and users. We also plan to continue building strong partnerships and collaborations with industry leaders, in order to further drive the adoption and integration of blockchain technology into real-world scenarios.
Ultimately, our goal is to be at the forefront of the movement to unlock the real-world utility of blockchain assets, and to provide a seamless and secure experience for our clients and users. We are excited about the potential for continued growth and innovation in the years to come.
In the world of web3, what are some of the most prominent trends you are currently observing? Which ones do you believe will gain momentum in the coming years?
One promising use case is the use of blockchain for event ticketing, which can help to prevent fraud and scalping, as well as provide greater flexibility and control for event organizers. Through the use of blockchain-based ticketing solutions, organizers can more easily manage and track ticket sales, while also enabling fans to resell tickets in a secure and transparent manner.
Another trend is the use of blockchain for loyalty platforms, which can help to align incentives between brands and consumers. By using blockchain-based loyalty solutions, brands can incentivize customer engagement and reward loyalty, while also providing greater transparency and control for consumers. These solutions can also help to reduce fraud and abuse, and provide more personalized and targeted rewards and incentives.
Looking ahead, it is likely that we will see continued growth and innovation in these areas, as more individuals and organizations recognize the potential benefits of blockchain technology for event ticketing and loyalty platforms. By leveraging the transparency, security, and efficiency of blockchain, we can create more equitable and rewarding experiences for both consumers and brands.
📢
Introducing Feature Fridays
: Every Friday, we'll highlight some of the best startups in the blockchain space and feature them on QuickNode's blog and Twitter account.
Click here to apply
!
What inspired you to develop ethpass, and how did you conceive of the idea?
The inspiration for ethpass came to me during my first visit to New York for the US Open in 2021. As someone who had been involved with blockchain technology since 2016, I was aware of the negative stigma surrounding the wave of NFTs in 2021. However, I also recognized that the growing interest in this technology could only help to push for mass adoption.
Membership access via token gating was becoming more and more popular, and I knew that it was only a matter of time before this approach would be applied in real-world scenarios. So, I began thinking of ways that people could prove ownership of their NFTs in real-life scenarios, in a safe and seamless way.
During the Christmas break, I built the first prototype using NFC cards. However, I soon realized that this was not an ideal solution, as the cards could easily be lost, damaged, or cumbersome to carry around and pull out of one's wallet. As someone who had become a fan of using Apple Pay during the pandemic, I started thinking of ways to replicate what I had already built, but using Apple Wallet passes instead of NFC cards. And thus, the idea for ethpass was born.
Can you provide insight into ethpass' progress by sharing any metrics or milestones indicating its traction?
We've made significant progress in terms of traction and milestones achieved. Since our launch, we have successfully integrated with multiple blockchain networks. We have also onboarded several high-profile clients, ranging from crypto startups to established enterprises, who have utilized our API solution to issue and manage passes for their digital assets.
In terms of metrics, we have seen a steady increase in the number of passes created and scanned through our solution, which is a strong indicator of user adoption and engagement.
Additionally, we have received positive feedback from our clients regarding the ease of use and effectiveness of our solution in verifying ownership of digital assets.
How does your company utilize QuickNode, and what benefits does it bring to your business operations?
We leverage QuickNode's RPC nodes to enhance our operations in a few key ways. First, we utilize these nodes to verify the ownership of digital assets by making calls to read directly from the smart contract. This helps us ensure that passes are created and scanned accurately, and that the associated assets are correctly linked.
Additionally, we use QuickNode to monitor any asset transfers that may be associated with a pre-existing pass. This allows us to quickly identify any instances where a pass may no longer be valid and notify issuers accordingly.
Overall, leveraging QuickNode's RPC nodes has been instrumental in streamlining our operations and ensuring that our customers have a seamless experience. We appreciate the reliability and efficiency that QuickNode provides and look forward to continuing to leverage their solutions to enhance our business.

---
About QuickNode
QuickNode is building infrastructure to support the future of Web3. Since 2017, we've worked with hundreds of developers and companies, helping scale dApps and providing high-performance access to 20+ blockchains. Subscribe to our newsletter for more content like this, and stay in the loop with what's happening in Web3!