QuickNode's Q2 Roundup: Shipped Products and Features
Product launches, new chain support, marketplace additions, and more.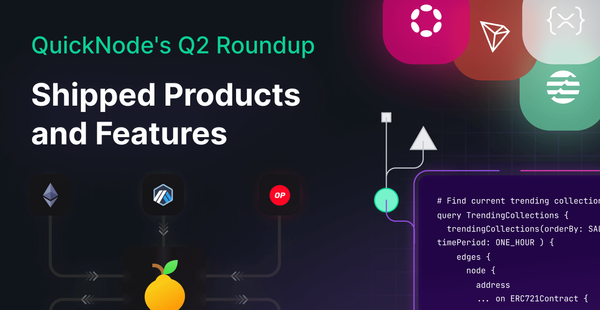 As the temperatures rise, so does the pace of innovation at QuickNode!
Buckle up for our Q2 Roundup, where we share the latest products, features, and updates that have been shipped by the QuickNode team!
The momentum only continues to build after a first quarter full of outstanding accomplishments. From expanding our chain support and launching Graph API to the significant overhaul of our Docs and Guides to the QuickNode SDK and new features for QuickAlerts, we were exceptionally busy in Q2 2023. And that's just the tip of the iceberg!
Let's dive in!
---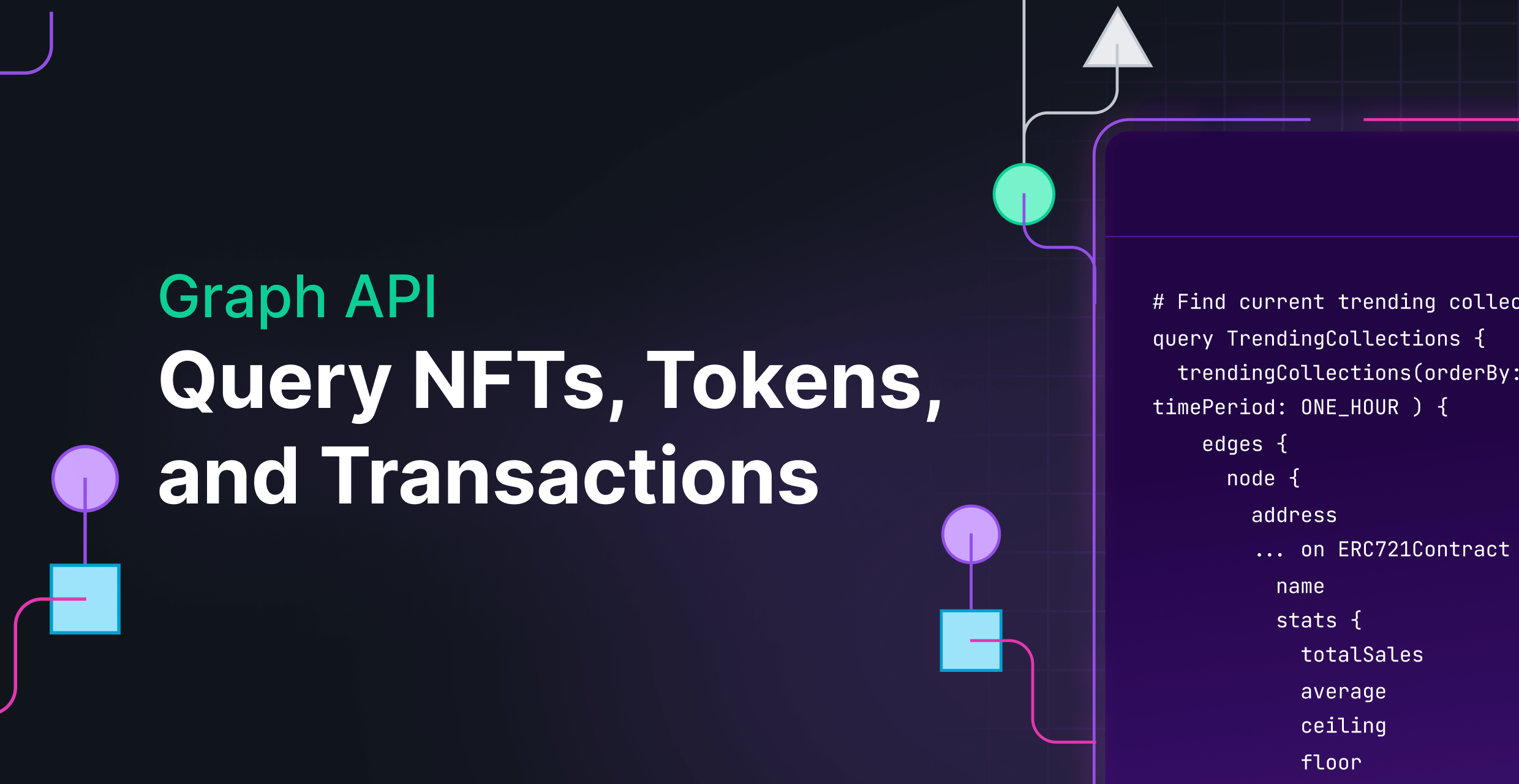 Graph API: Query NFTs, Tokens, and Transactions
Designed with Web3 developers in mind, QuickNode's Graph API enables you to fetch powerful market insights, trading data, transactions by wallets and contracts, cached NFT images, and more — all in one seamless integration with your existing tech stack.
Key benefits of Graph API:
Provides easy access to comprehensive blockchain data including NFTs, ERC20 tokens, and transactions.
Enables seamless integration with existing tech stacks, eliminating the need for complex workarounds.
Optimizes performance by allowing data retrieval on a need basis, resulting in faster application response times and better user experience.
Offers reliability and high uptime backed by robust infrastructure, reducing worries about downtime or data inconsistencies.
Includes intuitive GraphQL API building tools for quick and efficient query development and testing.
Provides real-time updates on NFTs, ERC20 tokens, and transaction data, ensuring current information display in applications.
Get Instant Access to Graph API:​
You can start using the Graph API immediately with your API key.
---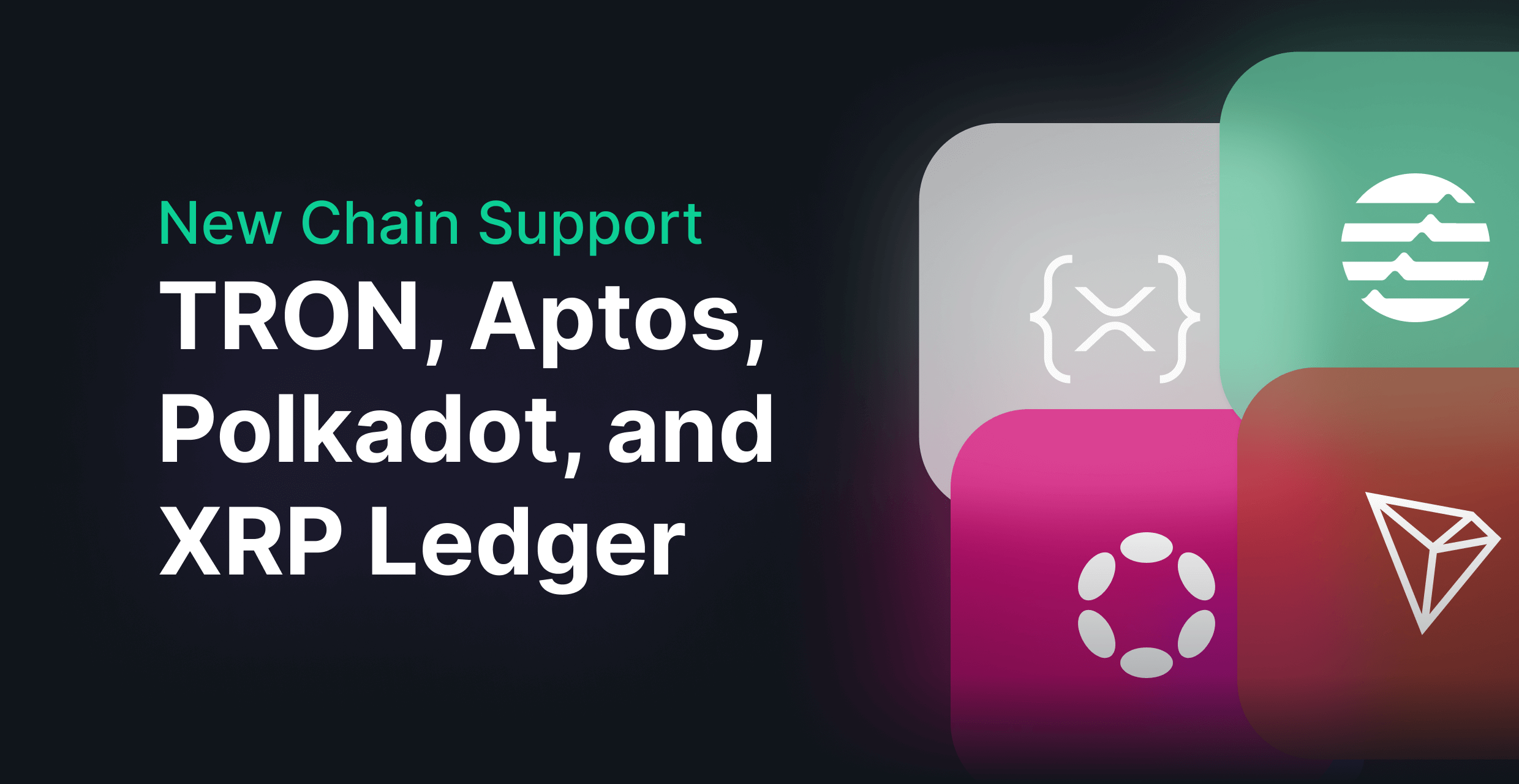 New Chain Support: TRON, Aptos, Polkadot, and XRP Ledger
In Q2, QuickNode expanded its chain support to include TRON, Aptos, Polkadot, and XRP Ledger to our platform. With these new additions, QuickNode is becoming an increasingly versatile tool for developers by providing high-performance multi-chain access backed by unparalleled uptime and speed.
TRON
As one of the largest and fastest-growing blockchains in the world, TRON is an essential piece of the greater web3 ecosystem. Its high throughput, high scalability, and high availability make it the perfect choice for multi-chain developers and projects.
Aptos
Aptos is a future-proof network focused on addressing the major issues commonly faced by other protocols and the blockchain ecosystem in general. One of the biggest hurdles faced by Web3 technology before reaching mass adoption potential is the viability of scalability solutions, namely high transaction fees and slow transaction speeds.
Polkadot
Polkadot's unique structure simplifies scalable blockchain development. The platform provides developers with unparalleled scalability through parallel transaction processing, interoperability via smooth cross-chain transfers, and customization using Substrate's modular development, offering customizable plug-and-play components.
XRP Ledger
XRPL is especially beneficial for developers who want to build businesses. With protocol capabilities honed over the last decade to enable scalable blockchain development, developers can build innovative projects and applications across use cases, including payments, tokenization, DeFi, and more.
QuickNode's XRPL infrastructure is now available to everyone on our platform. Get started on the XRP Ledger instantly!
📢
Introducing Feature Fridays
: Every Friday, we'll highlight some of the best startups in the blockchain space and feature them on QuickNode's blog and Twitter account.
Click here to apply
!
---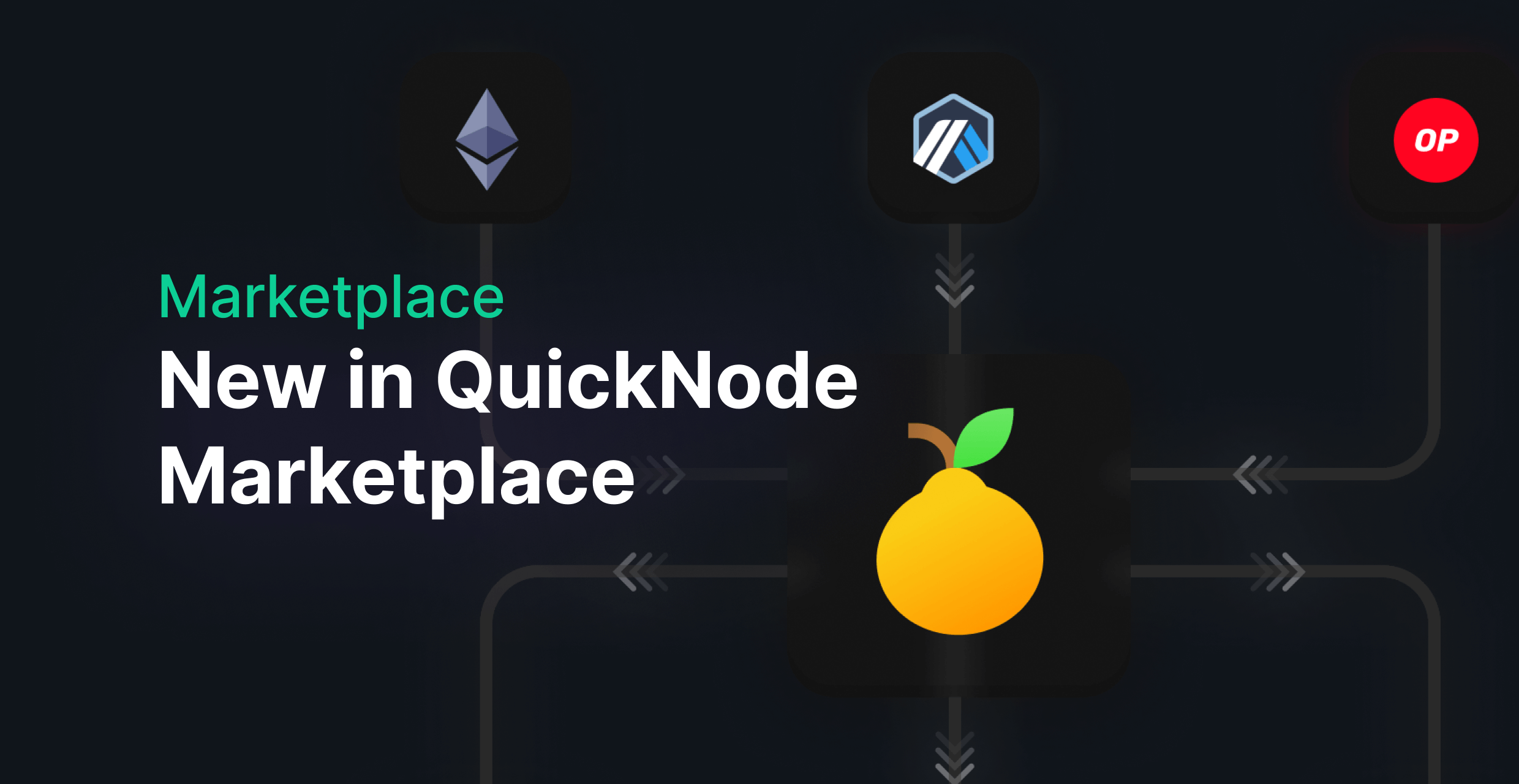 New in QuickNode Marketplace
QuickNode Marketplace is the one-stop shop for web3 development tools and add-ons. We're currently working with the best partners to add even more functionality and versatility to the platform — empowering developers to build innovative applications and solutions. Here are the new add-ons that have been released so far this year:
---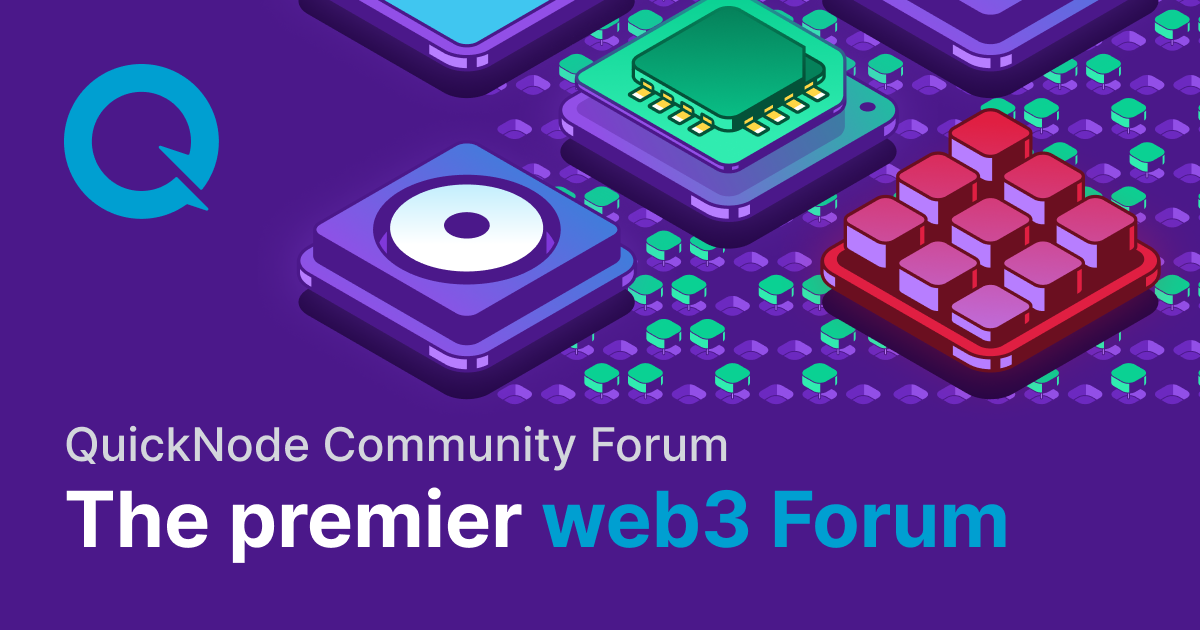 Introducing the QuickNode Community Forum
The QuickNode Community Forum is an active community that fosters engaging web3 discussions and knowledge sharing in the ever-evolving blockchain technology sphere. Participation in this dynamic forum enables members to gain valuable insights, interact with fellow enthusiasts, and keep abreast of the latest advancements in the web3 ecosystem.
---
Even More New Q2 Features and Products!
If you haven't been able to tell yet, we were seriously busy during Q2. Here's a look at some of the products, tools, features, and resources we shipped during Q2:
QuickAlerts Updates
QuickAlerts received some serious upgrades. We've added Rest API functionality along with new chain support for Polygon zkEVM, Base, and Tron. Now, QuickAlerts is an even more powerful tool for tracking real-time notifications for on-chain events.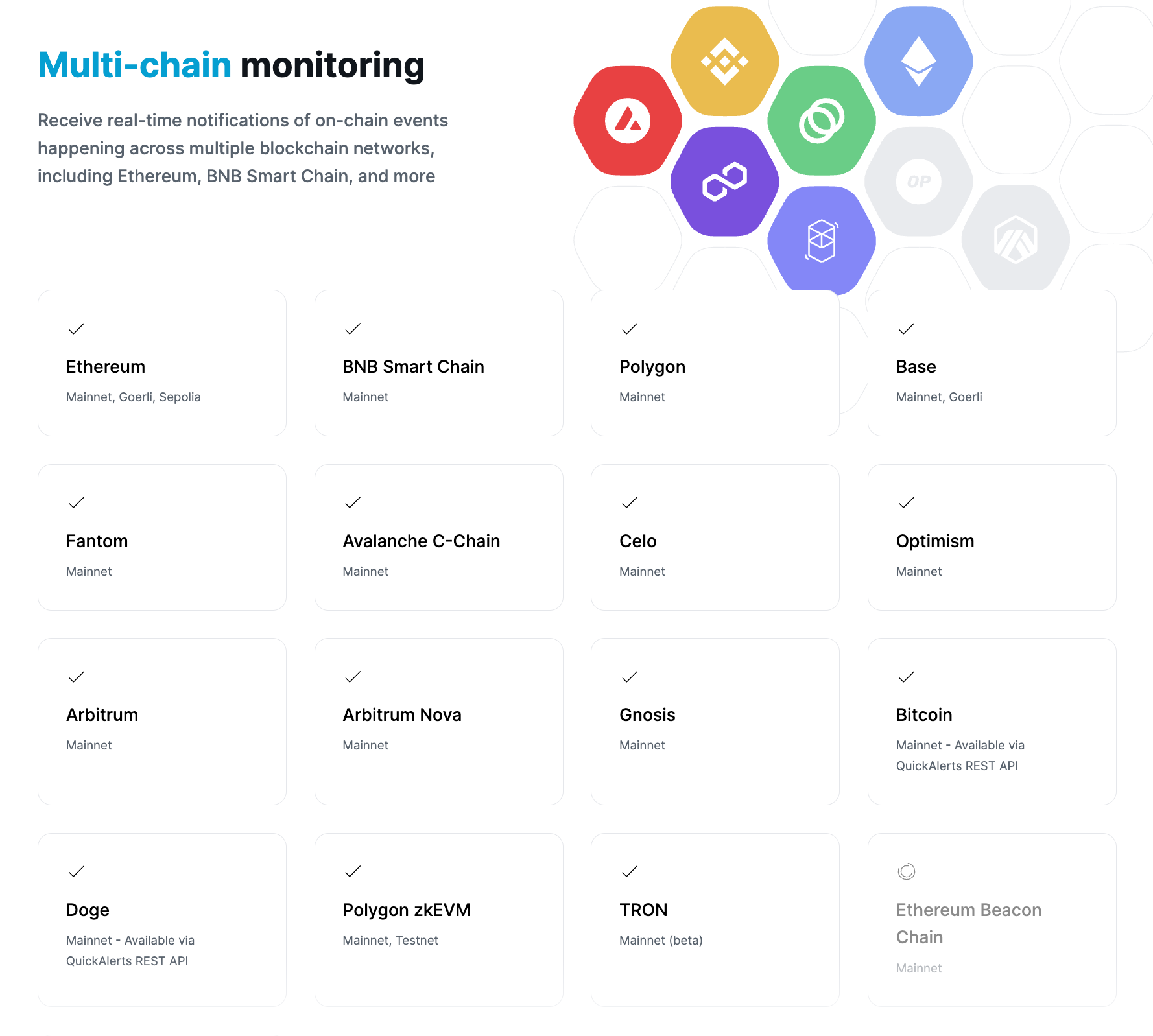 New Docs and Guides
Our documentation and technical guides have been completely revamped. With improved UX, search capabilities, and simplified navigation, finding the information you need has never been easier.
Also, make sure to check out our updated changelog!
Token & NFT API V2
With our latest update to the Token & NFT API, we've added support for Sepolia. We've also introduced qn_getTransactionsByAddress, a function that returns all transactions for the given wallet address!
Gas Tracker Tools
We've launched the Gas Tracker tools for Ethereum and Polygon. Explore real-time gas prices, historical price trends, and contract cost details. Use these free resources to monitor and track current network gas prices, historical price trends, and cost estimations for transactions to gain more insights.
QuickNode Faucet Updates
Our already best-in-class Faucet now supports Polygon zkEVM and Avalanche Fuji! QuickNode Multi-Chain Faucet is a blockchain tool that drips testnet tokens to developers — and anyone else that requests them — for free. You typically use these tokens for creating test transactions on the associated blockchain, such as contract deployments, transferring funds, and debugging failed transactions.
QuickNode SDK
Introducing the QuickNode/SDK npm package 1.0.0!
We're thrilled to announce the release of our new SDK, a powerful JavaScript (and Typescript) package designed to simplify the integration of our services into your applications. Get started with our SDK today!
And we're only halfway through 2023...
The innovation at QuickNode is only accelerating. This Q2 roundup underscores our ongoing commitment to providing robust tools and expanded support for our developers and users. We've got more exciting updates coming soon – so stay tuned!
Happy building!

---
About QuickNode
QuickNode is building infrastructure to support the future of Web3. Since 2017, we've worked with hundreds of developers and companies, helping scale dApps and providing high-performance access to 20+ blockchains. Subscribe to our newsletter for more content like this, and stay in the loop with what's happening in Web3!