QuickNode EOY Wrap-Up: 2022
QuickNode's 2022 Recap: Highlights, Milestones, Accomplishments, and What's Next.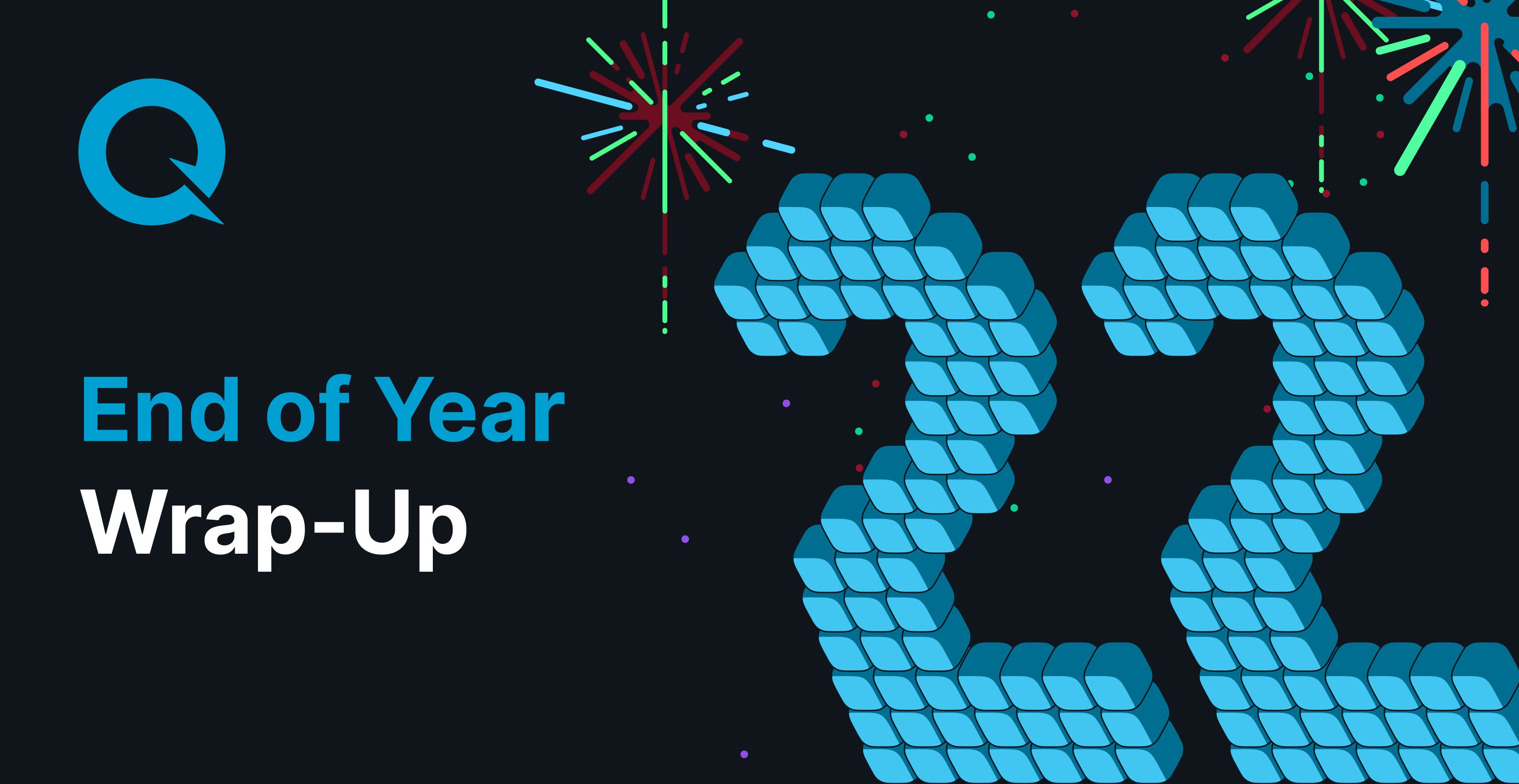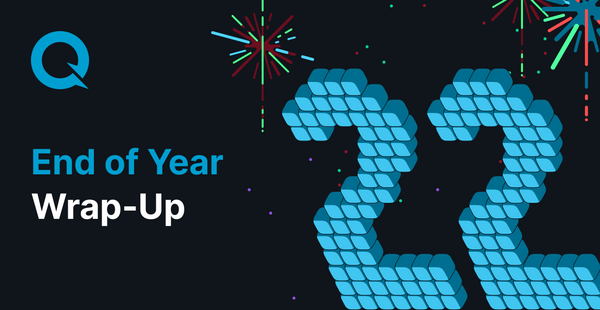 That's a wrap for 2022!
To say this has been an eventful year for Web3 would be the understatement of the century! It's been a rollercoaster ride of the highest highs — all-time highs even — and some heartbreaking lows. But through it all, there was never a doubt in the mind of Web3 builders, who remained heads down, building the foundation for a decentralized, globally-connected future. And QuickNode couldn't be prouder to count itself among these dreamers, builders, tinkerers, doers, and paradigm shifters. We are exceedingly bullish on the future of Web3 and blockchain technology for 2023 — and beyond!
---
Let's look at how much ground we've covered over the last year. And in a space where a decade's worth of progress happens in a year, there was no shortage of headline-worthy events in 2022:
VC Web3 funding adds $60 billion in 2022, bringing the total to over $90 billion for 17,085 companies (80 of which are unicorns 🦄) — Crunchbase
Artists and creators using OpenSea earned over $1 Billion from creator fees in 2022
Ethereum successfully merged mainnet to POS
a16z raises $4.5B for crypto fund 4; $1.5B for seed, $3B for venture investing
Sequoia Capital to raise $500-$600M for new crypto fund
Alexis Ohanian raises $500M for two new funds, primarily investing in crypto startups
Phantom raises $109M, launches mobile wallet for iOS
Polygon ($MATIC) raises $450M to expand ETH scaling solutions and ZK tech
Electric Capital raises $1B to invest in crypto startups and tokens
Salesforce plans to build infrastructure for NFT creation & distribution
Stripe now supports crypto businesses, including exchanges, on-ramps, wallets, and NFT marketplaces
Goldman Sachs offers first BTC-backed loan
Fidelity launches Ethereum Index Fund
Yuga Labs, Bored Ape Yacht Club creator, raises $450M @ $4B valuation
Andrew Yang launches Lobby3 DAO to advocate for Web3 policies in D.C.
Shopify releases Token-Gated Experiences, enabling merchants and users to connect noncustodial wallets for exclusive drops, merch, experiences, etc.
eBay acquires NFT marketplace KnownOrigin
Japan passes stablecoin bill ensuring redemption/backing at face value
Uniswap (UNI) acquires NFT aggregator Genie
Google — integrates Etherscan data to ETH address queries
Twitter — piloting the ability to embed NFT purchase/sale in tweets and developing a "wallet prototype" that supports deposit & withdrawal
Meta — Instagram fully launches NFT product with native wallet connect & initial support for Polygon & Solana
Starbucks launches Odyssey; its Web3-backed Customer Rewards program
Reddit launches NFT avatar marketplace and new blockchain-based avatars
And that's just a sample of what happened this year!
It's been wild to see all the projects and developments pushing the industry forward.
---
QuickNode's 2022 Milestones, Achievements, and Highlights
At QuickNode, we've been full-speed ahead, shipping new features, tools, and resources to help grow the space and onboard the next billion Web3 users.
Education, accessibility, and continuous progress stoke the fires that motivate us to empower the people building the future of the internet.
Here's a look at some of our proudest and most notable accomplishments of 2022:
Acquired icy.tools
Shipped 5 new products — Token API, QuickNode Marketplace, Multi-Chain Faucet, GraphQL API, QuickAlerts
Shipped 19 new networks — Goerli Testnet, Sepolia Testnet, +17 more
Shipped New Pricing plans (including a free tier), revamped our website, and created a new dashboard with increased security features, usage insights, and alerting
Enhanced the functionality of our NFT API by doubling the number of methods
Shipped 95 new Web3 guides
Created 7 new chain documentations, including Algorand, Arbitrum Nova, Avalanche, Bitcoin, Harmony, NEAR, and Stacks
Hosted 15+ Twitter Spaces with some of the top projects in the Web3 ecosystem
Hosted 3 QuickPitch Competitions — Solana, Ethereum, and Nodevember in-person pitch competition
Shipped 17 new Youtube videos
Gave 20 online and in-person talks
Grew QuickNode team by 300%
Grew Discord community by 110%
Grew Twitter following by 40%
Grew Newsletter subscribers by 90%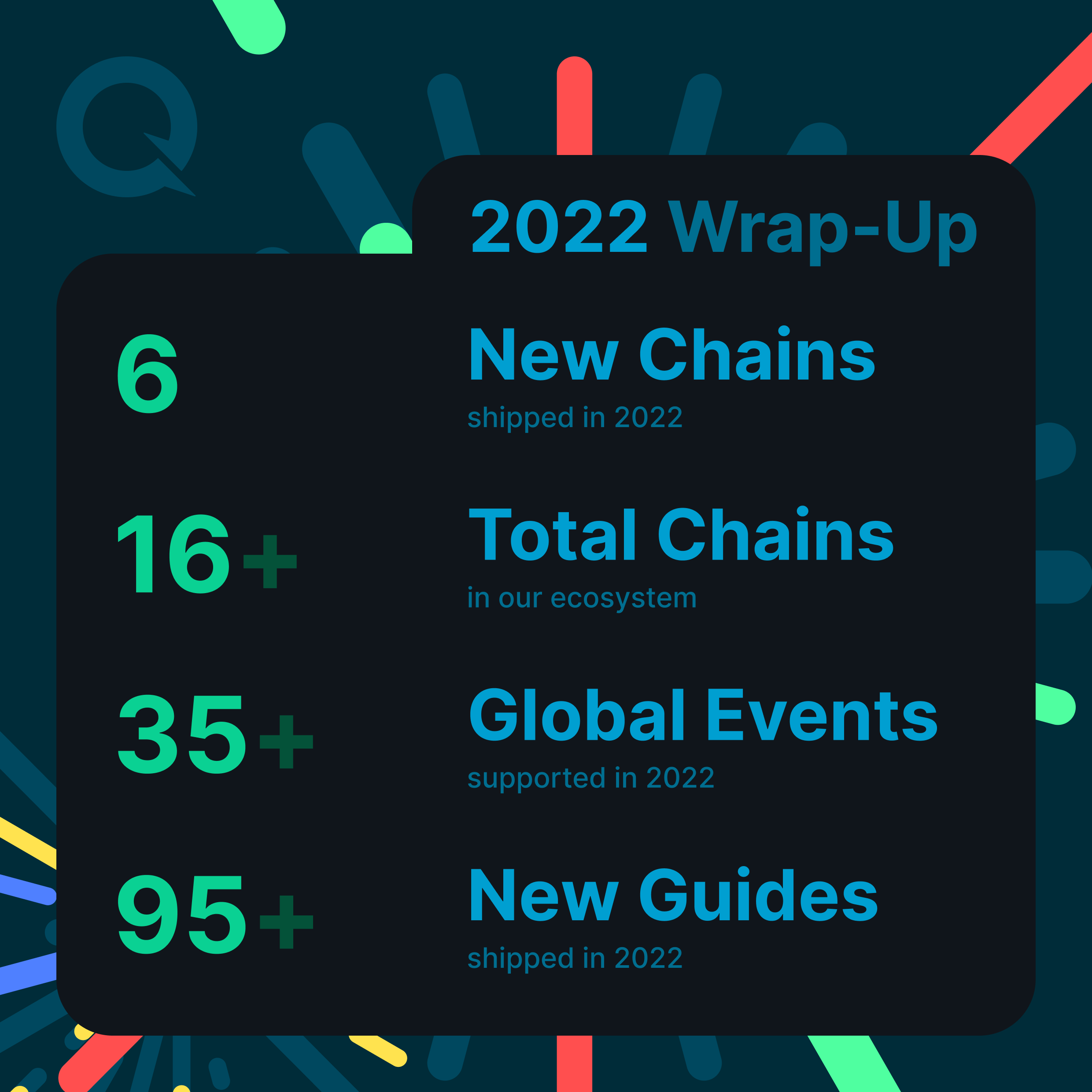 ---
icy.tools also had an exciting year of shipping stellar new features and celebrating some awesome achievements:
---
And we sponsored, supported, attended, and presented at over 36 events:
---
You could say we've been busy in 2022...
And it still feels like we're just getting started!
QuickNode has big plans for the future, and we are excited to be a part of the continued growth and development of the Web3 ecosystem. We're also incredibly grateful to our users and supporters for showing up daily to help us build the future. We plan to keep doing our part toward building innovative solutions and driving the industry forward.
2023 is looking bright for QuickNode and Web3 — we can't wait to see what the next year brings.
If you want to help build the future of the web and start your 2023 off with a bang, take a look at our open positions. 💙

---
About QuickNode
QuickNode is building infrastructure to support the future of Web3. Since 2017, we've worked with hundreds of developers and companies, helping scale dApps and providing high-performance access to 16+ blockchains. Subscribe to our newsletter for more content like this and stay in the loop with what's happening in Web3!